Mileage – 75 miles (97 miles)
Today was going to be a tough day, only 75 miles but with a lot of roller riding and climbing in the region of 4,500′.  The way that the day eventually turned out was what I had been wanting to do for the last couple of weeks and today presented itself as the ideal opportunity.
The first and only SAG of the day was at mile 50.0 although we all stopped at mile 25.9 at a little store to stock up on drinks and refreshments.  Those first few miles had been relatively uneventful other than losing my mirror which departed company from the frame as I hit some rumble strips on US 36E.  I've never been a fan of mirrors on bikes but it is surprising how much I have come to rely on it over the last few weeks and losing it was kind of disconcerting.  When I arrived at the store I told Jan and immediately a new mirror was retrieved from the truck and expertly fitted by Tracy.
As we left the store, we hit the rollers, 149 of them apparently although I had no intention of counting them.  The technique is to climb to the crest and then pedal like fury and if you are strong enough the momentum will take you up the other side.  I soon found that I wasn't that strong and the granny gear was selected on a number of occasions but on a few instances I did manage the technique which was quite rewarding.   About 10 miles from the SAG we came across a sign which said 'New Boston – 6 miles'.  The opportunity was too good to miss and with the help of my Camelbak the sign was duly improvised!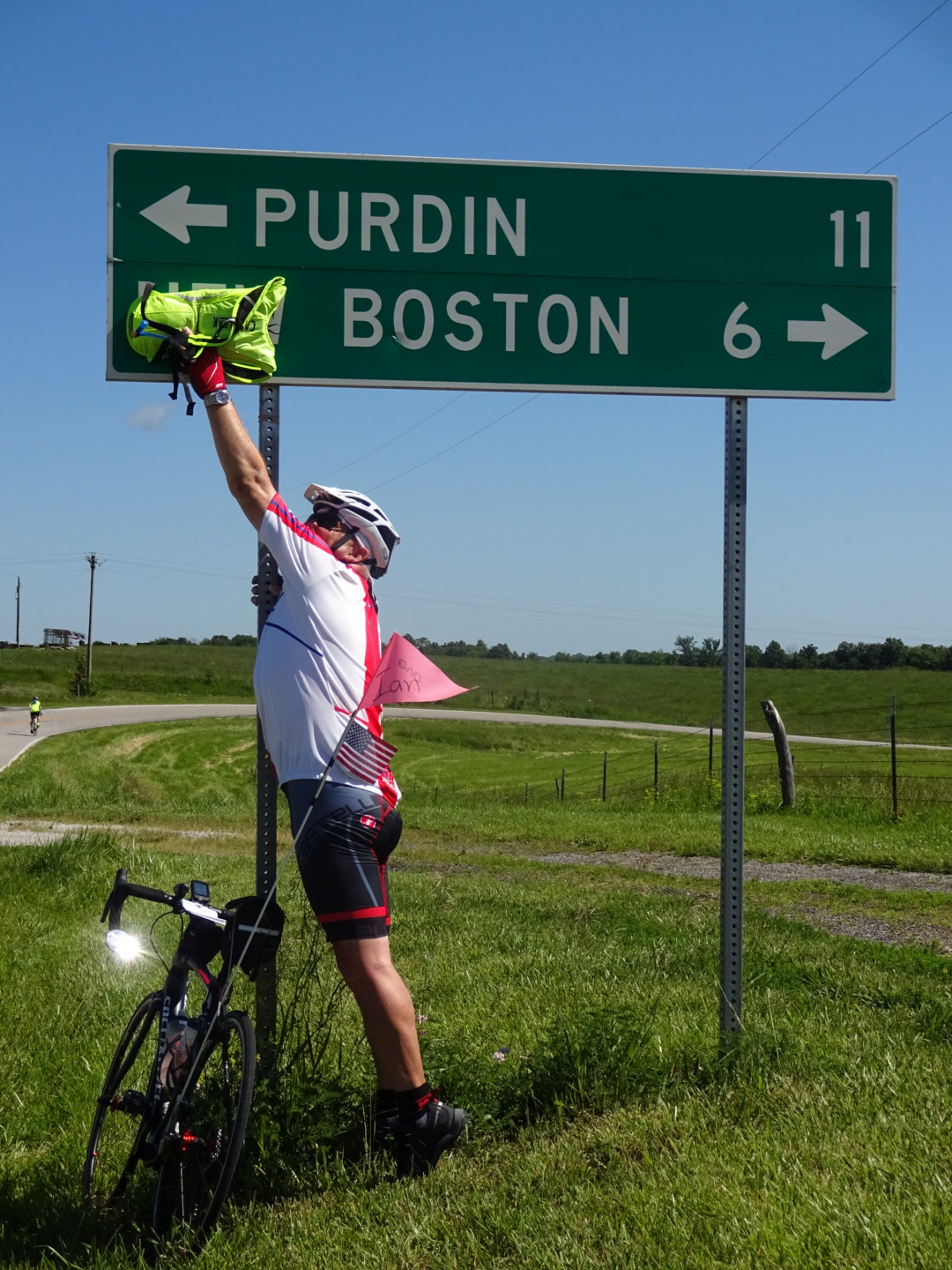 The SAG was at Badger Hill Farm and the owner produced sandwiches, cookies, chips and milk chocolate which was very welcoming.  However as we arrived we were met by Mack who said that there was some good news and bad news.  The bad news was that in about 5 miles the road bridge was out and there was a 20 mile detour but the good news was that with a bit of luck we would be able to carry/push our bikes through the small creek.  We were all provided with rags and bags to assist with the creek crossing and everyone decided to follow this option – everyone except me that is.  With the 2 short bumps I had taken earlier on tour here was an ideal opportunity to put in a few extra miles to bring my total mileage across the country in line with the rest of the group.  I was feeling strong and just knew that it had to be done.  I advised Mack of my plan and he fully supported my decision.  Leaving the SAG and just 3 miles down the road I turned left whilst the rest of the riders headed for the creek crossing.
For the first time on tour I felt slightly exposed and alone but this was compensated by the wonderful green countryside and the rolling hills.  I felt free, no riders to try to chase down, and no one on my tail coming up behind, just me and my bike travelling along at our own pace. Mack passed me a couple of times as with the support vehicles he had to take the detour but after one final stop he left me and I headed for Green City.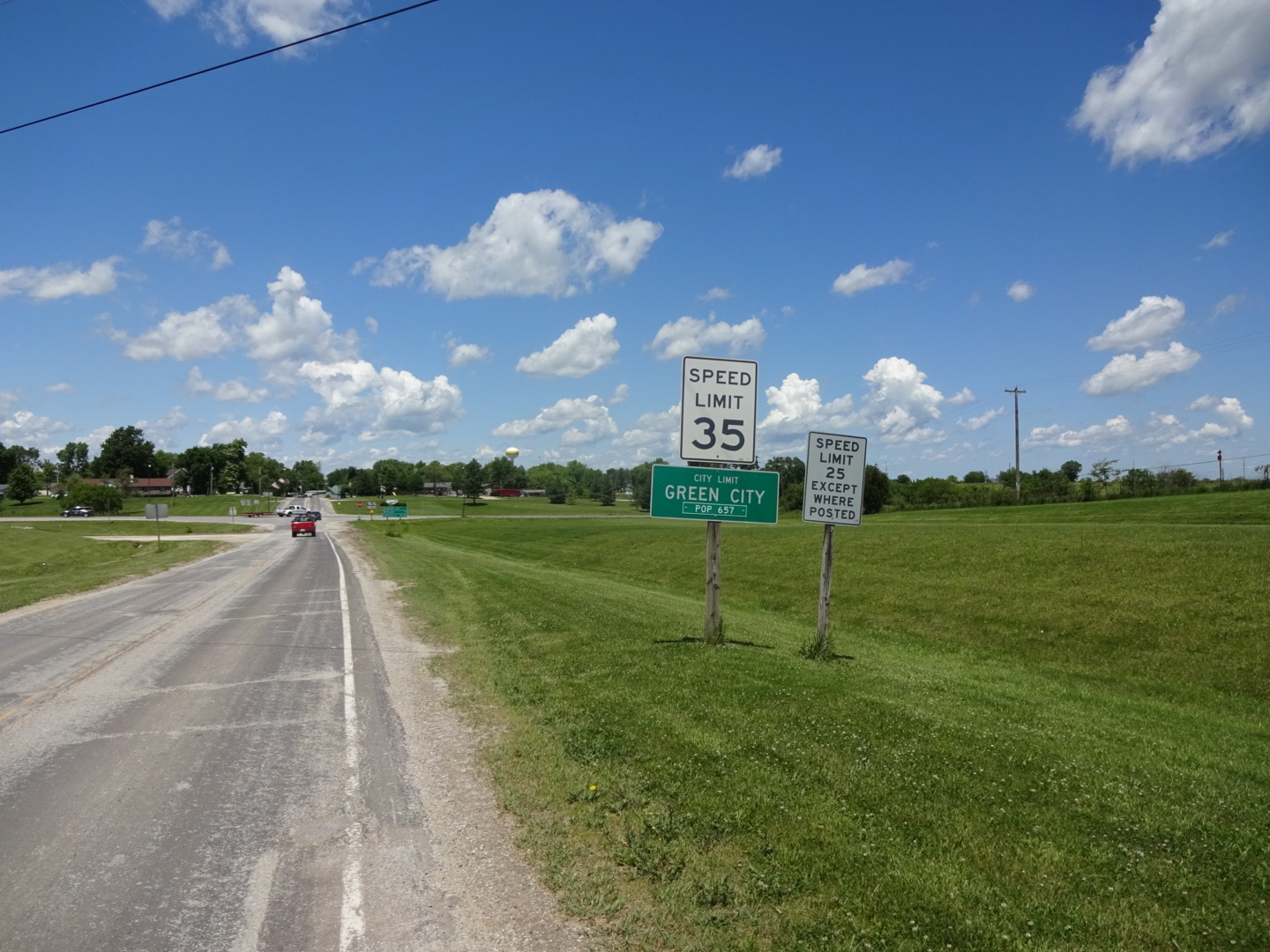 The views were amazing, the houses stunning and the weather pleasantly warm but with a slight headwind.  I settled into a steady rythymn and before long I was at Green City where I found a garage and purchased a cold Starbucks Mocha – wonderful.   Turning right at the crossroads I headed towards Kirksville, some 23 miles away on highway 6.  The right turn also saw a change in the wind direction, it was almost a tailwind and for the first 5 miles or so the rollers continued before changing into much flatter rolling hills – it was really pleasant.   I stopped at another roadside store for a strawberry milk to boost the fluids and before I knew it I was on the outskirts of Kirksville.  I was elated and upon reaching the Holiday Inn Express after riding the outskirts of Kirksville for nearly 4 miles my Garmin showed 97 miles against the actual days registered mileage of 75 miles.  I received a round of applause for my efforts by the group prior to RAP.
Dinner tonight was at Colton's Steakhouse and we had an excellent meal.
Although not entirely a full compensation for earlier events I am pleased that I had the bottle to follow my instincts today, pleased that I had the courage to go it alone and pleased with the outcome of 97 miles.   Today was a special day for me and proof that I am still 'Living the Dream'.