Mileage – 92.9 miles.
Riding after a rest day is strange – you'd think everything is refreshed and raring to go again but it doesn't always work like that.  Sometimes you think it would be better not to have rest days and just keep going day after day. I felt tired this morning and knew that today was going to be a long day.  I had also been looking forward to riding to Fredericksburg with Mary but sadly she had to pull out. I was pleased we were able to share a few hours together yesterday morning – she is an amazing woman and does a lot of good work for charity and has become a good friend like so many of the other 2016 cross country riders.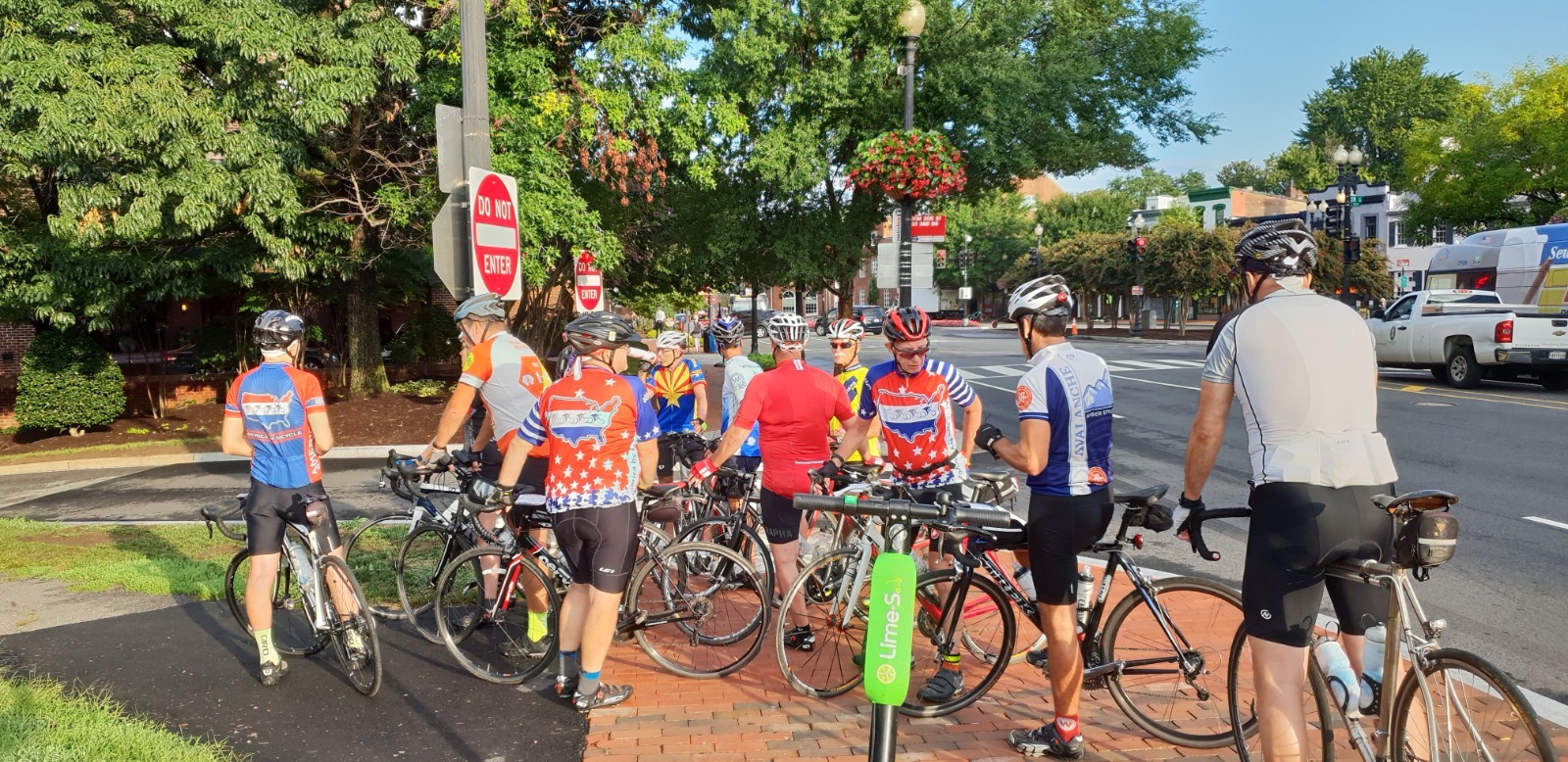 We set off from the hotel shortly after 07:30 with a local rider leading us through the maze of roads in Washington DC.  A lot of the ride out of the city was on the Rock Creek and Mt Vernon bike trails but this was interdispersed with having to cross major intersections, which when trying to ride as a group is always difficult. We stopped at the Lincoln memorial for a team photo and then rode down the Mall a little way before crossing the Arlington Bridge and heading south.  My Garmin, which had behaved perfectly up to now was not finding the course that had been set so it was important that I hang in with the group with whom I was riding. Eventually it did kick itself into action after a reset and was good for the rest of the day.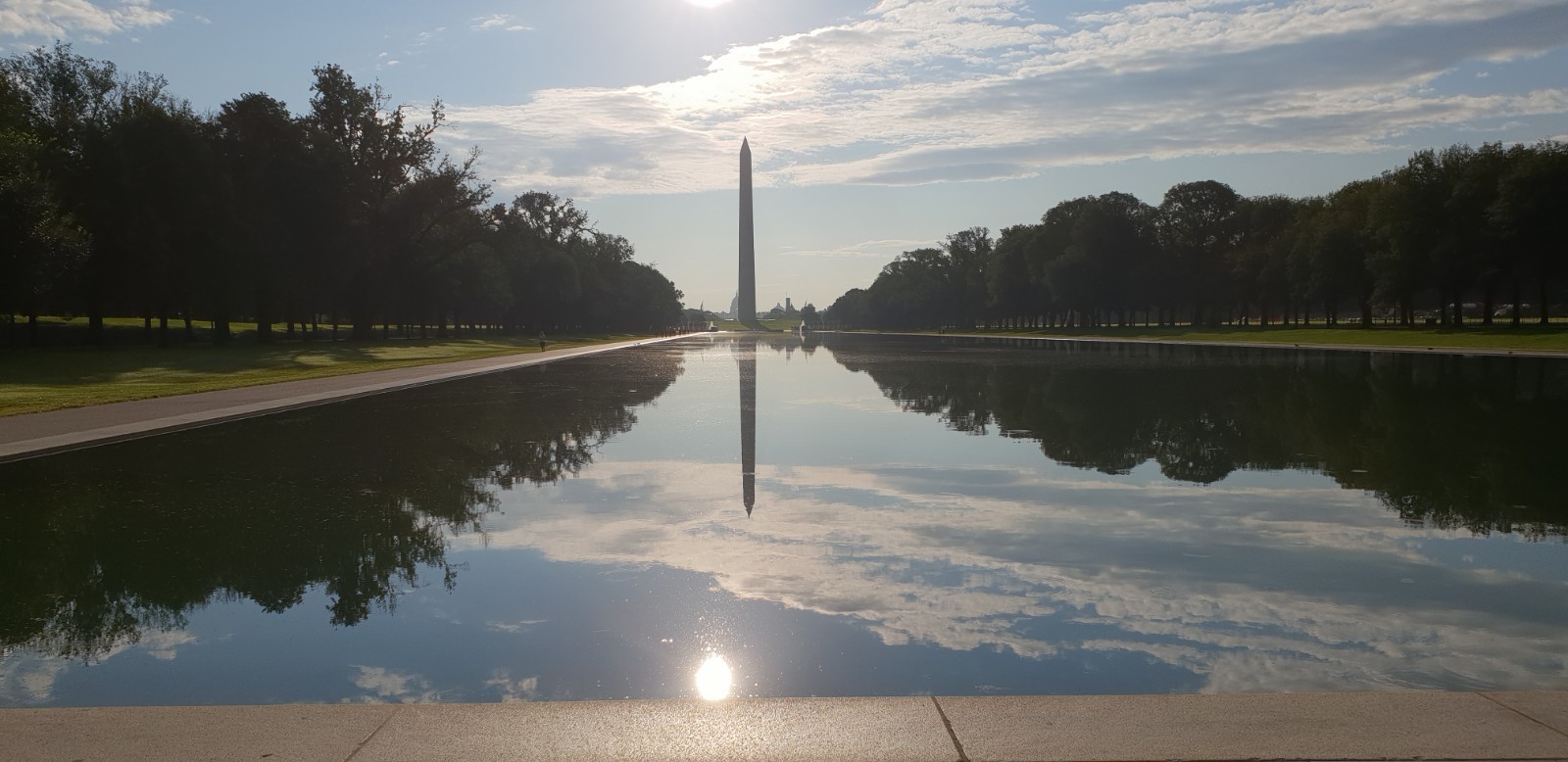 At about 17 miles I hooked up with John who was riding from Washington down to Florida. No sooner as we had started riding together he had a flat so we stopped to fix it which left us firmly at the back of the group. We rode to the first SAG together before he decided that he would take a bump to the next SAG stop.
After the SAG the roads opened up and we seemed to leave the steeper climbs behind us, the kind of roads that I like to ride. I stopped briefly at a gas station and then it decided to rain, which although refreshing it was pretty miserable riding conditions.  The road trundled along and I made good time to reach the second SAG of the day at mile 61.1. Here I found Bob who was finished for the day and another John who set off shortly after I arrive – this just left Mark behind me.  I didn't hang around long, the sun was shining again and the road was rolling along.  I got a good cadence going and pushed hard down the hills and the momentum carried me up a lot of the hills so I made excellent time.  That was until just 2 miles short of the hotel whilst going up the Virginia Central Railway Trail when I had my first flat of tour.  Luckily it was a front flat so after a quick change I finally made it to the hotel just before 17:00.
It had been a very long day and I felt in 'catch up' mode throughout after helping John with his flat earlier in the day. Nevertheless it was a good days ride and I was pleased with my riding especially over the last 30 miles. Tomorrow is a slightly shorter day with even less climbing and I'm looking forward to an earlier finish.
Tonight we ate at Cowboy John's situated right next to our hotel.  It was a meeting place for motorcycles and there were some pretty amazing machines on view.