Mileage – 74 miles
Well, it had to happen at some point but today was not the best day for it to happen – it rained!  For the past seven weeks we have been so fortunate with the weather, storms behind us, tornados in front but we have been riding in a bubble of fine dry weather with, in the most part, favourable winds. However today was different and it was like the final physical and mental test before our journey ends.
We left at our usual times and as we cycled through the suburbs of Albany we crossed the mighty Hudson River.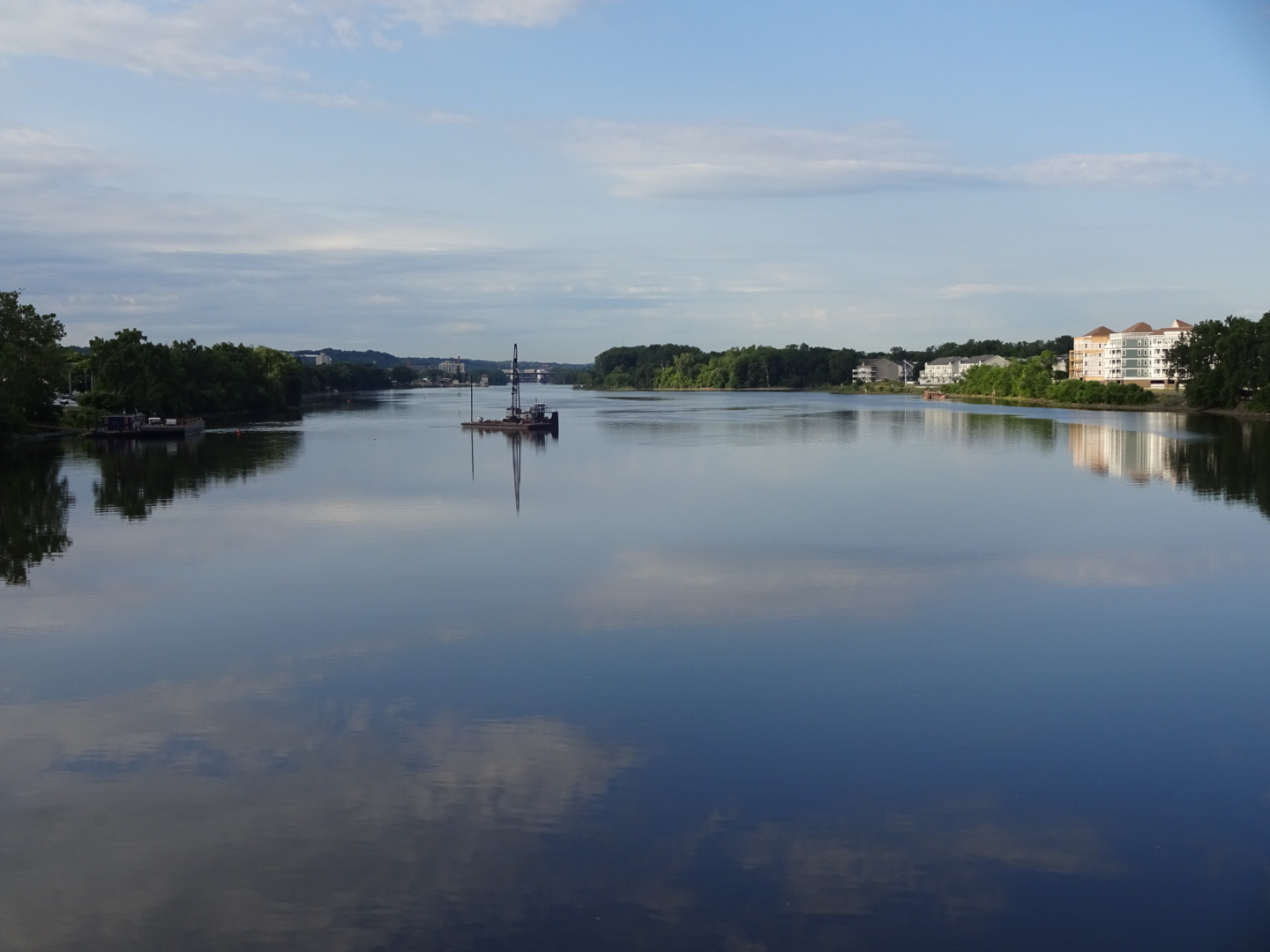 It was quite a pleasant morning, cool but reasonably warm and today was going to be a hard day of climbing.  Immediately outside of Albany we started the climbing and it was into the small chain ring and my climbing rythymn.  Over the past few weeks, believe it or not but I have come to enjoy the challenges of climbing the hills that we have been blessed with on tour.  The technique I found that works best for me is to climb at my own speed with a solid, consistent cadence.  Sometimes it can be painful but it is great when you get to the top and the pain goes away.  Looking back, I have definitely got stronger over the past weeks and can now climb quite well without the need to keep stopping for rests.
Once over the first initial climb the road levelled out and I upped the pace and soon came across the early starters.  I continued hard to the first SAG at mile 24.5 which was located at a roadside Dunkin Donuts store.  A quick donut and on my way again to the next state line crossing as we moved from the state of New York into Vermont.  Being by myself I was obliged to take a selfie for the first time on tour but remembered to sprinkle my Pacific sand.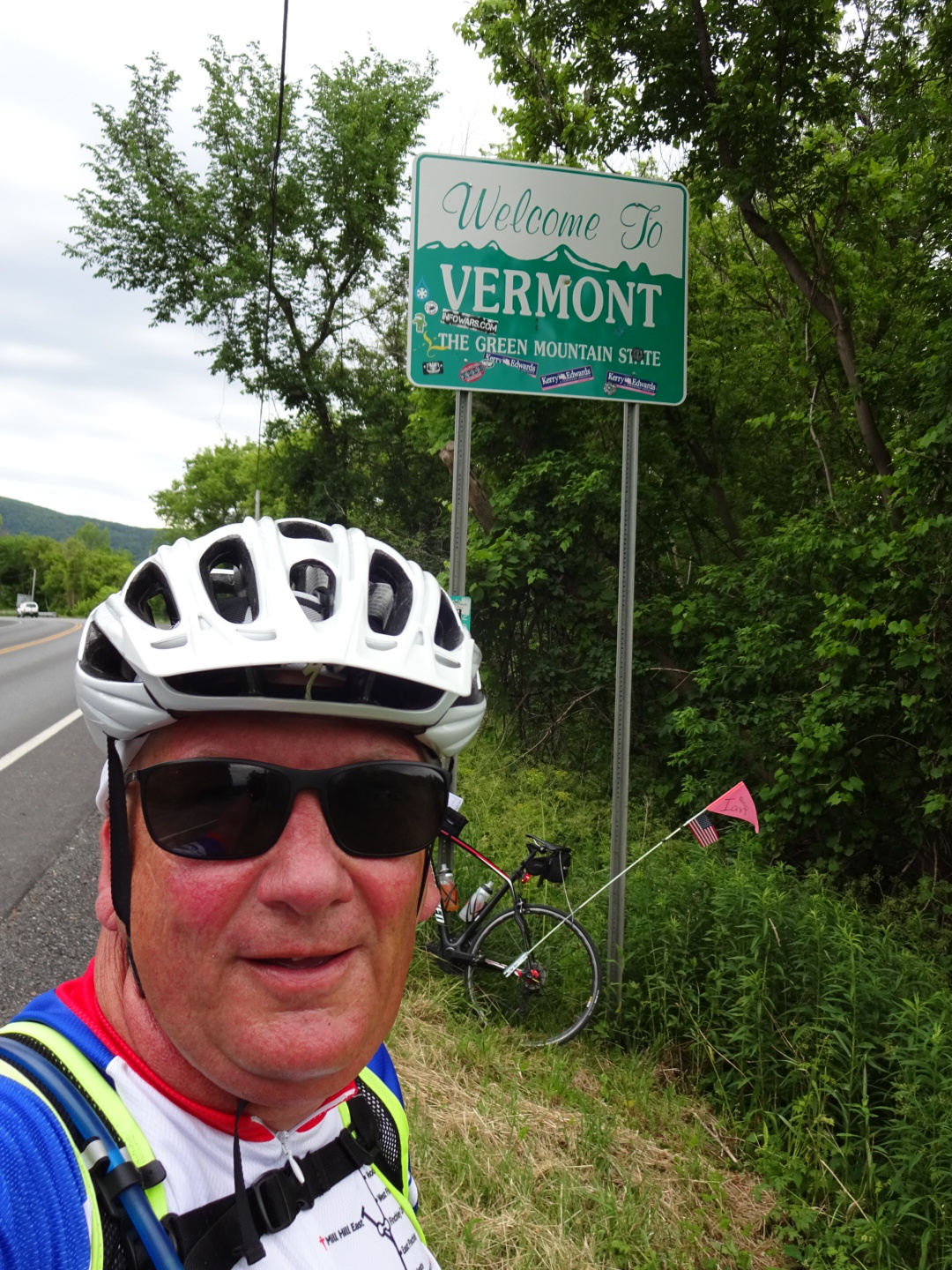 At mile 33 I passed through the quaint town of Bennington before starting a 6.3 mile climb, the last 3.5 of which were quite steep.  Before starting the climb I briefly stopped to put on my rain jacket as it was just beginning to spit a few drops.  The ascent went well and I managed to get to the top without engaging my lowest gear which I was pleased about.  The Crossroads staff were strategically placed at the summit but I didn't stop and started the long descent to Wilmington.
It was at this point that the heavens opened and descending on relatively narrow roads with heavy traffic in the torrential rain is not recommended.  A couple of times I pulled over and took what little shelter I could find but stopping was also not good as the cold set in very quickly.  Chuck passed me at one point as I sheltered and I followed him for a little while afterwards before going on ahead.  We cycled into Wilmington together and got to the second SAG at mile 53.9.  By now I was very wet and cold but being at a store I got some hot coffee and recovered quite quickly.  I decided to push on as the weather was showing signs of improving and the rain had stopped.  Shortly down the road the sun came out and the rest of the ride was a wonderful experience.  We climbed Hogback Mountain before descending into Brattleboro and the Holiday Inn Express.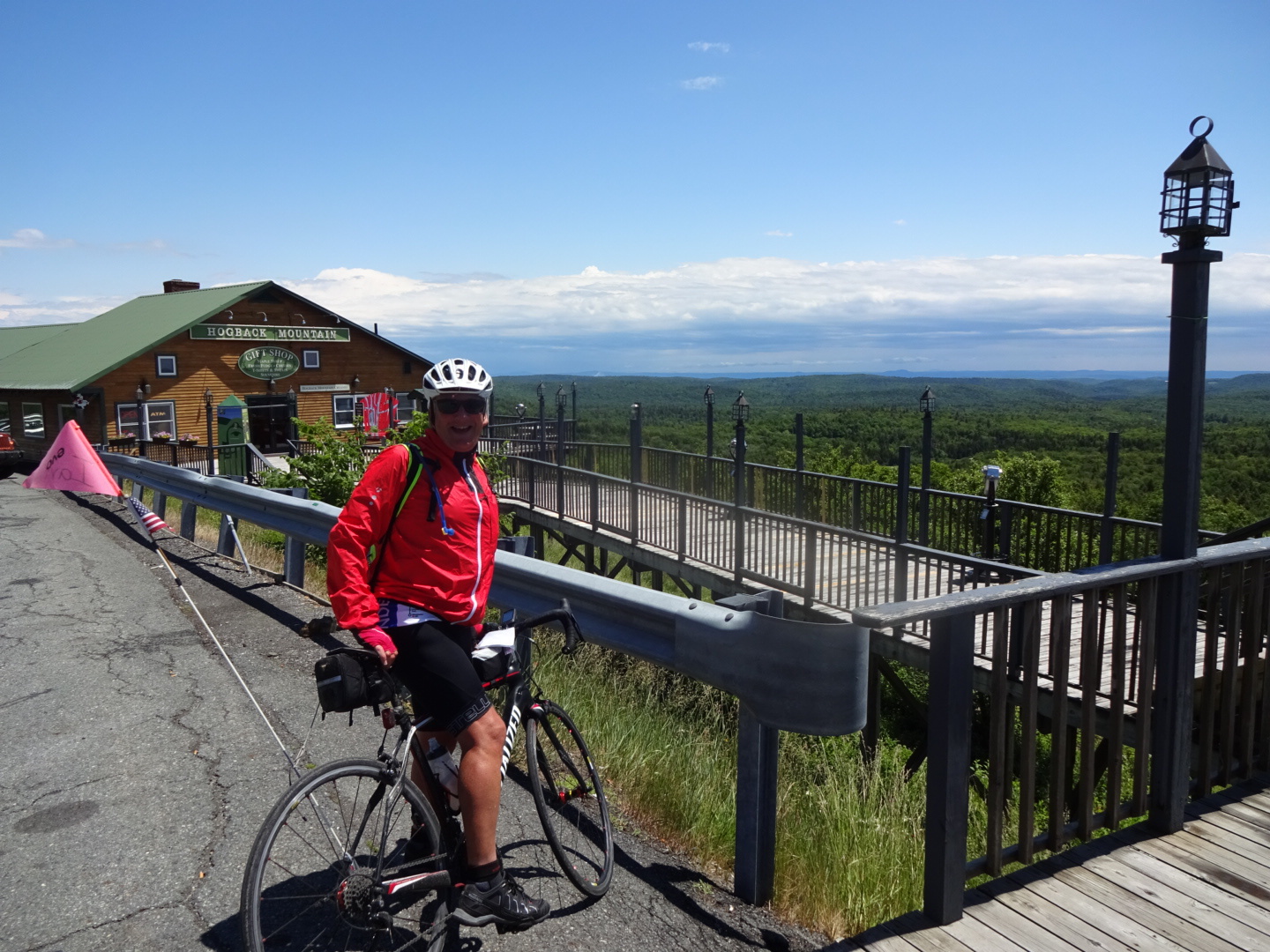 I was first to the hotel although Howard had passed earlier but spent time in Brattleboro on his way in.  After a hot shower it was outside in the pleasantly warm afternoon sunshine to clean the bike and watch other riders arrive safely at the hotel.
We were by ourselves for dinner so a few of us went to the local Tavern where we had a pleasant meal and a few beers.  Tomorrow is our last full day of riding, 90 miles that will take us into the suburbs of Boston.  Sarah and Ben are in Boston tonight and I am looking forward to seeing them tomorrow.