Mileage – 17 miles
We all knew that today was going to be a very special day for the riders of Crossroads 2016.  After just under 7 weeks on the road we had reached our final journey together and today we would ride the final 17 miles to Revere Beach, Boston, where we would dip our wheels into the Atlantic Ocean. There was a buzz of excitement at breakfast this morning and everyone was looking forward to those final few miles.  We had all be allocated specific start times today, riding in 2's or 3's to a rendezvous point 4 miles short of our ultimate destination where we would then ride in convoy to the beach.  I was pleased that Mary, Lois and I would ride together as we had done on many occasions on our journey across America.  Just a few minutes before 07:00 we lined up outside of the hotel with our family, friends and other riders cheering as the cameras clicked away.  It was yet another emotional experience for us and at precisely 07:00 we were set off by Janel to ride to the rendezvous point.  Cycling through the suburbs of Boston was not particularly pleasant and it made us appreciate the ride into Burlington yesterday through the back roads.  Many of the roads today were in poor condition but we eventually made it to the rendezvous location.  As riders arrived in their small groups we stood around chatting and taking photos waiting for our two support vehicles to arrive to escort us to the beach.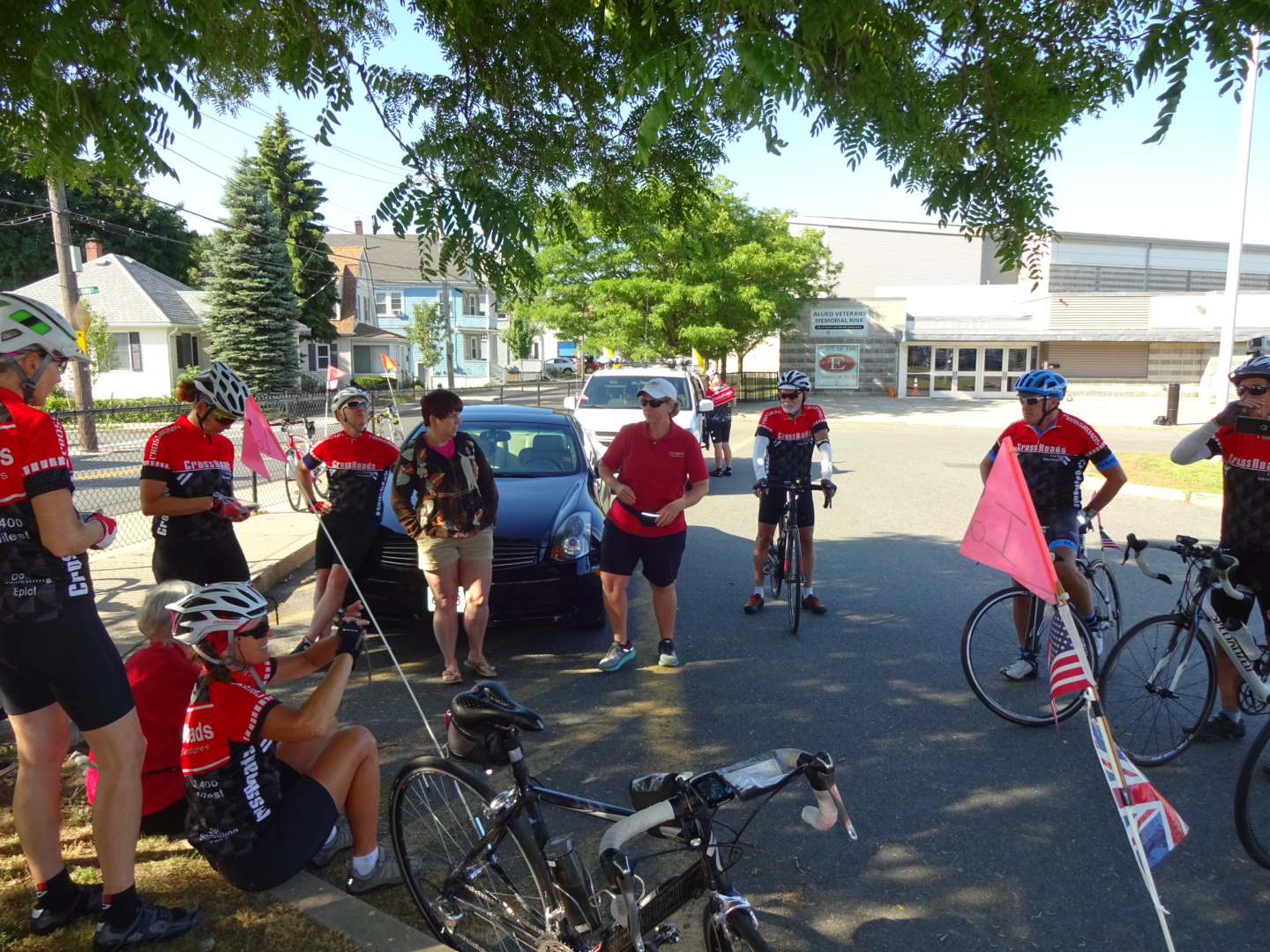 Eventually they arrived and similar to Los Angeles, Tracy gathered us together in a tight circle and once again made a very inspirational and emotional speech.  We were together as a riding team for the very last time having ridden 3,400 miles together and supporting one another through the good times and the tough times.  With one final shout of 'Boston' we formed up behind Tracy in the lead vehicle.  I found myself at the back riding next to Chuck who was completing his 3rd cross country tour.  We set off with the vehicle horns blowing and made our way to the beach.  We climbed a few hills and as we crested the final one we saw for the first time the Atlantic Ocean, our destination and journey's end – it was an amazing moment.  As we rounded a final corner we came across our family and friends, stood on a grassy knoll, waving and cheering and for me, I could no longer hold back emotions and tears of joy flooded down my face.  We made a quick loop around the promenade before riding to Revere Beach where we were greeted by our family and friends and the Crossroads staff.  We celebrated together, congratulating one another and taking photos of this very special moment before carrying our bikes down to the seashore for the ceremonial wheel dipping in the Atlantic Ocean.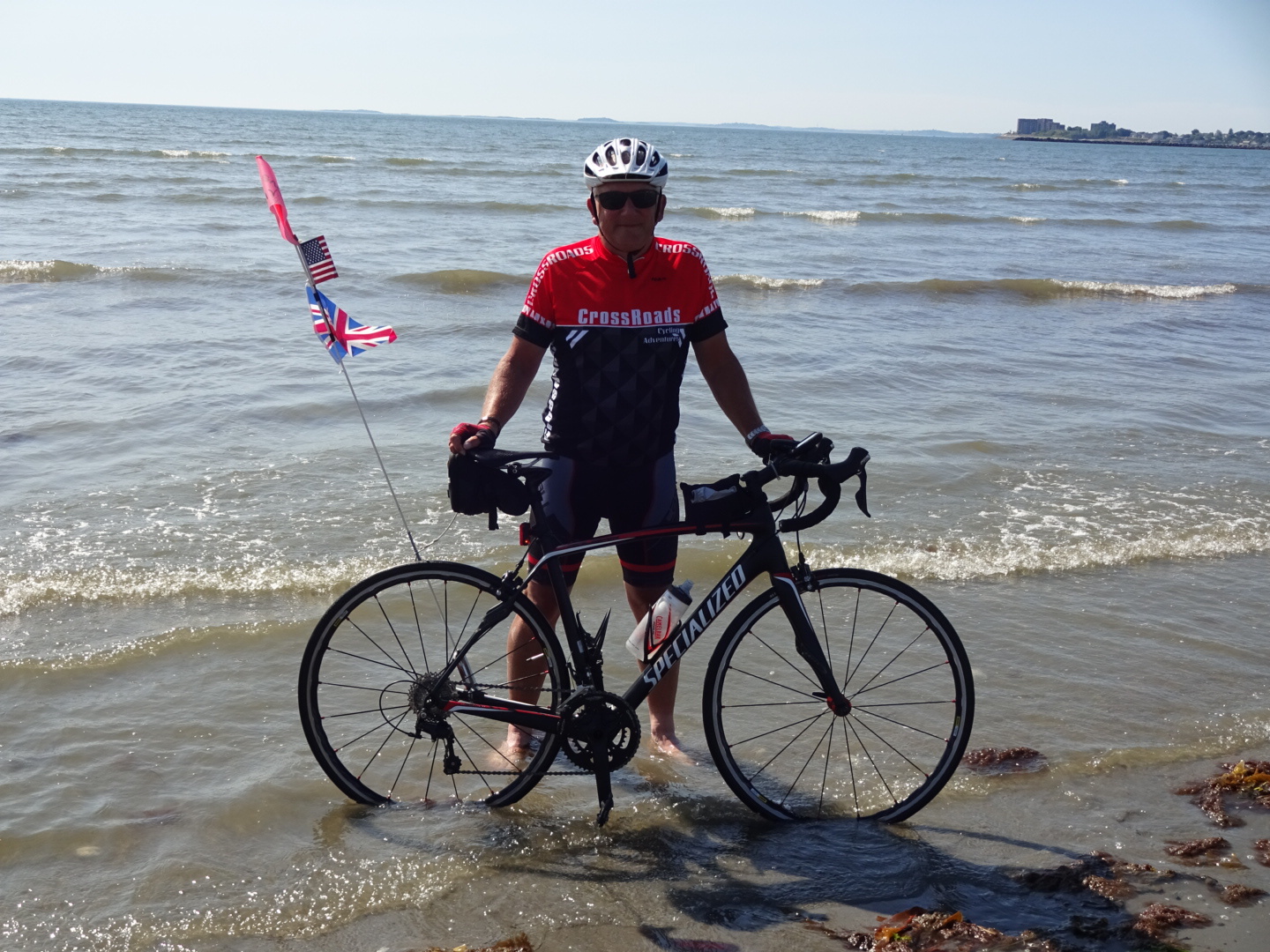 It was an amazing moment and the last seven weeks flashed before me as I took those last final steps into the water.  The dream that started nearly 20 years ago when I finished my John O'Groats to Lands End ride was complete.  I felt on top of the world knowing also that I had raised a significant amount of money for my two charities.  We spent some time savouring the moment before returning to the promenade for one final team photograph.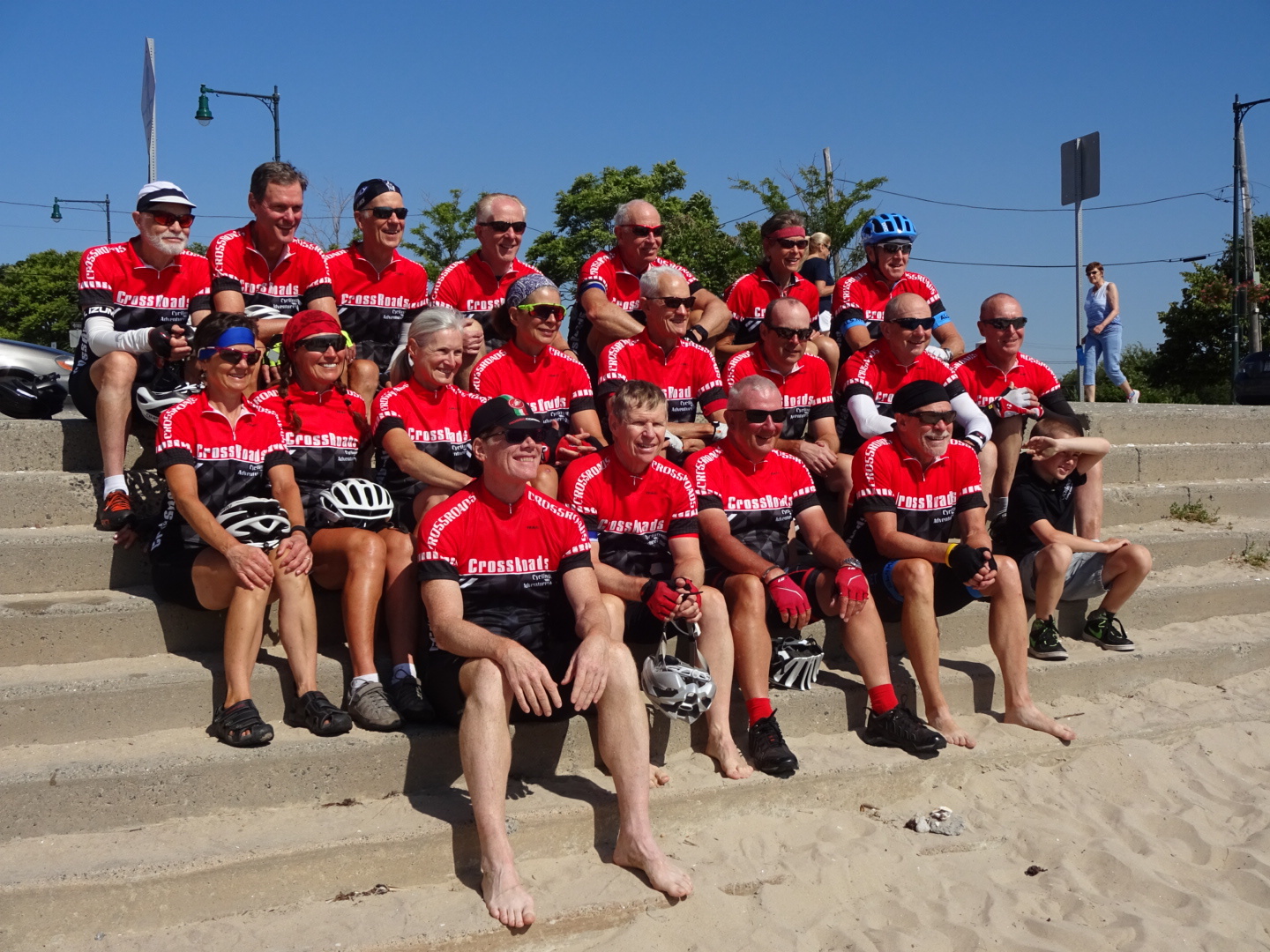 This evening we had the celebratory banquet back at the hotel which was another special moment. As we entered the room a projector had been set up which was showing many of the photographs that had been taken on tour as we journed across the country.  It was a great reminder of the good times we had had together and the experiences and scenery we had been able to witness.  At the end of dinner Tracy made her final inspirational and emotive speech and then presented each rider with their Crossroads certificate commemorating their ride across the USA as Crossroads 2016.  I was the last to receive my certificate and rather than returning to my seat Tracy then recounted to the audience my dream of nearly 20 years. She explained how bumping me just 16 miles from the end on the day we rode across the Mojave desert had been one of the hardest decisions she had ever had to make on any tour.  She struggled with the words and I struggled to hold back my tears. She explained that each year one rider gets to receive the tour map which is displayed each evening at the hotels and updated each day as we progress across the country.  In 2016 I was presented with this very special award and received a standing ovation from my fellow riders.  It was a fairytale ending to my dream and will be displayed prominently when I return home.
The rest of the evening was spent saying our goodbyes to one another and hoping that some day in the future our paths will cross again. Crossroads 2016 had been an amazing group of riders, we had started as a bunch of individuals but finished as one big family.  The Crossroads staff lead by Tracy had been incredible and this had been an amazing experience for us all.
In due course I will write my final thoughts on this journey, tidy up the blog and add some more photographs but for now, thank you for coming on this journey with me.  I hope you have enjoyed my daily blogs, I have very much enjoyed writing them.  I still have a few more pounds to raise for my charities to reach my £5,000 target but am confident that this will be exceeded over the next few weeks.  I'll finish with the words that I wrote to complete my end to end diary nearly 20 years ago:-
'What next?  Well there is always the ultimate cycle adventure, USA Coast to Coast and who knows one day that dream may also come true'.