Welcome to my 2018 'Ride the East' blog and thank you for taking the time to read it and joining me on this journey.
Today was the first day of my new adventure. Having stayed at The Thistle hotel at London Heathrow last night with Sarah we arrived at Terminal 3 just after 06:30 for what I hoped was going to be a very straightforward check in.  Having read both the Virign Atlantic and Delta websites about their travelling with cycles policy I thought I had understood them despite their policies not being the most clearly written documents that I have read.  To cut a long story short I ended up having to pay excess baggage and then having to take my professionally packed cycle to a secure security area where I was asked to open the box and remove the bike for a security scan.  It had taken Sarah and I a lot of time to pack the bike to ensure safe transport and now here it was, out of its' box for the sake of a 30 second scan.  Apparently the reason being was that the box I had purchased was too big to go through their automated scanner despite claims by the box manufacturer that it met all airline requirements and specifications!  After scanning I was left to repackage the bike and felt very uneasy about leaving it in this room and my confidence that it would arrive in Boston with me was not very high to say the least.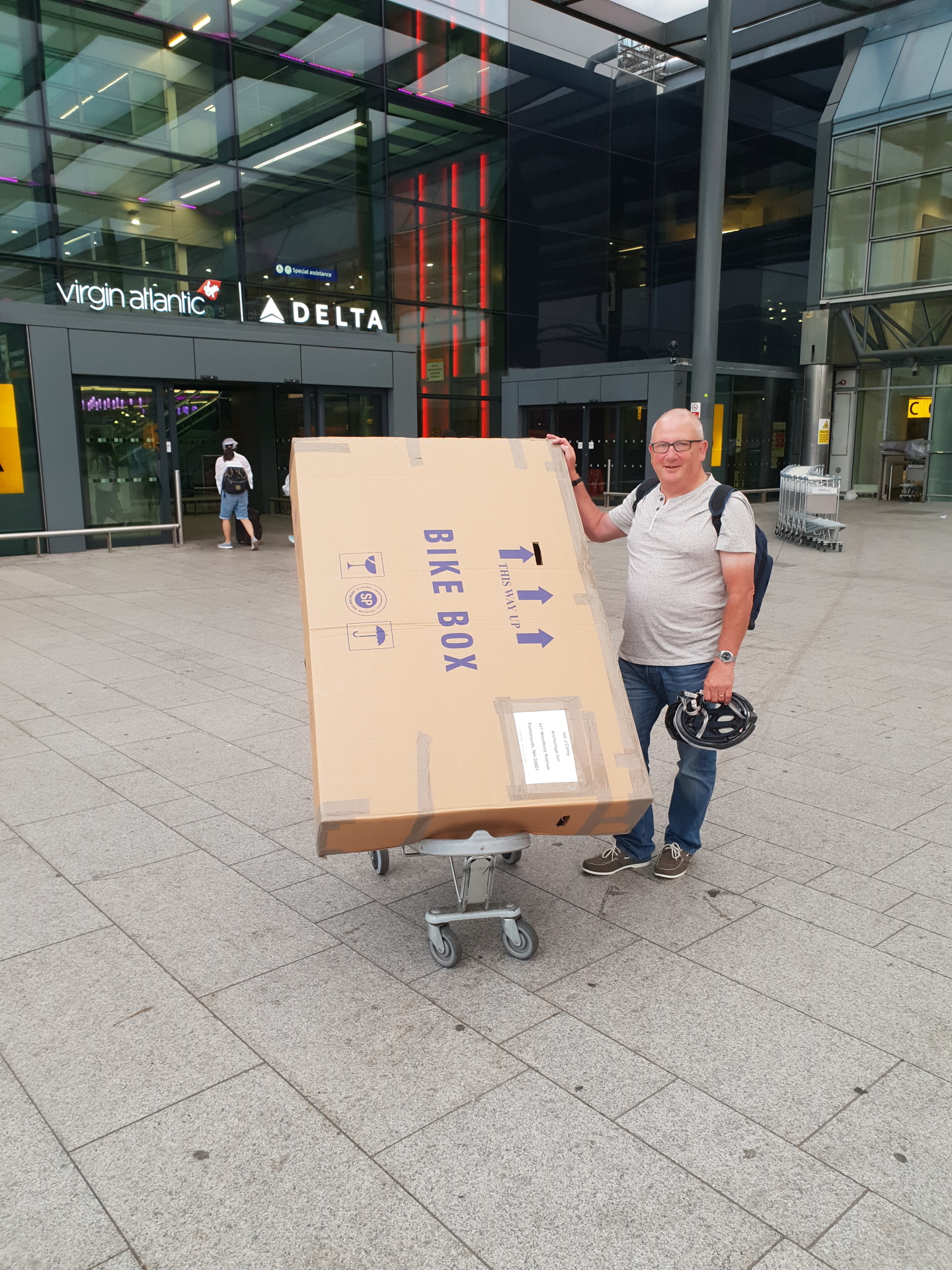 Sarah and I then said our farewells to each other and I then headed for security where my bag got pulled out for a closer inspection. The security scanner didn't like some of the bike components I was carrying in my backpack but I was eventually let through and made the gate with plenty of time to spare.
The flight was uneventful but I couldn't help thinking about what I was going to do if my bike had not made the flight and was still in that small security room at Heathrow airport.  I need not have worried because after clearing imigrations at Boston and arriving at the baggage hall my trusty steed was there waiting for me, the box slightly battered but in one piece.  Outside the transport to take me to Portsmouth NH was already waiting and shortly after 14:00 I arrived at the Anchorage Inn and Suites hotel.
After checking in I headed for my room and decided that the first thing I would do was to put the bike back together and check that it had survived the ordeal.  With a sigh of relief everything was intact and in just under an hour it was ready for our adventure together.
I phoned Sarah about 16:00 local time, watched a bit of American TV and then hit the sack after a very tiring and stressful day.  Nevertheless, I was in America again and ready to start a new adventure and hopefully meet up with some old friends along the way.