Breakfast by 07:00 and gradually riders began to appear and we made our introductions. No doubt there will be something more formal at the orientation meeting this afternoon.  At 08:30 met the America By Bicycle staff, signed on for the ride, collected paperwork, riding jersey and arm warmers and had my bike and helmet safety checked which they passed with flying colours.
I then decided to go for a short ride to test the bike so road into Portsmouth and across the bridge into the state of Maine.  it was a little strange riding on the right again and the roads are littered with potholes so took it very slowly and carefully.  I had my photo taken with my bike at the Maine state crossing by a couple out walking before returning to the hotel.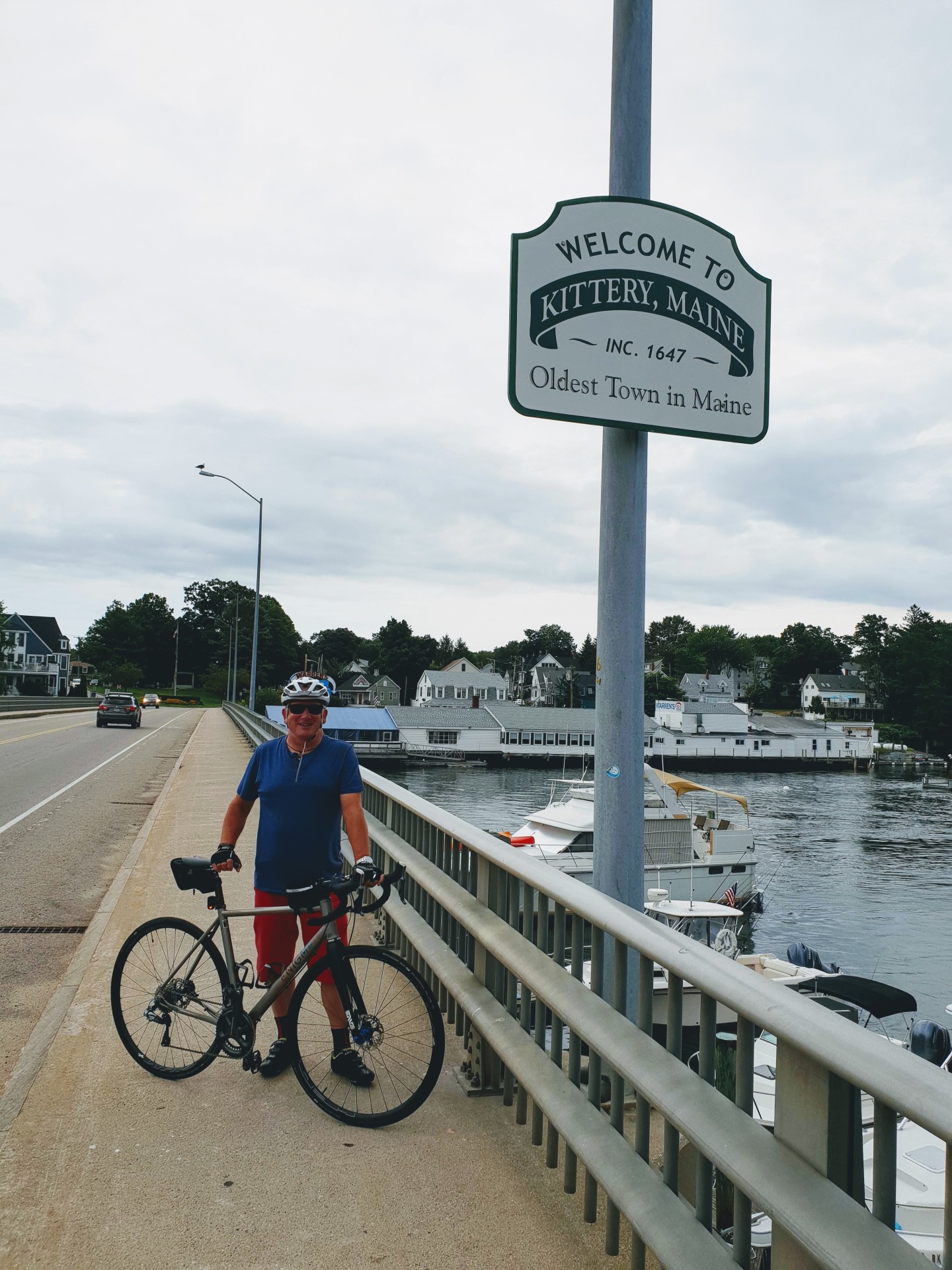 I then joined two riders, Bob and Jim and we walked to he local bike shop to pick up some CO2 cartridges and then across to the supermarket for some more provisions before returning to the hotel..
This afternoon we all met again for orientation. We started going around the room with everyone introducing themselves, why they were here and what they wanted to get out of the tour.  I was the only one from the UK and the only one not currently resident in the US. There are no female riders on this tour apart from three staff members, Karen, Judy and Pam and the tour leader is Mike so it will be interesting to see how the dynamics work out.  We have a nice bunch of riders, many of them retired and I sense some very strong riders amongst them.  Karen, Judy and Pam then took us through the daily logistics of tour and Mike gave us a very informative talk about staying safe on the road.
We dined this evening at the Roundabout diner again before I headed back to the hotel for final prep for tomorrow's first ride of tour. Everything I learnt from cross country in 2016 came flooding back including putting toothpaste on my toothbrush the night before.  Looking forward to tomorrow although the weather is looking somewhat dodgy.