Mileage – 67 miles
I must have been tired last night because I had to rely upon the alarm to wake me up at 05:30 this morning, very unusual as I'm normally awake and waiting for the alarm to go off.  After two long days in the saddle today was a relatively short one at only 67 miles so we could all ride sedately to our next hotel in Walterboro. There must have been extra caffeine in the coffee this morning because as we left the outskirts of Santee the pace became far from sedate. Normally I would ignore any opportunity to join a pace line and just ride at my own pace but somehow I got sucked along with John and Dan as we headed out of town. We were moving along at quite a good pace when Paul passed the three of us and John decided to grab his wheel. Paul was like a train and we had to up our pace in order to stay with him. I didn't have time to look to see how fast we were moving but I'd estimate that we were in the high teens.  At some point we caught the fast riders and just sat on their wheels for a few miles in recovery mode. Then we spotted Michael in the distance and the pace was increased again in order to catch him before the SAG at mile 37.6. Michael, Jim and I rode into the SAG together with the others just a few moments behind. That was fun, it was all I could do at times to hold on to the wheel in front but I made it – 37.6 miles in just a shade over 2 hours!
With there being only one SAG today because of the short mileage we now only had 30 miles left to do and Paul, John, Dan and I formed our own pace line to get to the hotel. John very much like to lead and I'm happy to hold on at the back so it wasn't too long before we came across the Dairy Queen which was located almost opposite our hotel. It was only 11:30 so inside for you've guessed it – a strawberry milkshake. We sat and chatted for half an hour or so before riding the 100m or so across the road to our hotel. Unfortunately mine was one of two rooms that were not ready so I had to sit in the lobby for 20 minutes or so, chilling and recovering from the mornings exertions.
Once in my room, I spent a good hour or so on bike cleaning thinking that if I did it today then it would be one less thing I needed to do when we arrive in Savannah tomorrow which is our final rest day of tour. At RAP tonight we had a t-shirt exchange which involved everyone bringing a shirt to exchange and then playing a game to see what t-shirt you ended up with.
Tonight for dinner I was so pleased to be able to meet up with Jan and her husband Norm. Jan was staff when I rode cross country in 2016 and it was so nice to be able to spend a couple of hours just chatting and catching up on old times. We ate at a local eating house tonight called 'Dukes Bar-B-Q Restaurant, an all you can eat menu and I tried one or two of the local delicacies. Thank you Jan and Norm for making the trip to meet up with me – it was really good to see you both and thank you for your kind hospitality.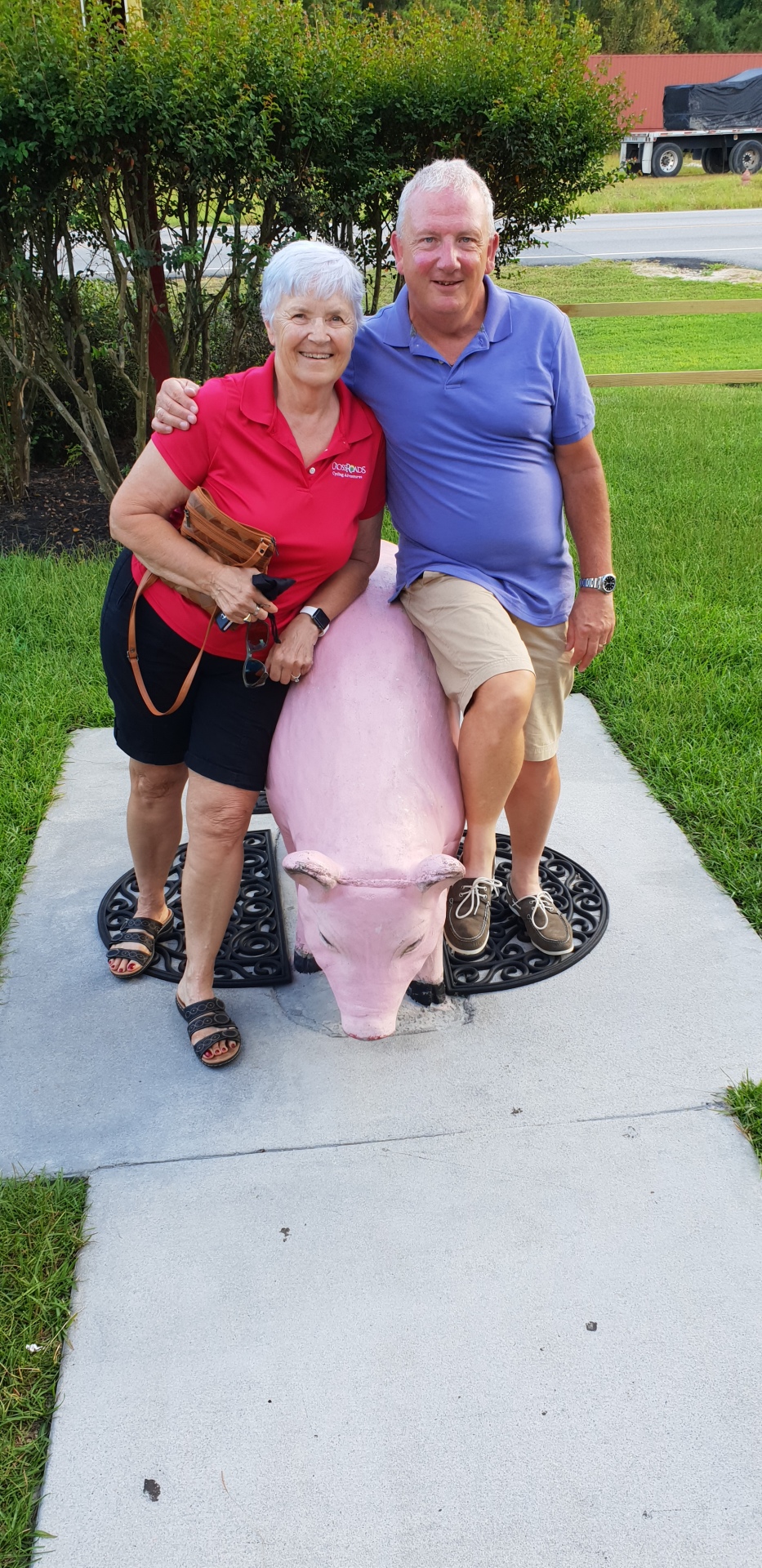 Tomorrow we head for Savannah and our final rest day. It's a 74 mile day but there is potential of rain so better retrieve the rain jacket from my bag tonight.