Day 27 – San Clemente to Imperial Beach, Chula Vista, CA
The last day of tour and always a bittersweet occasion, sad that our journey together is coming to an end but happy to be going home to see my loved ones who I have not seen for nearly a month.
Today was going to be a long day so most of us decided to set off earlier than usual this morning. The weather for Southern California was overcast with the threat of some rain during the morning which is very unusual for this area. I set off by myself at 07:15 and headed for our first event of the day which was to ride I-5 for 8 miles. On previous occasions riders have been permitted to ride through the Camp Pendleton military base but recently security has been tightened and civilians are no longer permitted on the base. This means that the only way to get to our destination is via the interstate. I got a good turn of speed going from the start this morning and carried it through until I reached Oceanside at mile 21.5, arriving shortly after 08:30. The interstate wasn't as bad as expected, the main problem being to avoid all the debris on the shoulders.
At Oceanside I had arranged to meet up with Jim and Kevin with whom I had dinner with last night and they arrived shortly before 09:00. It was great to ride with both of them again and their local knowledge of the towns we passed through was very interesting and made the miles simply fly by. We stopped for coffee at an old railway terminal which was very nice and I was told that it got very busy with cyclists at the weekends.   We made a couple of other stops to view the ocean and to take photos and before too long we were entering La Jolla at mile 50.4. Here are said goodbye to Jim and Kevin and Jim kindly presented me with a peanut and jelly sandwich which he had brought specially for me. It was the often the food we were provided with at the SAG stops on our cross country ride. It was really great to ride with both of these XC16 riders again and thank you Jim and Kevin for your hospitality and friendship.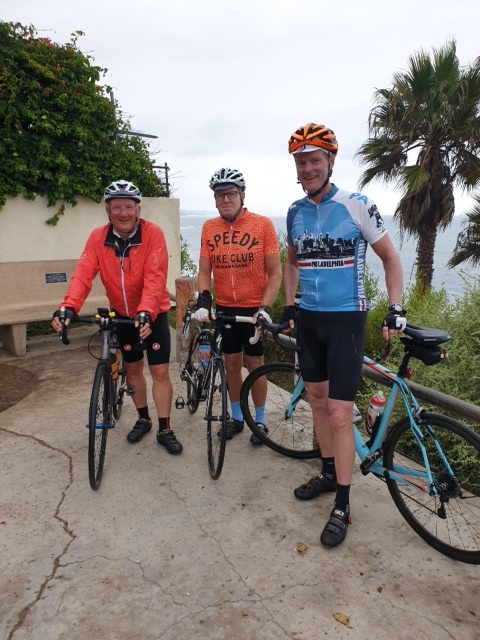 The plan for the remainder of the day was for the entire group to try to meet up at the ferry port in San Diego in time for the 14:00 sailing across to Coronado. I managed to catch Chris, Kate and Iona a couple of miles before the port and we arrived shortly after 13:00. Several of the riders had already decided to catch the 13:00 sailing so we quickly rode another 1.5 miles to another ferry departure port and caught the 13:25 sailing from there.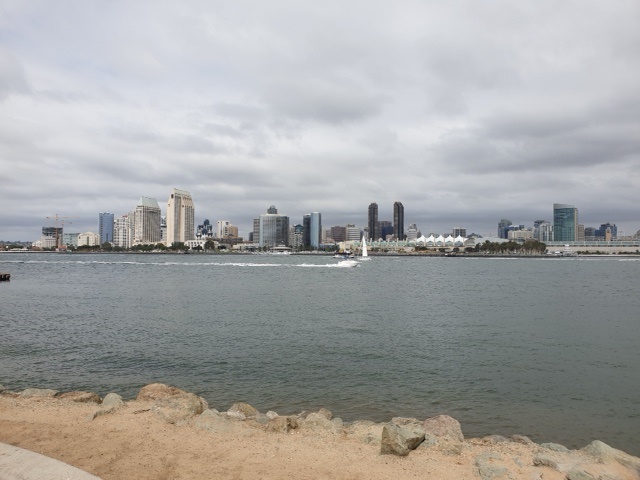 Once in Coronado I decided to push on to the border, approximately 18 miles away. Most of the route was on dedicated cycle paths which was nice and as I approached the final couple of miles I got my first glimpse of the 'wall' that separates the USA from Mexico. The final mile or so was on a very bumpy road and I eventually arrived at Imperial Beach to be greeted by Michael, Steph and the two Dave's followed swiftly by Dom with a glass of champagne.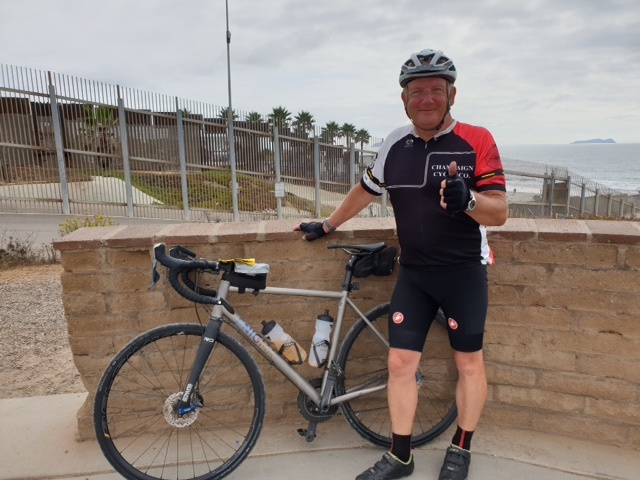 After just over 1,700 miles and nearly 82,000′ of climbing we had reached our final destination. It had taken us just under 4 weeks since we set off from Port Townsend on the 1st September. I took a few photos of the occasion and then Steph and I hung around waiting for the remaining riders to arrive. They were not too far behind and we congratulated each other and had a team photo of most of the riders.
Steph, Chris and I then decided to cycle the additional 12.5 miles back to the outskirts of San Diego and our final hotel. Steph set a blistering pace but the only problem being that nearly every set of traffic signals was against us so it was very much a start/stop ride.
Tonight, we ate as a group for the final time at a small seafood restaurant near to the hotel. We chatted about the ride and had a good last evening together. Tomorrow I will write my final thoughts and then it is to the airport for my flight home.