Distance – 93 miles (77 miles)
After a great day in the saddle yesterday I was concerned that my legs would feel tired this morning but they felt good and we departed Holbrook at 07:00.   Today was going to be a long day but the highlight would be crossing the state line into New Mexico, our third state of tour.
As any cyclist will tell you, pedalling into a strong headwind is very energy sagging and demoralising and sadly that is exactly what we encountered today.   Many of the riders had called up the local weather so we were all aware as to what we could expect, but all of us hoped that it would not be too bad.   On leaving the hotel we went straight onto the I-40E, the road we would stay on all the way to Gallup.
Cycling on the shoulder of the Interstate highway is not the most rewarding experience but sadly there is little option and today was more about getting from A to B.   The first SAG stop was after 37.9 miles and although windy it was beginning to warm up.   I enjoyed a lovely cold strawberry milk at the SAG before returning to the Interstate for another 25.4 miles to the second SAG of the day.   This was situated at Indian City, a small Indian outpost with a shop and restroom facilities.   By now, we could see the rain clouds gathering in the distance and knew it would not be too long before the rain jackets would be needed.   Skirting around several road works by going up and over the junctions as opposed to staying on the interstate we eventually arrived at the New Mexico state line. Stopping only briefly for photo's and the sprinkling of our Pacific sand we headed on and the heavens opened.​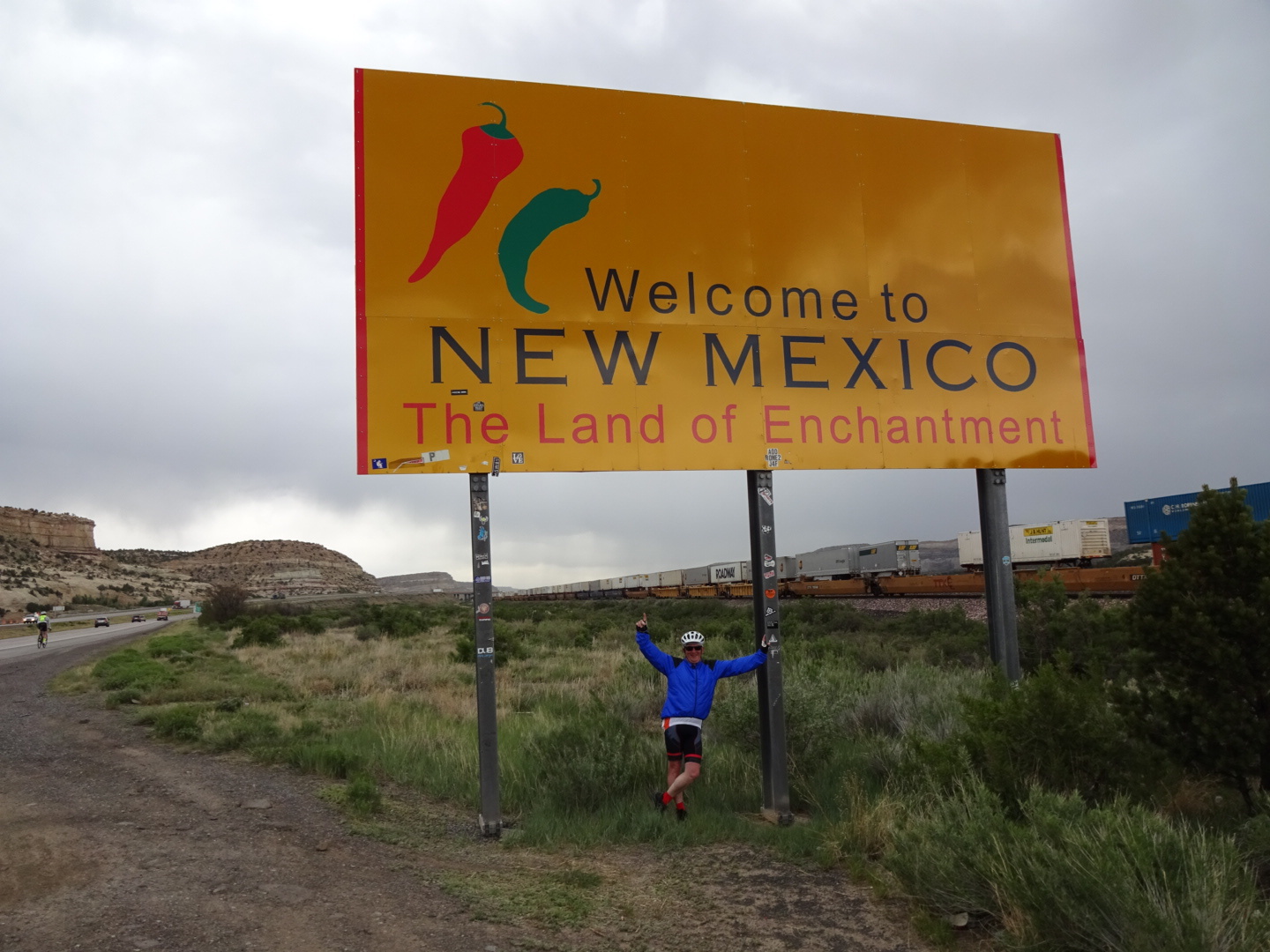 As soon as the rain started there was an immediate drop in air temperature, it probably went from low 70's to low 50's in the space of 10 minutes.  Whilst cycling, it was wet, but ok, but the moment you stopped it was only a question of time before the cold really hit you.   Several of the riders decided to call it a day at the New Mexico Visitor Centre, just a couple of miles into New Mexico, but although wet to the skin, I felt strong and decided to push on for the remaining 16 miles to the hotel.   Sadly, 2 miles beyond the Visitor Centre I experienced a rear flat and things went downhill very quickly.
Trying to find the wire that had penetrated my rear tyre, in torrential rain and now in very cold conditions was almost impossible and I soon began to recognise the early signs of hypothermia.   My coordination became impaired and it was difficult to think logically.   My hands were so cold that I was unable to put any strength through them to get the tyre back on the wheel.  Thankfully, one of the support vehicles passed and I managed to flag it down.   We tried for a few more minutes to try to fix the flat but Mack soon realised that I was now shivering with the cold and quickly got me into the warmth of the support vehicle.   Reluctantly I took my second bump of tour, but again due to extreme conditions.   If I'd had a flat I could fix it – if it rained, I could handle that, but the combination of both together and with the drastic drop in temperature at the end of a long and tiring day was just too much.  We returned to the Visitor Centre and picked up several other riders so did not feel too bad.
Taking a second bump made me realise that riding every single step across the country is very much a lottery and no matter how fit you may be, if luck is against you then it is going to be tough.   Statistics from previous tours show that only a handful of riders each year manage to go right the way across the country but as one rider put it – it's not all about the biking.   Yes, I felt disappointed again but I am having a wonderful experience and if it were easy, everyone would be doing it.  I want to share my experience with those I love and keeping safe so that I can tell my story is my ultimate goal.   I know in my heart I have given 100% and that I could not have tried harder, but luck has not been on my side.   I have seen scenery that you can only dream of and I am cycling with a group of riders that are absolutely amazing, sharing our life experiences together and helping one another during the more difficult times.
Its an amazing journey and I am so glad to be a part of it.