Distance – 65 miles
The weather watchers in the group had forecast that today was going to be another tough ride with strong headwinds and they were not wrong.   The bonus however was that we had a late start today, 09:00 instead of 07:00 and how lovely those two extra hours in bed were.
Heading out of the hotel we appeared to perform a full 360 degree turn in order to get on the historic Route 66, a road we would now follow on and off for the next couple of days.   It was really nice to get off of the interstate, so much less traffic and an opportunity to poodle along and chat with fellow riders.  It was short lived however as at mile 16.7 we rejoined the interstate and rode gradually uphill for the next 11.4 miles to the first SAG of the day which was located at the Continental Divide, one of the notable landmarks of the tour.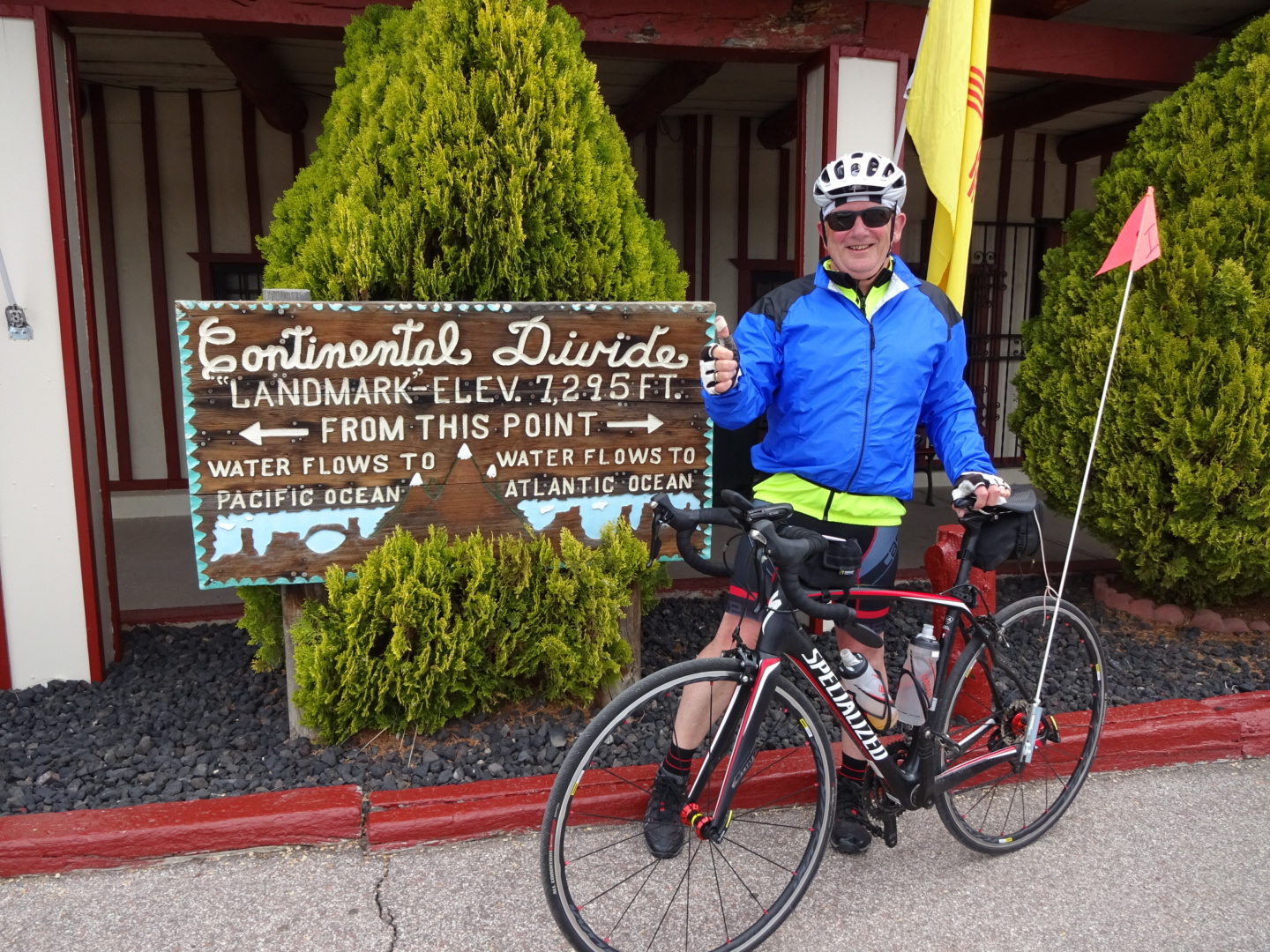 It it should have been a relatively short stop but as I prepared to get back on the road I find that my rear tyre was soft, another piece of road debris had penetrated through to the tube.   Thanks to Tracy and Rik I was soon on my way again but this time battling a very strong headwind.   Progress was slow, seldom touching double digits in terms of speed and it certainly was energy sagging.   A group of about 8 riders passed me and although I initially tried to tag onto their tail, their speed was just that little too fast and I soon dropped off the back. again.   Howard, one of the strong riders from the U.K. came to my rescue and for the next 30 miles or so offered to allow me to slipstream on his back wheel and it was so much easier.   We made excellent progress and after a brief stop at a Dairy Queen on the outskirts of Grants made it to the Holiday Inn Express in good time.
Dinner tonight was at Denny's, sirloin steak, cheese mash and broccoli was the order and it slid down a treat.   The good news also came through from the weather watchers that tomorrow was going to be fine, with light winds that may even blow us to Albuquerque – that would be wonderful after the last couple of days.   Once again, upon returning to my room for a final tyre check before bedding down I found a front flat, nothing like fixing a flat just before bed!