MIleage – 108 miles
Today had been billed as one of the hardest days of tour, long distance, high desert, hot temperatures and potentially strong winds.   I was apprehensive about today and did not sleep very well last night thinking about the day ahead.   However, the day turned out as one of my best on tour and I was pleasantly pleased.
Leaving Las Vegas the day started with a long, steady climb on very quiet roads which was nice to have.   The total climbing today would be around 4,200′, that coupled with a 108 miles told me to take things steady from the start but my body wanted to do things differently. From the start I felt strong and soon found a good cadence which had me climbing quite fast.   The road surface was good which makes all the difference and after approximately 10 miles I had the first hill behind me and began to open up.   It's always good to have a target to chase and I soon caught and passed Russ and could see Kevin T in the distance.   The rolling hills suit my riding and I was soon eating into the gap between us.   I passed him around 8 miles to the first SAG and a little further along the road came across Jan (CrossRoads) who was motoring along quite fast.  I sheltered behind her for a few minutes before putting the hammer down again and arrived at the SAG first after 27.8 miles. This SAG marked a milestone in our journey in that we had cycled 1,000 miles since leaving Los Angeles.   I refuelled, posed for the 1,000 mile photo before hitting the road again.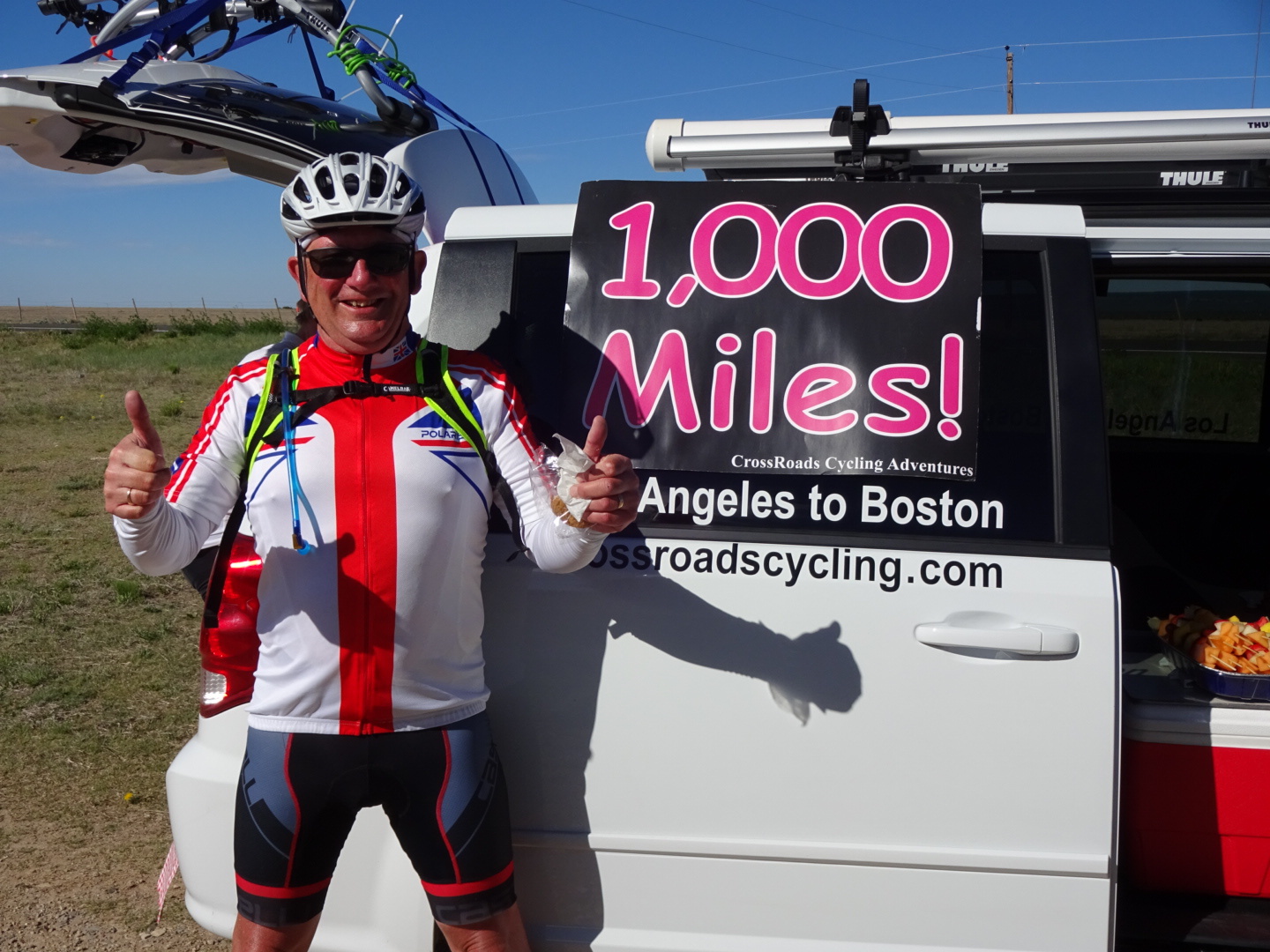 After 6 miles I began a 3 mile descent that would take us down into the high desert.   As I descended, the scenery opened up and I could see for what seemed hundred of miles.   I continued to ride at a fast pace, with the aim of getting as many miles under my belt as possible before the temperature rose or the assisting wind decided to change direction.   A second SAG at mile 47.3 was a quick in and out before hitting a long and what seemed like an endless straight road.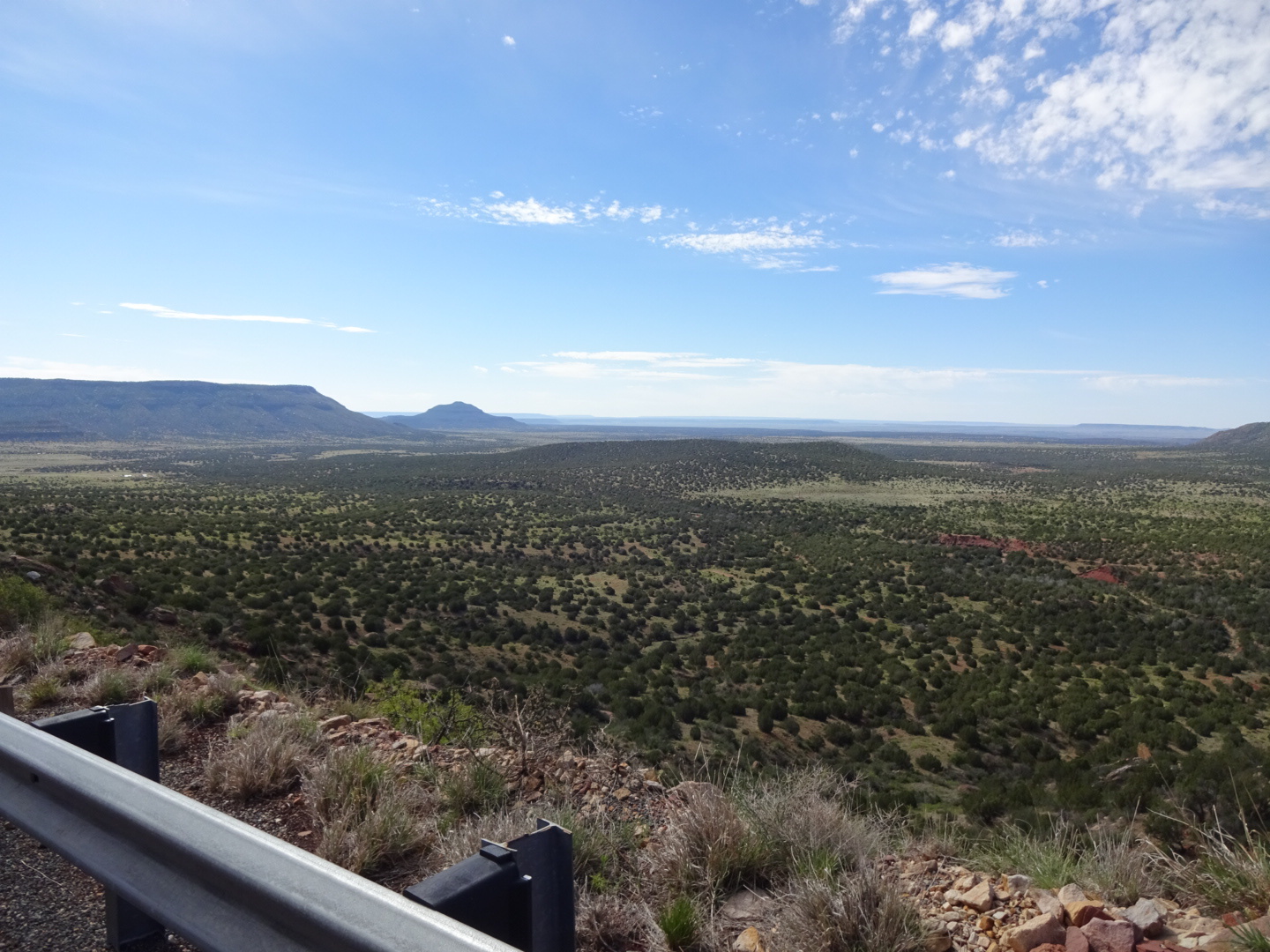 We had been advised to take a gel at mile 56 in anticipation of 'the wall' which came at mile 66.   Much of the day had been rolling hills with a gradual loss of altitude and then I saw 'the wall' looming ahead.   It was a 0.7 mile, quite severe climb which certainly tested the cardiovascular system.  Halfway up, Tracy passed in the truck with Larry hanging out of the window taking photos of the pain and suffering.   At the top of the climb, CrossRoads staff had congregated and shouted words of encouragement as I crested the top and I managed a out of the saddle sprint for the final few meters.   Mack was there handing out chocolate milk which slid down a treat.
A fast ride to the final SAG of the day at mile 75.5 and sandwiches for lunch which were a great reward for a hard few hours in the saddle.  With just 31 miles to our destination of Tucumcari I settled down into a strong steady cadence, eating into the miles as best I could.   The early fast pace was taking its toll, but I was still feeling strong.   The last few miles were testing, rollers and a freshening quarter wind but I eventually checked into La Quinta Inn at 14:43, 4th rider home for the day.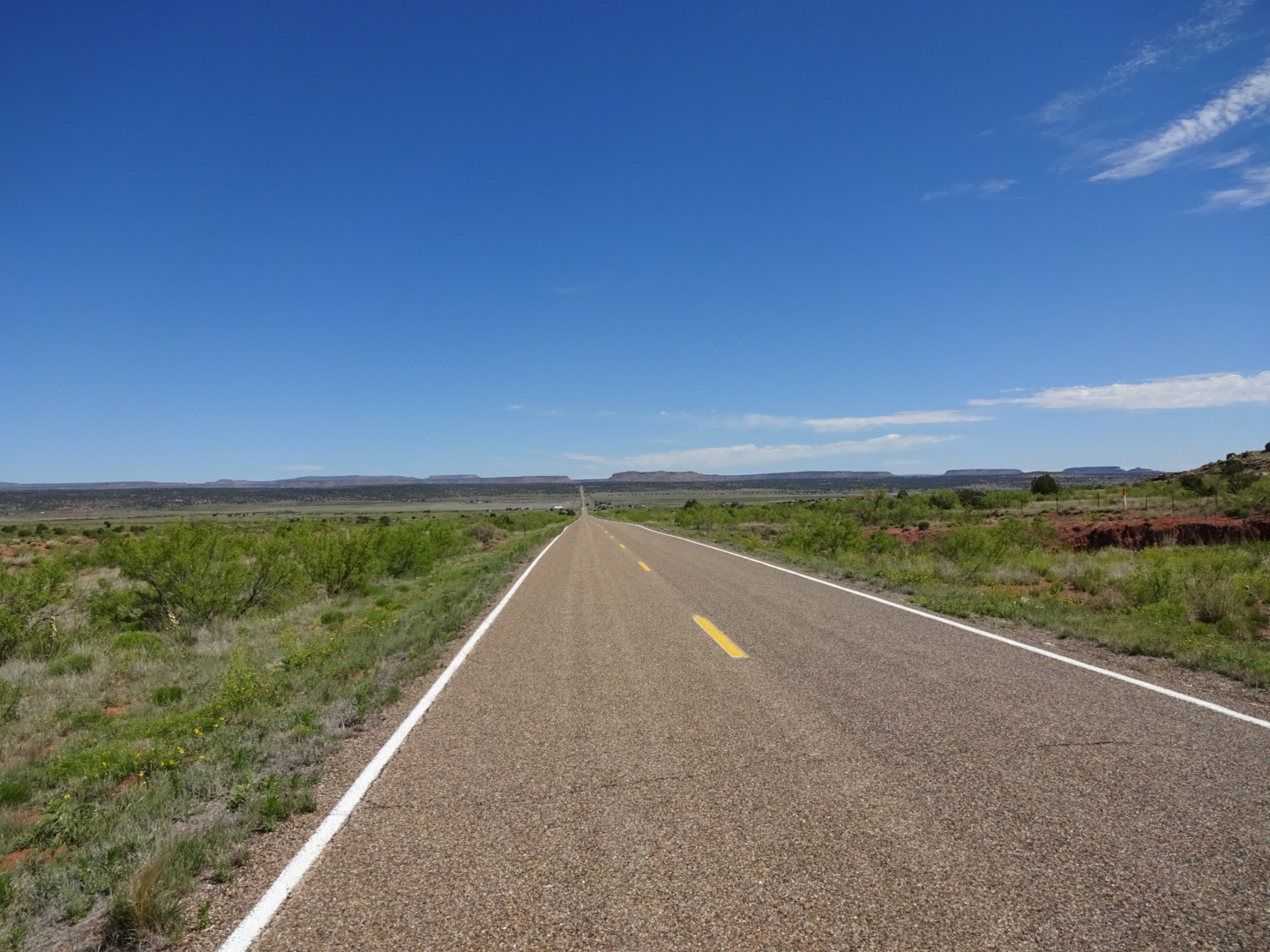 Todays ride was important to me to prove that I could ride in desert conditions and I was pleased with the result.  Tracy was pleased too because tomorrow my start time has been delayed to 07:15, an extra 15 minutes in bed!  The only downside to the day was yet another rear flat when I checked the tyres tonight.
Dinner tonight was at another K-Bob's and I had the pleasure of sharing the evening with Jan and Carol from CrossRoads staff.   What a great day, I may pay the price tomorrow, but it's only 96 miles and I am well informed that there is not too much climbing to do.