Mileage – 40 miles
What another amazing day which started well with an extra two hours in bed and got better as the day progressed.
Today was one of the shortest days of tour, just 40 miles and we had all day to do it.  The terrain was generally flat with around 500′ of climbing over the 40 mile distance.   For once, when I awoke, the sky was not perfectly clear but instead dark, threatening clouds although no rain was forecasted for the day.   We were however in tornado country so although unlikely, we had nevertheless been briefed last night on the precautions to take if the situation arose.  I also decided that today would be a non lycra day as requested by Ben my son, who promised to make a donation to my charities if I fulfilled the challenge.  Being a short day it seemed a good a day as any to do it so I dressed appropriately, wearing by charity t-shirts and normal shorts.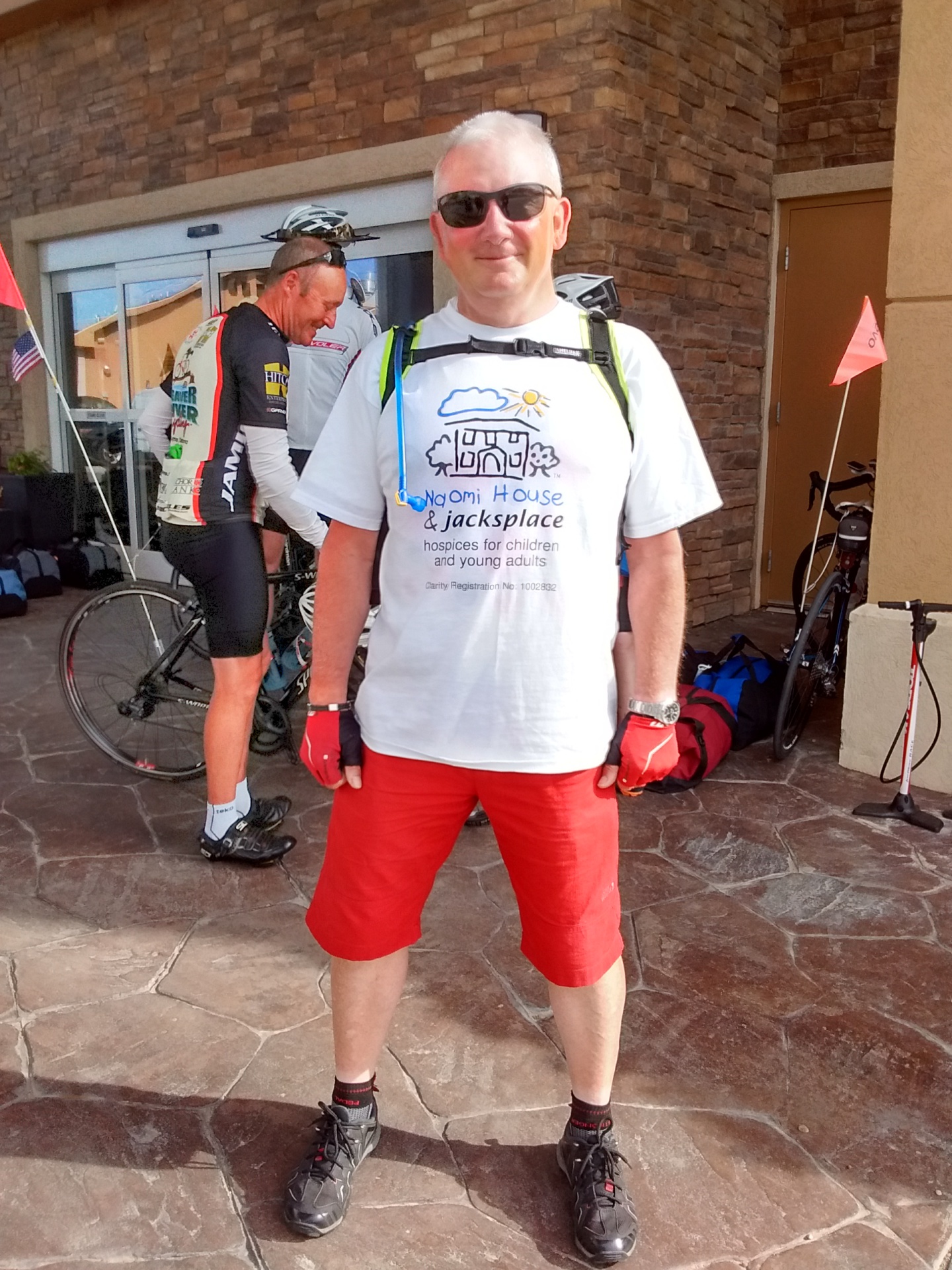 Setting off at 09:15 I was soon into my rhythm and knocked out the first 18.6 miles to the only SAG of the day at the small town called Hooker.   As the name implies, there was a lot of 'hooker' memorabilia at the Chamber of Commerce store in town and although tempting I resisted the temptation to make a purchase.  The 'Hooker Motel' offering cheap overnight rates raised a few eyebrows as we passed by though!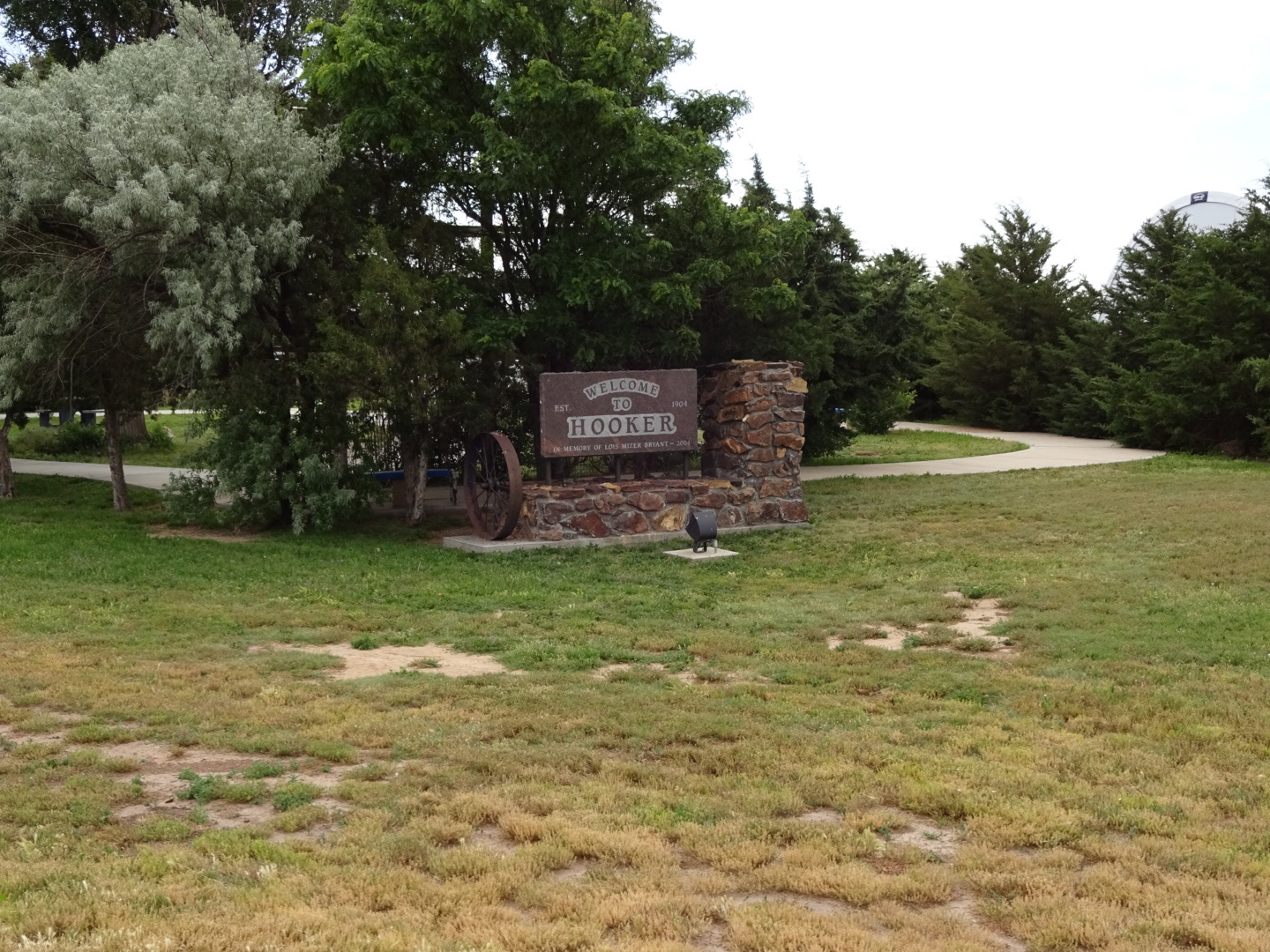 By mid morning the sky behind us was looking quite threatening, a dark strange sky with layered cloud formations that you tended to see only in movies.   The thought of rain spurred us on and at mile 35 we crossed our third state line in as many days as we entered the state of Kansas.   We sprinkled, took hasty photos and headed to our overnight stay in Liberal just a further 5 miles down the road.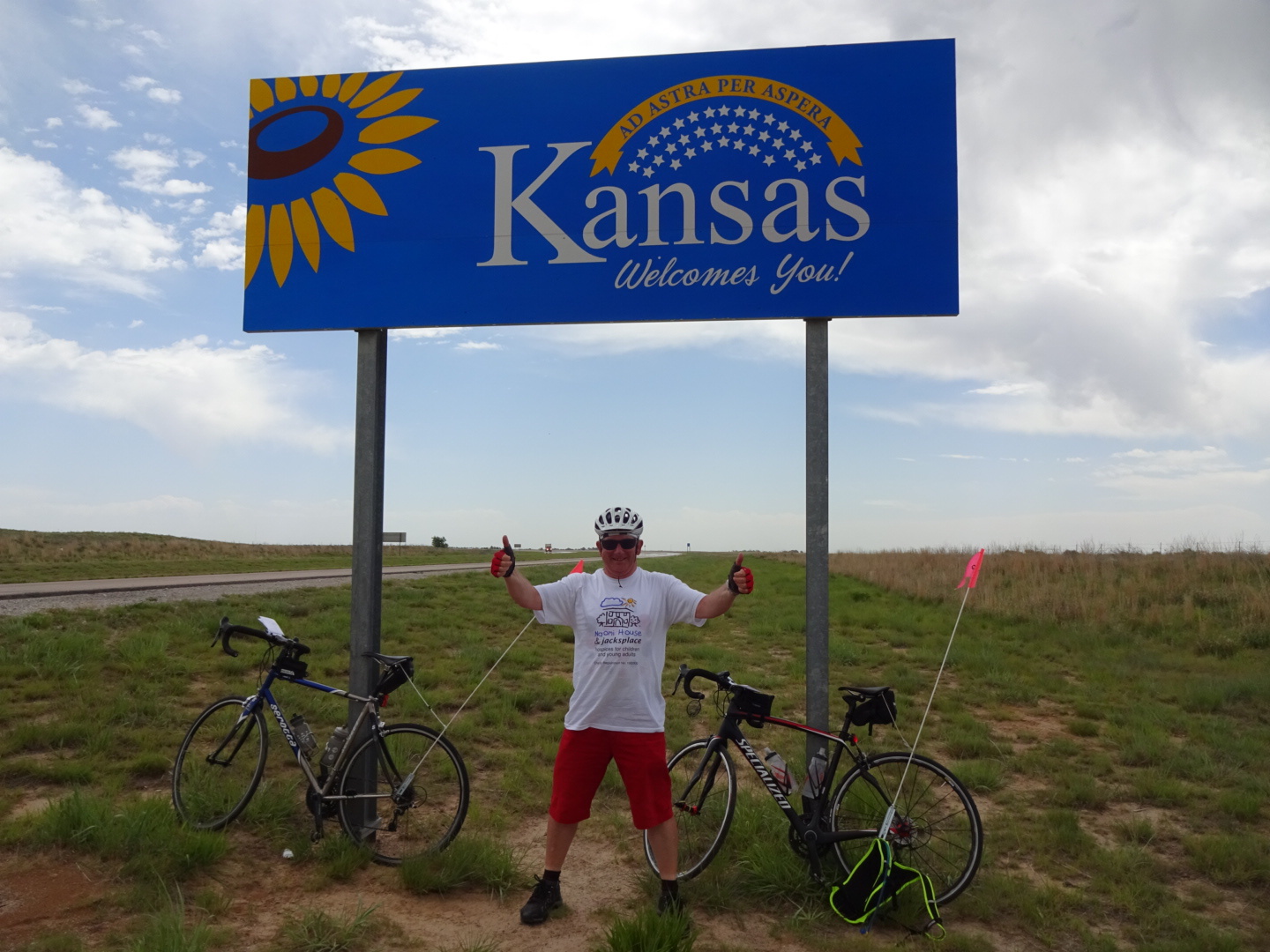 Being only late morning Kevin T and I found Mary (the bagel lady) and Lois in a small Diner on the main drag into Liberal.  We stopped and spent a good hour sat outside, eating and drinking before checking into the Holiday Inn Express.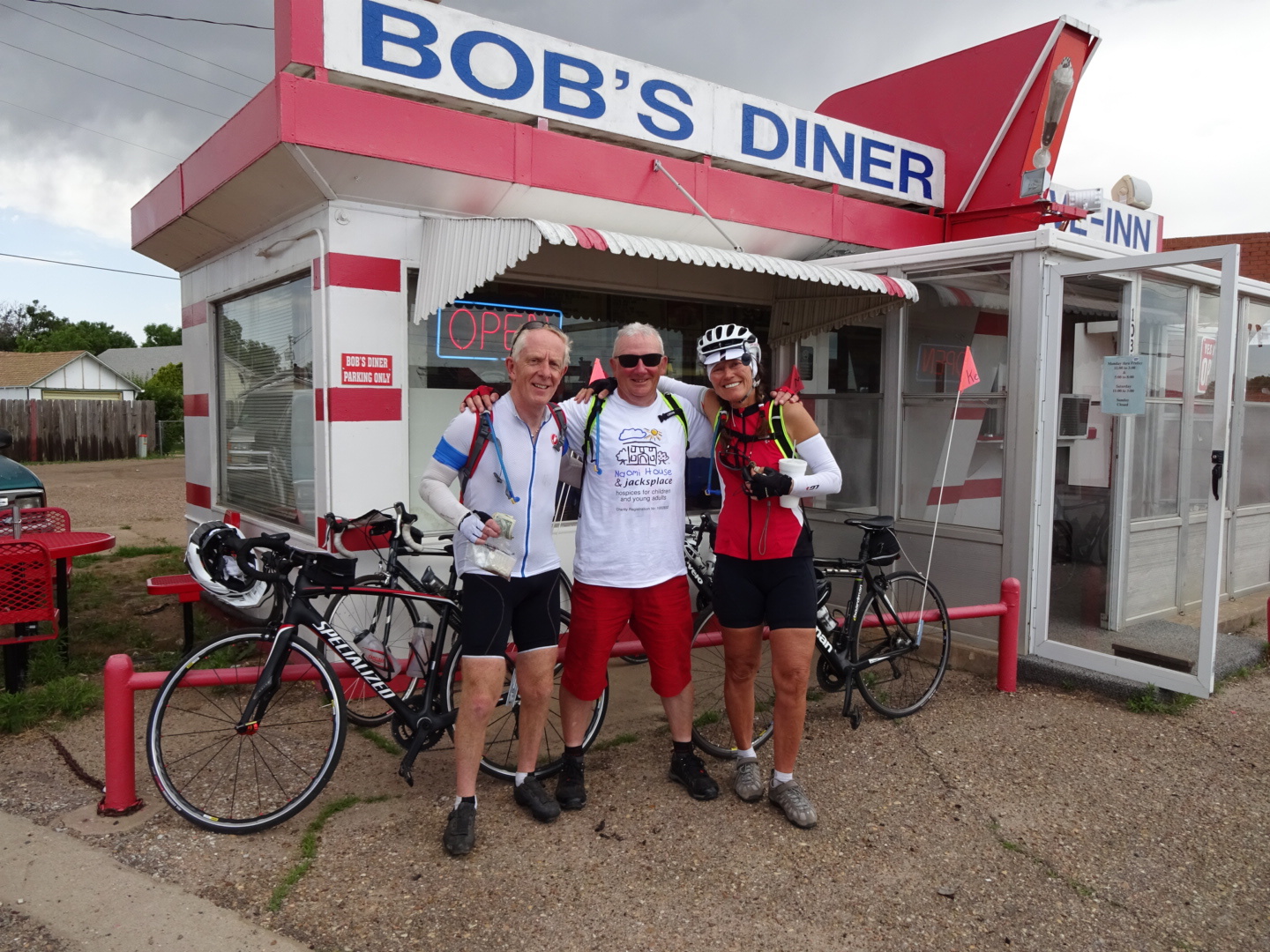 Liberal is the home of Dorothy's House from the movie, 'The Wizard of Oz' and in the afternoon I decided I must pay a visit especially with my connection with Dorothy House, one of my chosen charities.   Walking into the museum with my Dorothy House charity t-shirt I was treated like a VIP.  I was taken to see the curator of the museum and we spent time talking about my charity and she was very interested in creating a link with my charity in the UK. I was also introduced to Toto and had my photograph taken with Dorothy.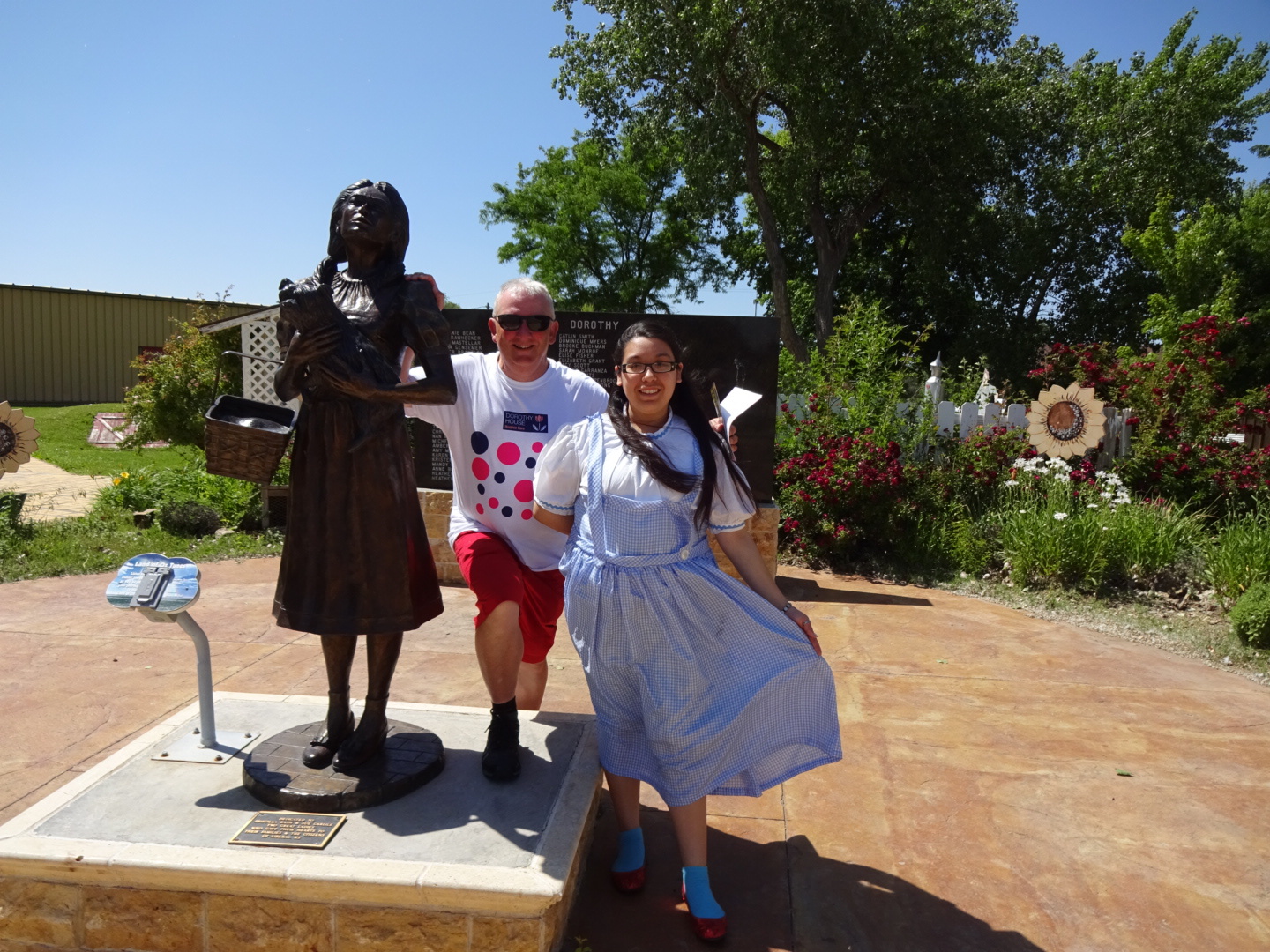 Afterwards I got chatting to an elderly gentleman who turned out to be none other than Jim Rice, the son of the original owner of Dorothy's House. He told me the house was built in 1906 but when the movie 'The Wizard of Oz' was filmed, the original flat roof was removed and a new pitched roof installed. He lived in the house for 45 years after his parents moved on.   To end a very interesting afternoon I also received a nice donation for my charity from Jim.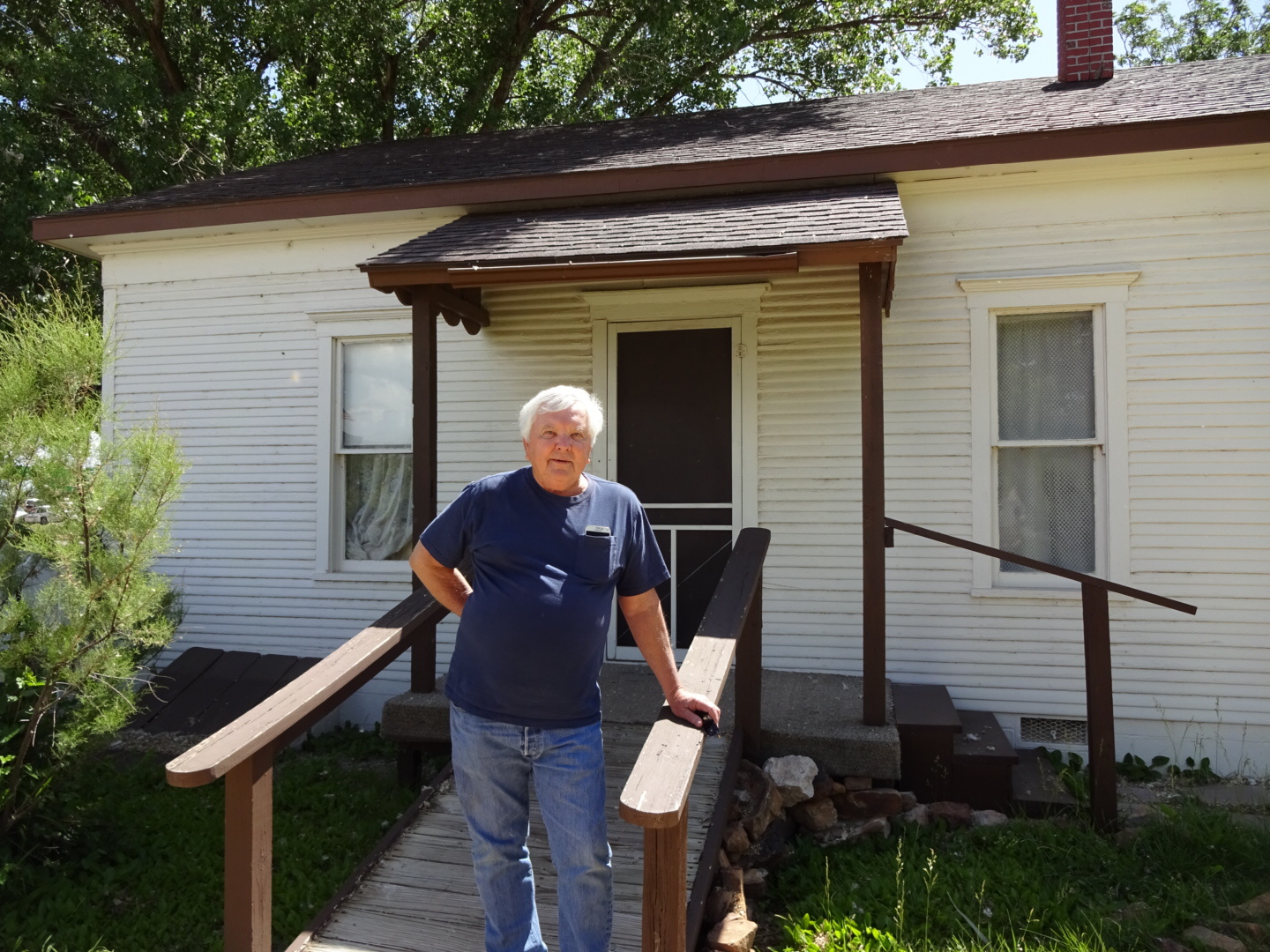 Tonight I spent preparing for the next few days rides, a couple of longish ones followed by two shorter ones that would take us to Abilene and our next rest day.