Mileage – 62 miles
Another short ride today that I had originally planned to take nice and easy, winding down to rest day tomorrow.   It was a nice and clear with very little wind as we set of from McPherson this morning.   There was music playing and Tracy was wandering around pointing her camera at the riders as we left the hotel.  There was a happy and jovial mood amongst the riders and it was one of those days that you just knew was going to be good.
Turning right out of the hotel we found ourselves on a relatively quiet road heading east yet again with a nice wide and smooth shoulder on which to ride.   I didn't push hard this morning, ambling along at just over 15 mph.  After about 15 miles I met up with Jan from Crossroads and we cycled together for a few miles, chatting as we went and wiling away the miles.   Turning left at mile 22.4 we started to head north on State Road 15N, stopping briefly to take a picture of a house or ranch set away from the roadside.  A group of riders, Paul, Kevin, Ted and Steve joined me and after a few more photos we set off together in a pace line.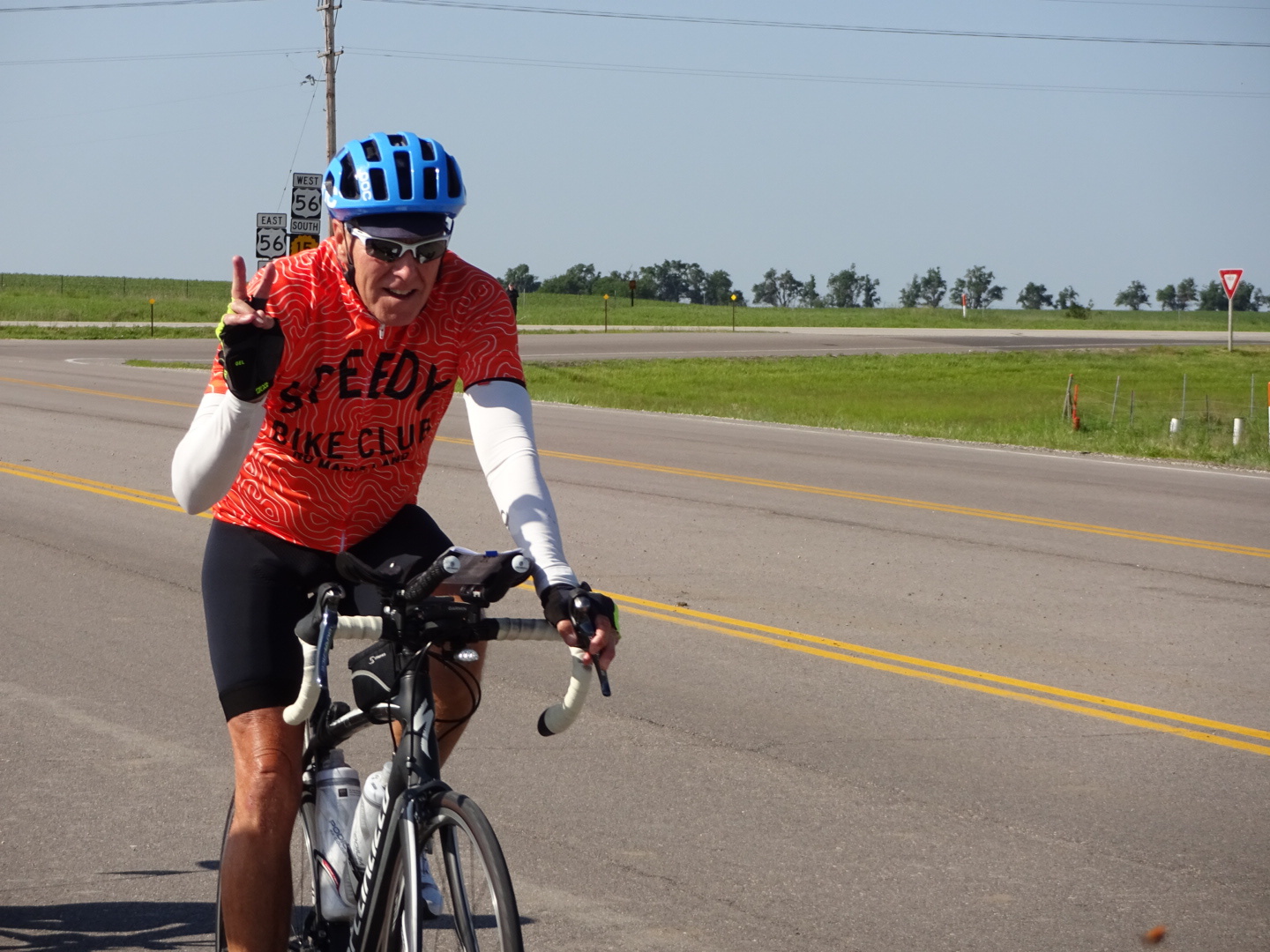 Apart from the day I rode with Howard a week or so back I have never ridden in a pace line before but it's amazing how efficient it becomes when a group ride together.  However, maximum concentration is required at all times as you are literally cycling a few inches from the rider in front.  As we hit a incline I found myself at the front and set about ensuring I maintained the pace that had been set.  At the top I pulled left to slip back into the line at the rear and every rider was complimentary about my pull up the incline – I felt good.  We reached the only SAG of the day at mile 31.0 in good time.
Leaving the SAG I teamed up with the same group of riders and we were joined by a few others and for a few miles we trolled along as a big group.   Ted then decided to up the pace and I decided to go with him.  We pounded up the hills and stretched our legs along the straights and eventually came across Howard, Kevin and Lou and settled into this small group.  Shortly afterwards the original group I was cycling with passed us and we let them go.  We cycled along at a reasonable pace for a few miles before Ted once again decided to up the antics.  Dropping Kevin T the four of us, Howard, Lou, Ted and I set about catching the advanced party.  To be honest, all I could do was hang on, slip streaming the rider in front and we were speeding along at speeds in excess of 24 mph.  We had about 25 miles to cover and I wasn't sure I could hang in there but I gave it my best shot.  We caught the advanced party as we entered Abilene and although tired I was elated that I had managed to stick with the pace.  We ambled into town, stopped for a chocolate milk at a local store before heading to the Holiday Inn Express.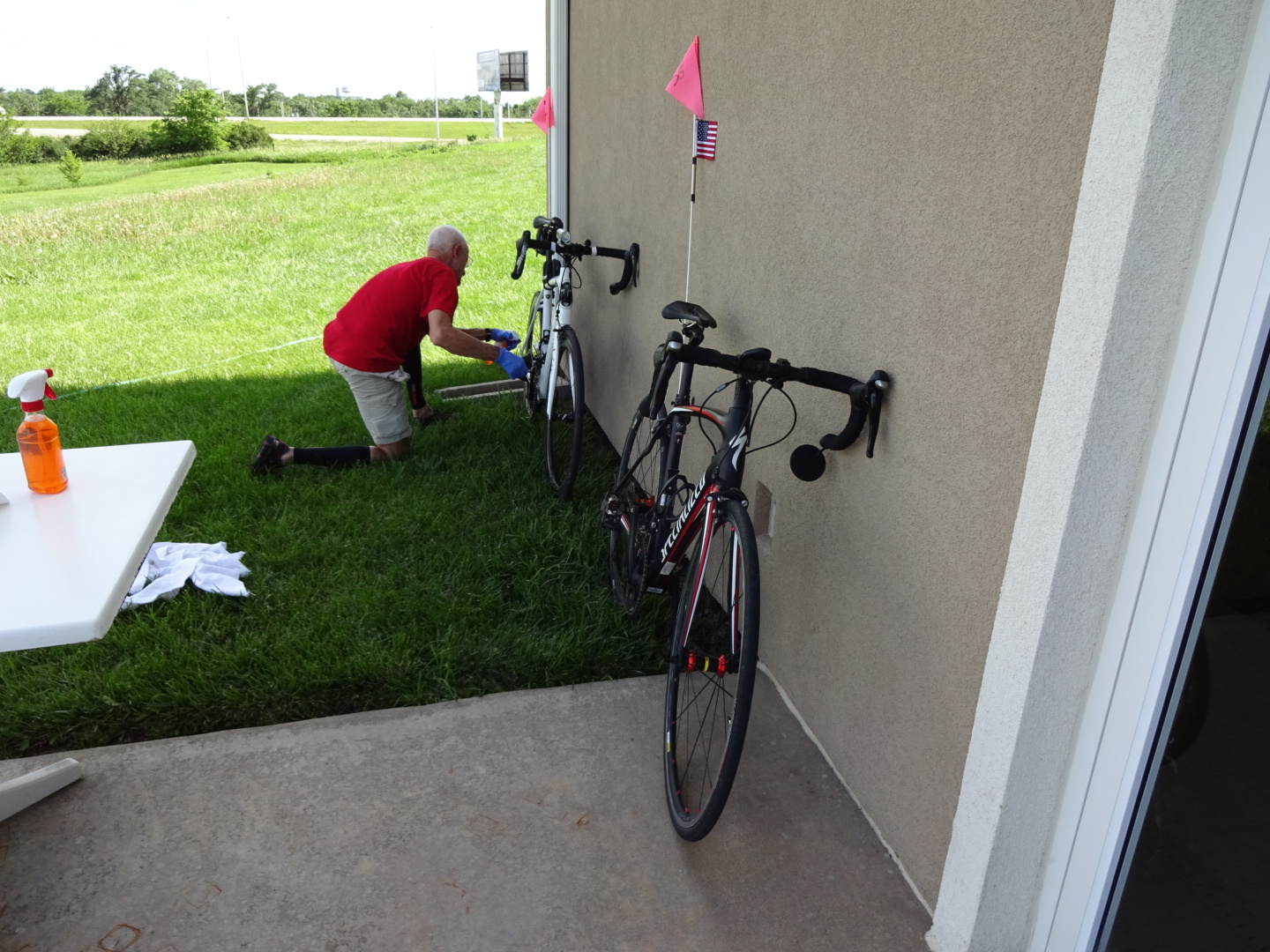 This afternoon, Carol's sister arrived at the hotel and several of us booked appointments with her to have our hair cut.   Tomorrow is rest day and with my laundry already done and bike cleaned this afternoon I can look forward to a complete day of leisure.  However, at 01:50 tomorrow morning I will be on Julian's Clegg breakfast show which I am really looking forward to.
Tonight, most of our group ate at the local Mexican restaurant in Abilene.