Mileage – 84 miles.
It's hard to believe that we are already into the second half of tour and there is uneasy talk going around the group about nearing the end of our journey together.  We still have 3 weeks until we arrive in Boston but reality is beginning to dawn on us all that this bubble that we have been living in for the past few weeks is going to burst.   Regardless, I am going to enjoy our remaining time together as I have done from the very beginning of tour and I know that this journey will forever be lifetime experience that only a few have had the privilege to share.
The day started with breakfast at 05:45 and a shuttle bus from Lawrence back to Topeka to collect our bikes from last night.  It must have been a logistical nightmare for Tracy and her team of supporters but as usual, nothing seems to phase her and there were the usual welcoming and smiling faces at breakfast this morning.  Today was also special because it was going to be Russ's last day of tour and upon arriving in St Joseph he will have completed a crossing of the USA by bicycle and at the age of 77 a fantastic achievement.
The first few miles were spent negotiating our way out of Topeka, through tree lined back streets which gave us the opportunity to see parts of the town we would not have normally seen.   The first SAG of the day was at mile 31.7 and as usual I found myself riding with Lois.  Compared with the rolling hills of yesterday the ride to the first SAG was very enjoyable, gentle rolling terrain but nothing that our gears or bodies could not handle.   We fixed Lois's Garmin at the SAg and headed out to the second SAG of the day at mile 56.6.  It was easy riding but it was warm and I was glad to arrive at the SAG which was at a Dairy Queen where the now customary milk shake was consumed – banana this time for a change.  Talk was also going around the group of rendezvousing a few miles from the finish and riding in with Russ as a Cross Country rider.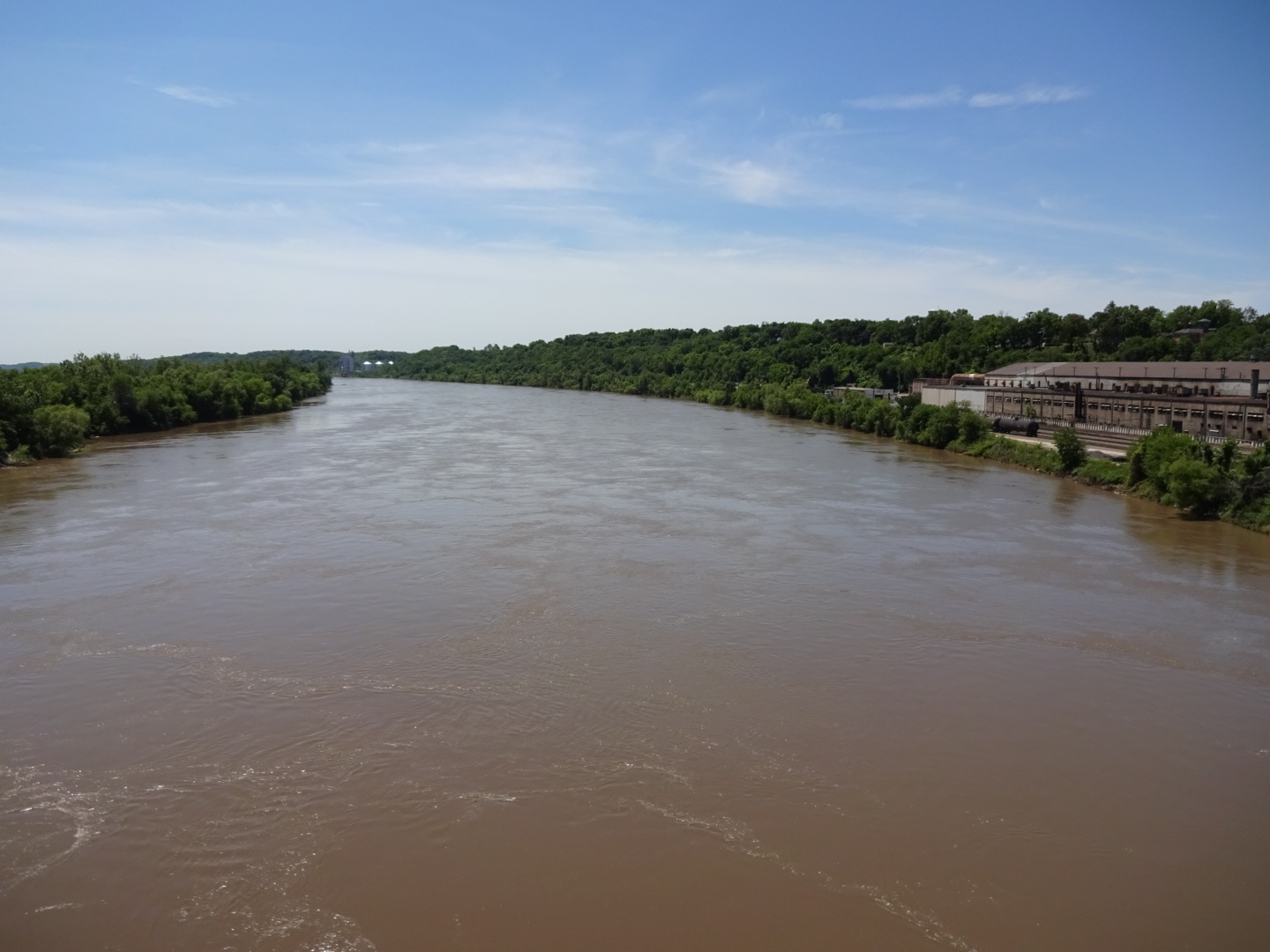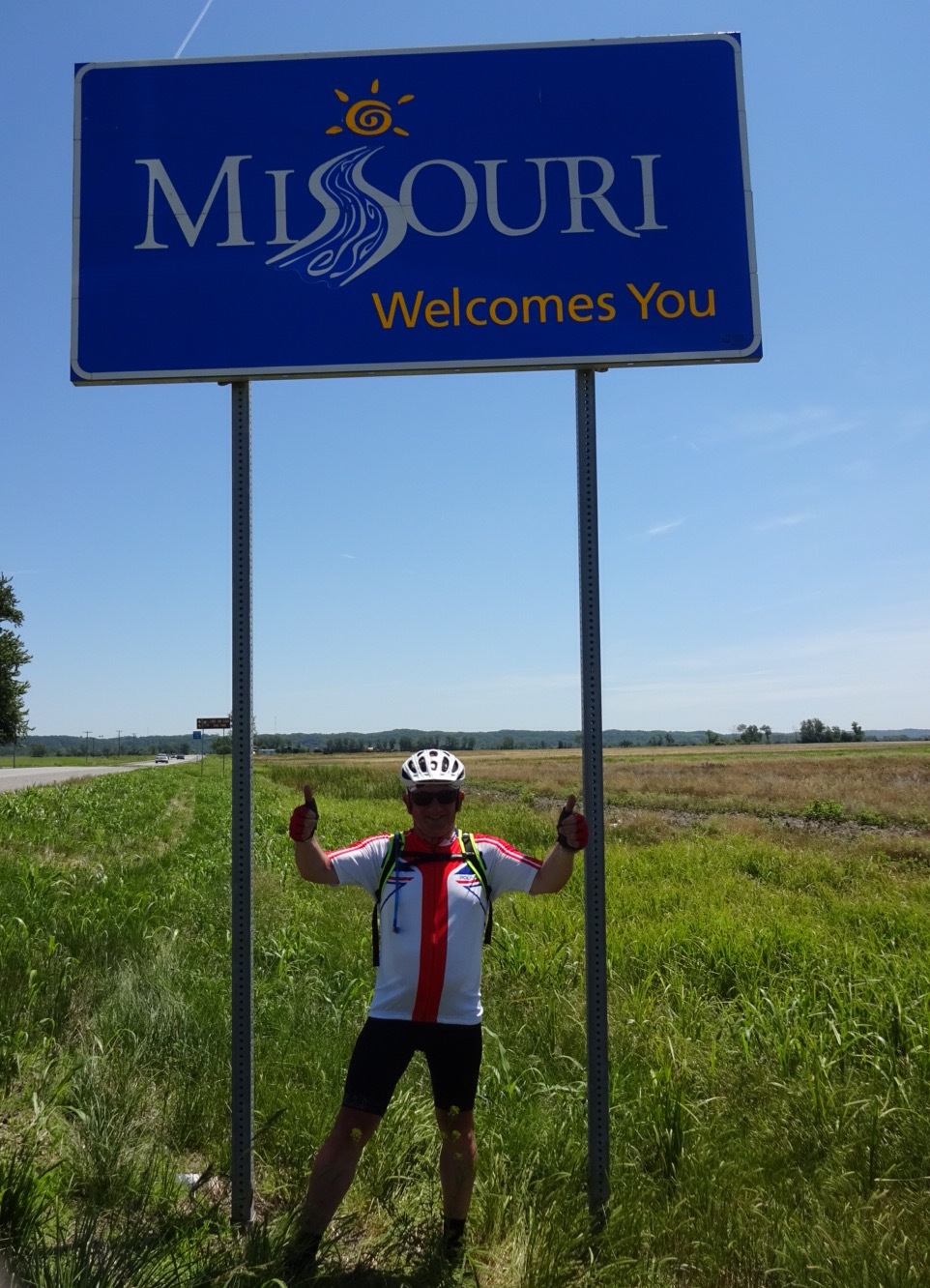 As we left the SAG we crossed over the Missouri River and entered into the State of Missouri.  We stopped for photos and to sprinkle before heading for home.   Lois and I cycled with Howard and Lou but just a few miles after entering Missouri Lou had a front tyre blow out.  We flagged down Mack in the support vehicle and replaced both tube and tyre before heading on.   It was now mid afternoon and very hot and humid and so a short stop at a store 10 miles out was called for and liquid refreshments.
The last few miles were through some very pleasant woodland, some short sharp hills thrown in for extra measure but it was good to do some climbing.  We eventually arrived at the hotel at 15:00 and checked in.  Another 84 miles in the bag and Russ was now a fully fledged cross country rider – congratulations Russ and sorry we missed the ride in with you.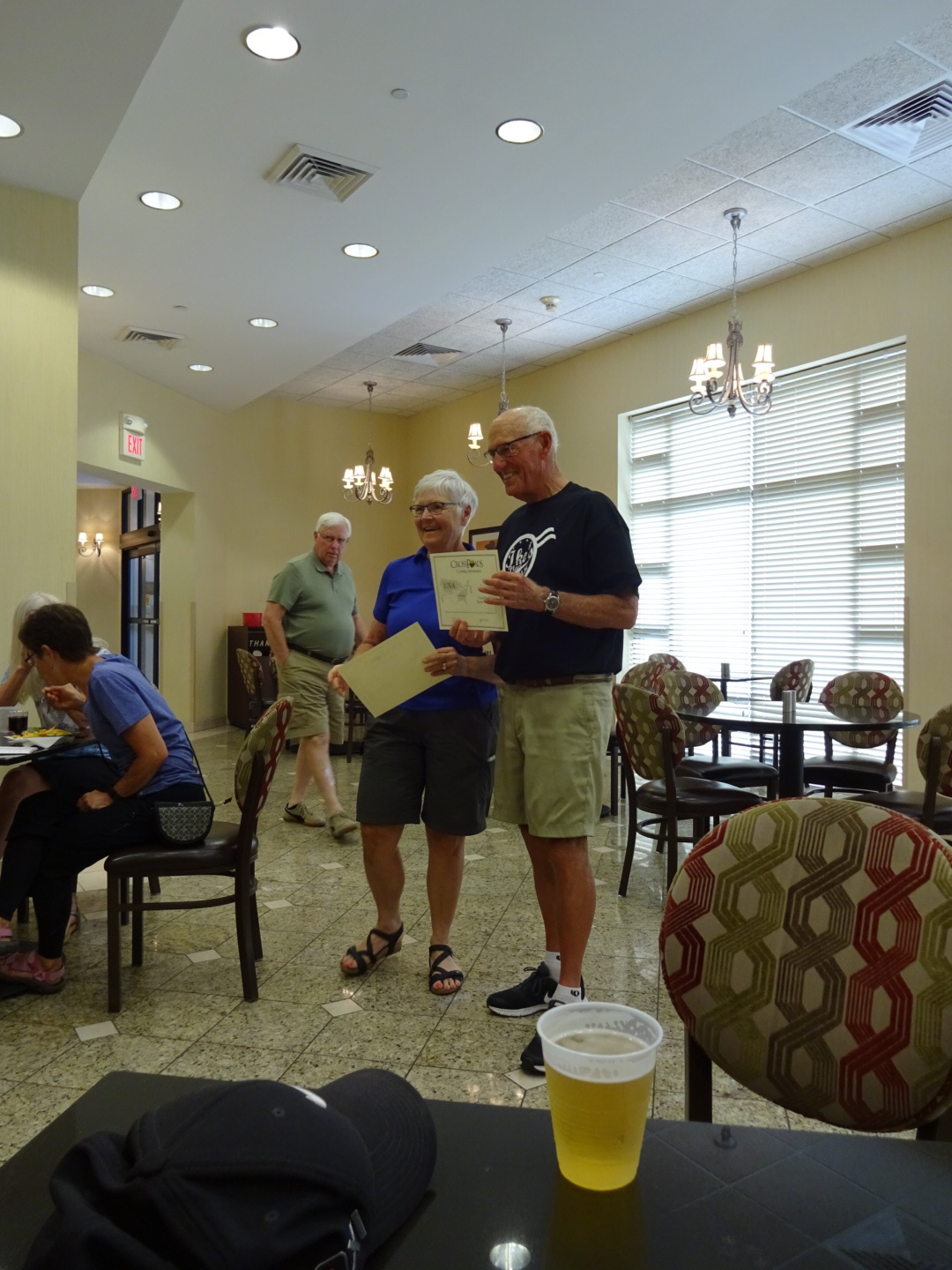 At RAP tonight Russ was presented with his cross country certificate and Dinner tonight was at Applebee's just across the road from the hotel.  I decided to go for traditional English fish and chips and boy were they good.