Mileage – 79 miles
There are certain days on tour that stand out as being the best and today was certainly one of those days.
After rest day yesterday everyone appeared at breakfast this morning looking suitably refreshed.   There were several new cycling jerseys being displayed including mine and we had a new rider Ron join the group to cycle the remainer of the way to Boston with us.  To start the day, we had all be requested to decorate our helmets and there had no doubt been a lot of creativity taking place during rest day to see who had the most vivid imagination.   There was no outright winner, just a lot of fun but the one that made me laugh the most was Kevin M who had decorated his helmet with several small packets of chamois butt'r!  There were a few interesting comments flying around none of which are repeatable here!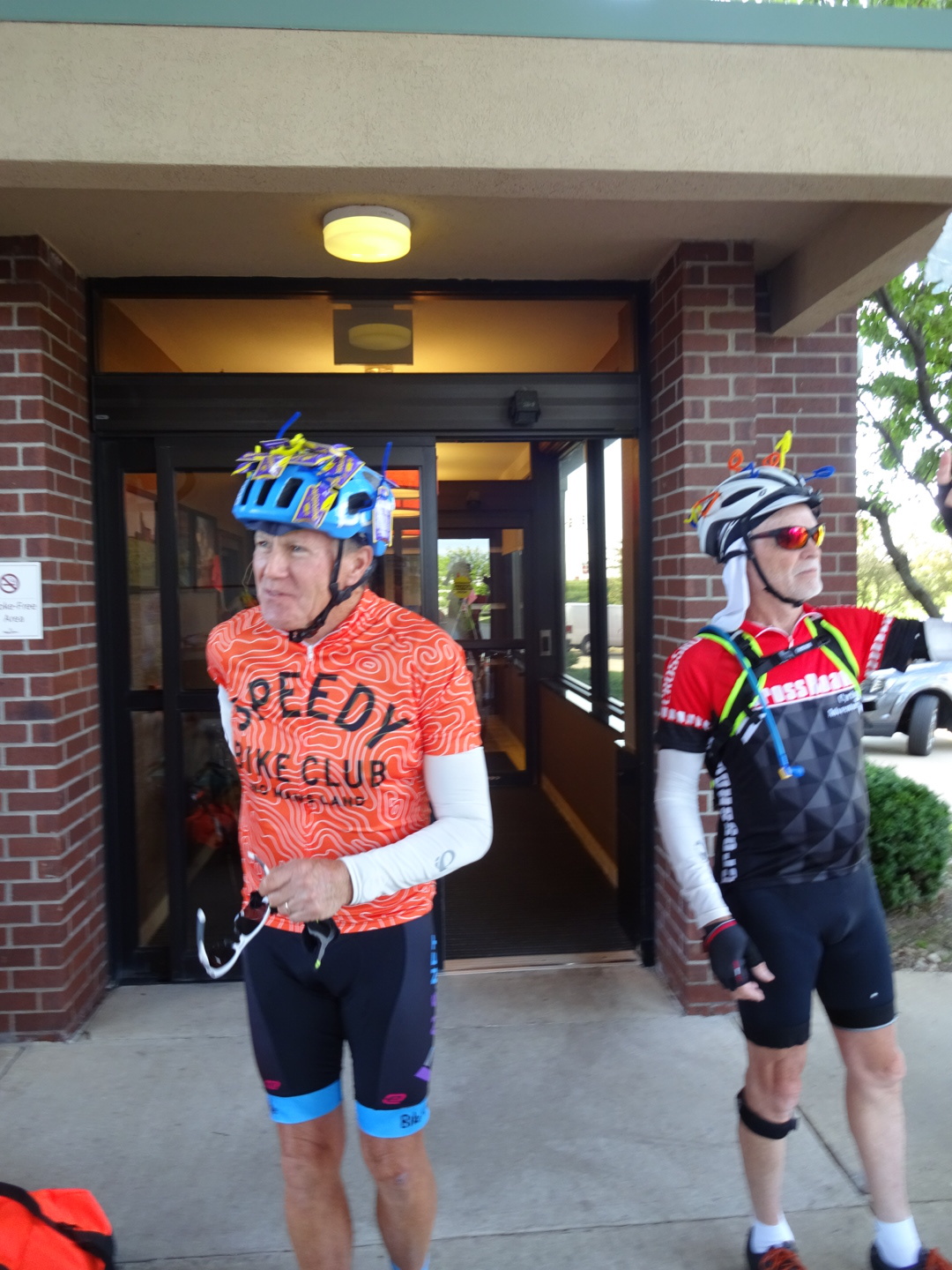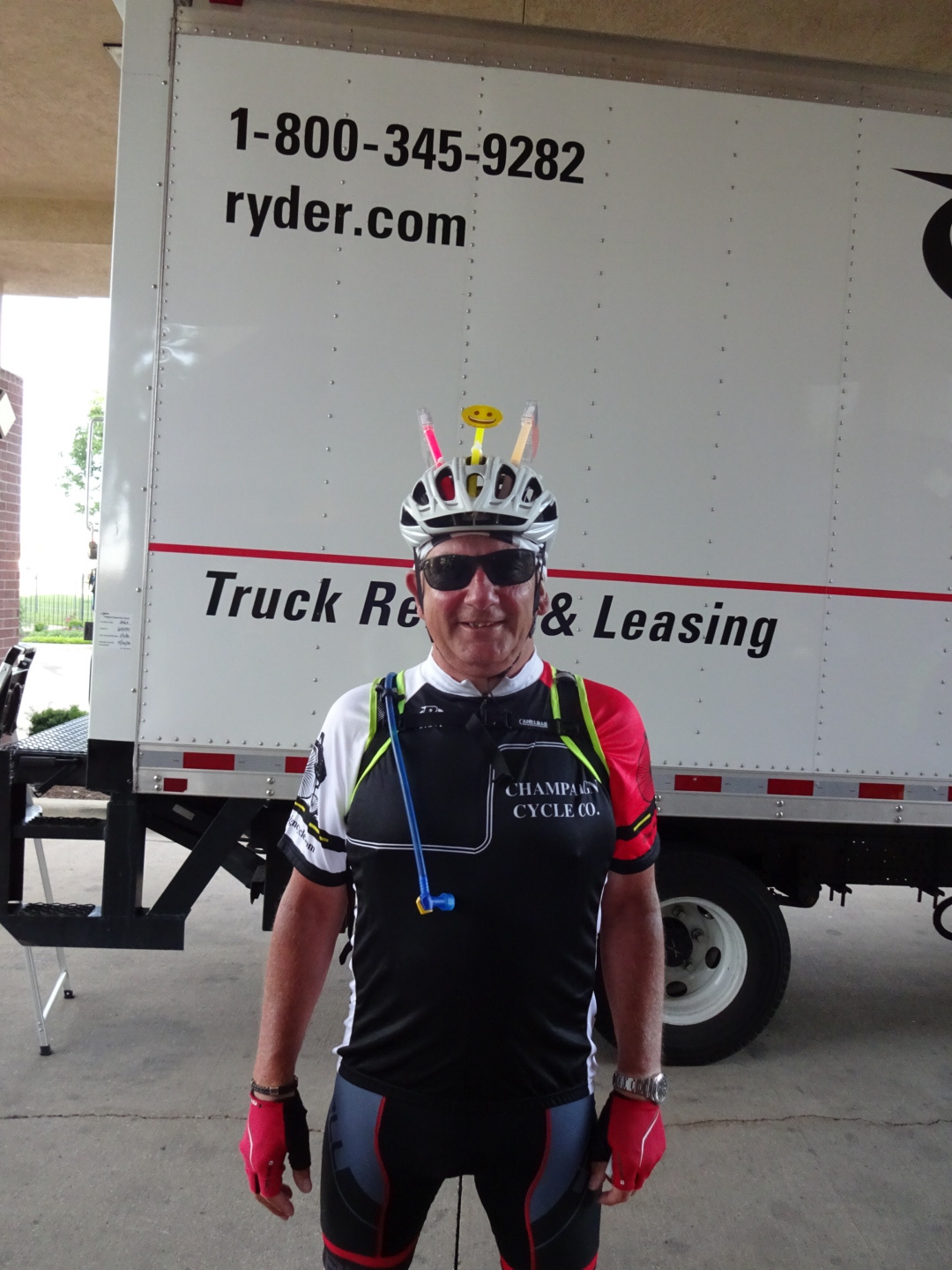 We set off at the usual time and at a nice leisurely pace.  Although we had 79 miles to cover today, nobody seemed to be in a great rush and it was nice just to chill and enjoy the wonderful countryside and scenery.  We only had one SAG scheduled today at mile 38.5 and Chris and I were one of the first arrivals which surprised us a little as we would normally have been passed by the faster riders before reaching the first SAG of the day.
We teamed up with Mary (the bagel lady) and the three of us took it in turns to lead our small peloton.  Shortly after the SAG we crossed into the state of Indiana – 'Crossroads of America' and as has become custom stopped briefly to take photographs and sprinkle Pacific sand.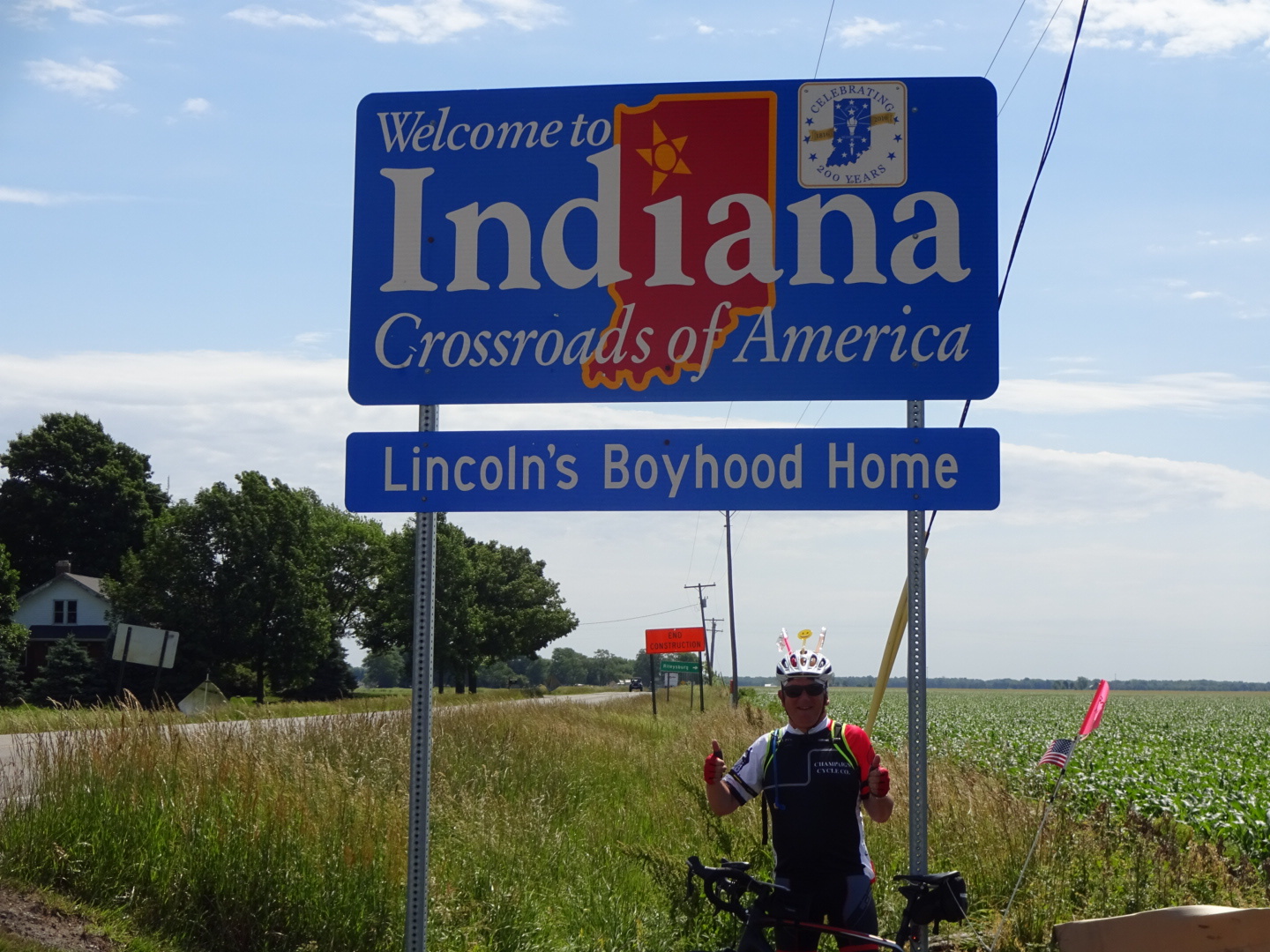 Riding onwards we had a slight headwind but nevertheless made good progress and at mile 48.3 reached the small town of Covington.  Whilst Chris and I initially took the wrong road we were quickly corrected and found our way into the small town centre where Mary (the bagel lady) had discovered a very nice coffee shop.   We received a very warm welcome from the owner and locals and spent a good 40 minutes or so just chatting away and generally enjoying the local hospitality. Eventually it was time to leave, we bade our farewells and headed onwards towards our destination.  One of the things I have really enjoyed on this adventure is meeting the local people who are so interested in what we are doing and make us feel really welcome.  The coffee shop owner on this occasion was even prepared not to charge us for our refreshments which really goes to show the great hospitality we receive when we visit these small towns.
At mile 67.4 we entered another small town of Holman and noticing a few of our riders bikes parked outside of another coffee shop, Mary and I decided to stop again whilst Chris elected to continue to Crawfordsville.   The welcome here was just as good as the last venue and we both managed a slice of the local homemade fruit pies – delicious.  Once again when trying to pay we were told that the food and drink was complimentary but we left a donation to the local charity which we knew would go to a good cause.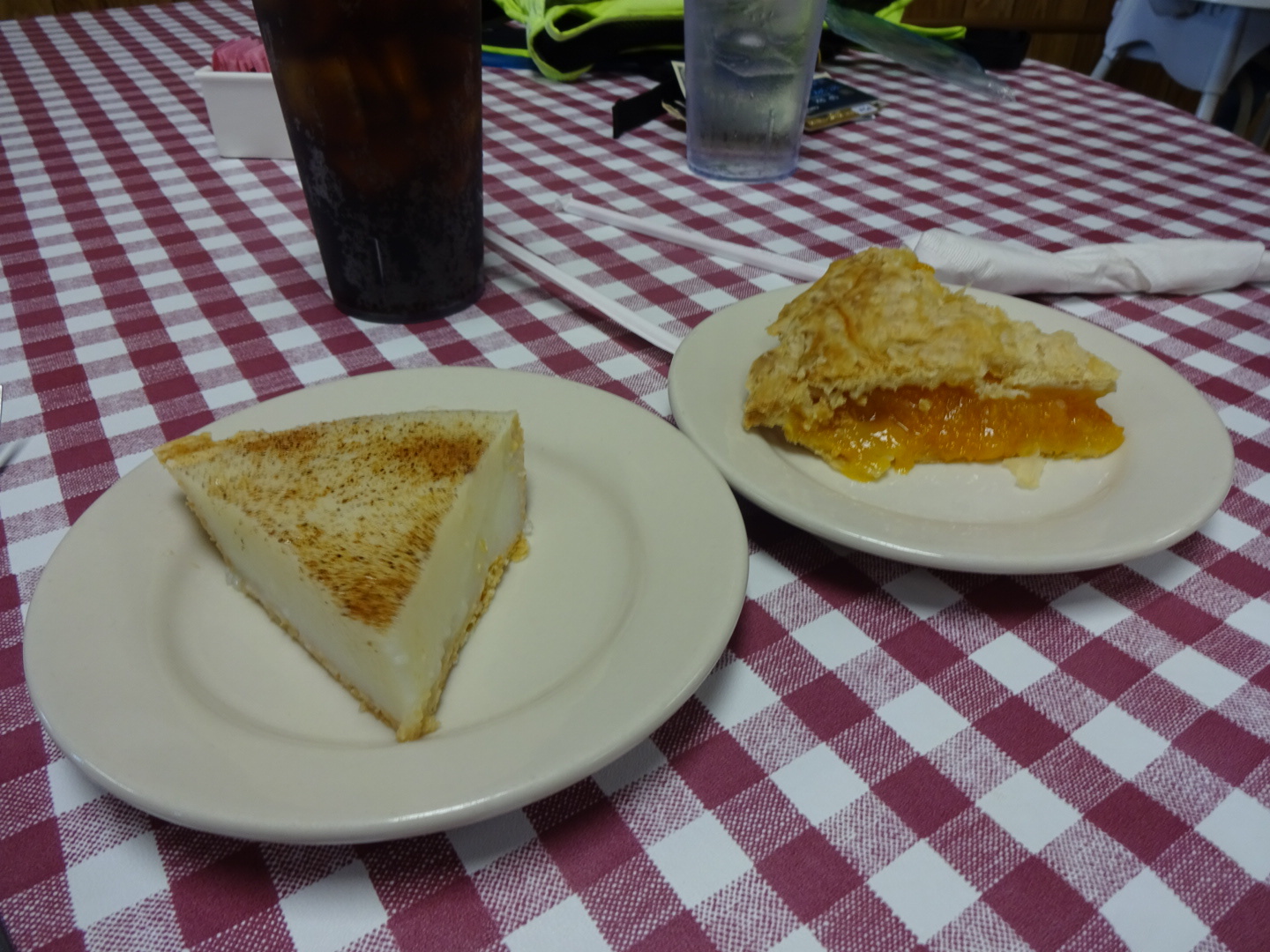 This just left about 13 miles left to the hotel and after returning a call to Mack who had rung to check on our progress we teamed up and were soon on the outskirts of Crawfordsville and shortly afterwards arriving at the Holiday Inn Express.  Dinner tonight was at Cracker Barrel just across the road and the special was roast turkey which was very enjoyable.  On returning to the hotel I grabbed a coffee and spent a little while talking biking with Larry (Tracy's husband) which rounded off a most enjoyable day.