Mileage – 59 miles
A relatively short day today that would see us finish in the city of Indianapolis.
The upcoming few days are relatively heavy in mileage so today was a day to take things easy and to start with, it was nice to have a 2 hour delayed start which meant that the alarm did not go off until 07:15 – bliss.  Setting off from the hotel, Chris, Kevin T and I teamed up for a few miles and it was relatively easy going.  After a while Kevin T could no longer handle the sedate pace and set off leaving Chris and I to amble along together.   The wind tended to fluctuate, sometimes in our faces and then coming from over our shoulder so we were constantly moving around the road trying to find the sweet spot to save our energy.  After a while we came across Mary (the bagel lady) and with a headwind she and I paired up and made the most of the conditions.  We stopped a time gas station at mile 13.8 and I consumed a icy cold Starbucks mocha which set me up to get to the only SAG of the day at mile 23.8.
The SAG was located at a small church situated in the middle of nowhere and the team served up slices of pizza which were really enjoyable.  When leaving a SAG stop the tendency is to relax and keep on following the same road.  Fortunately, Chris was on the ball and just 0.1 miles down the road we needed to take a right turn.  Sadly a number of riders missed it and realised their navigational error about a mile further along the road and had to retrace their steps.  Had I not riding with Chris I probably would have made the same mistake!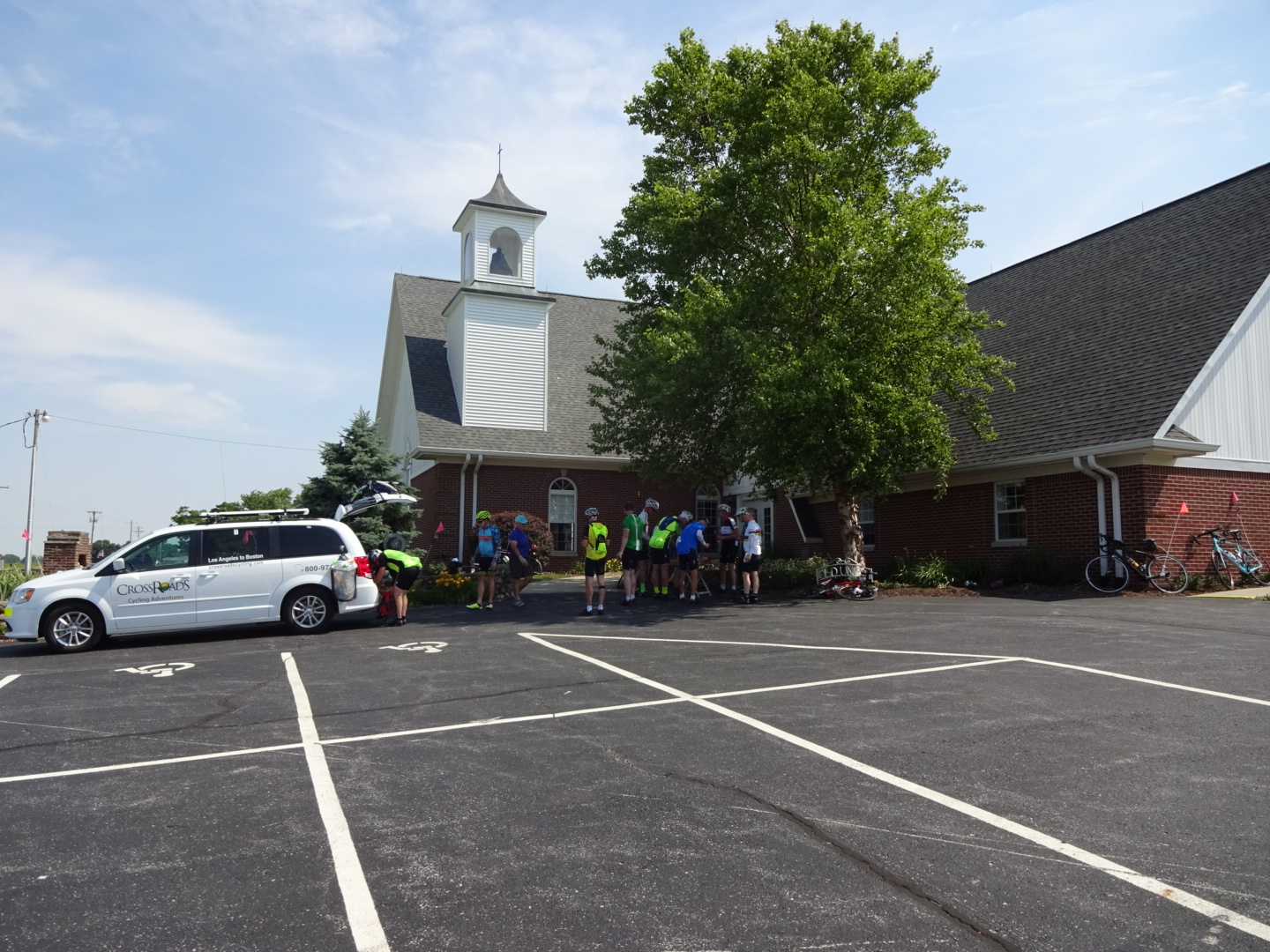 We were cycling along typical flat English country lanes with very little traffic.  There were some lovely well maintained farm houses and we occasionally received waves from the locals as we passed.  At about mile 40 we started to hit the outskirts of Indianapolis and the traffic began to increase dramatically, something we had not experienced for several days.  The roads were rough in places, the humidity was high and maximum concentration was needed as we needed to make a number of route changes.  We were pulled over by Mack on one occasion and advised that there was a detour ahead that would add 2 or 3 miles to our journey which we negotiated ok.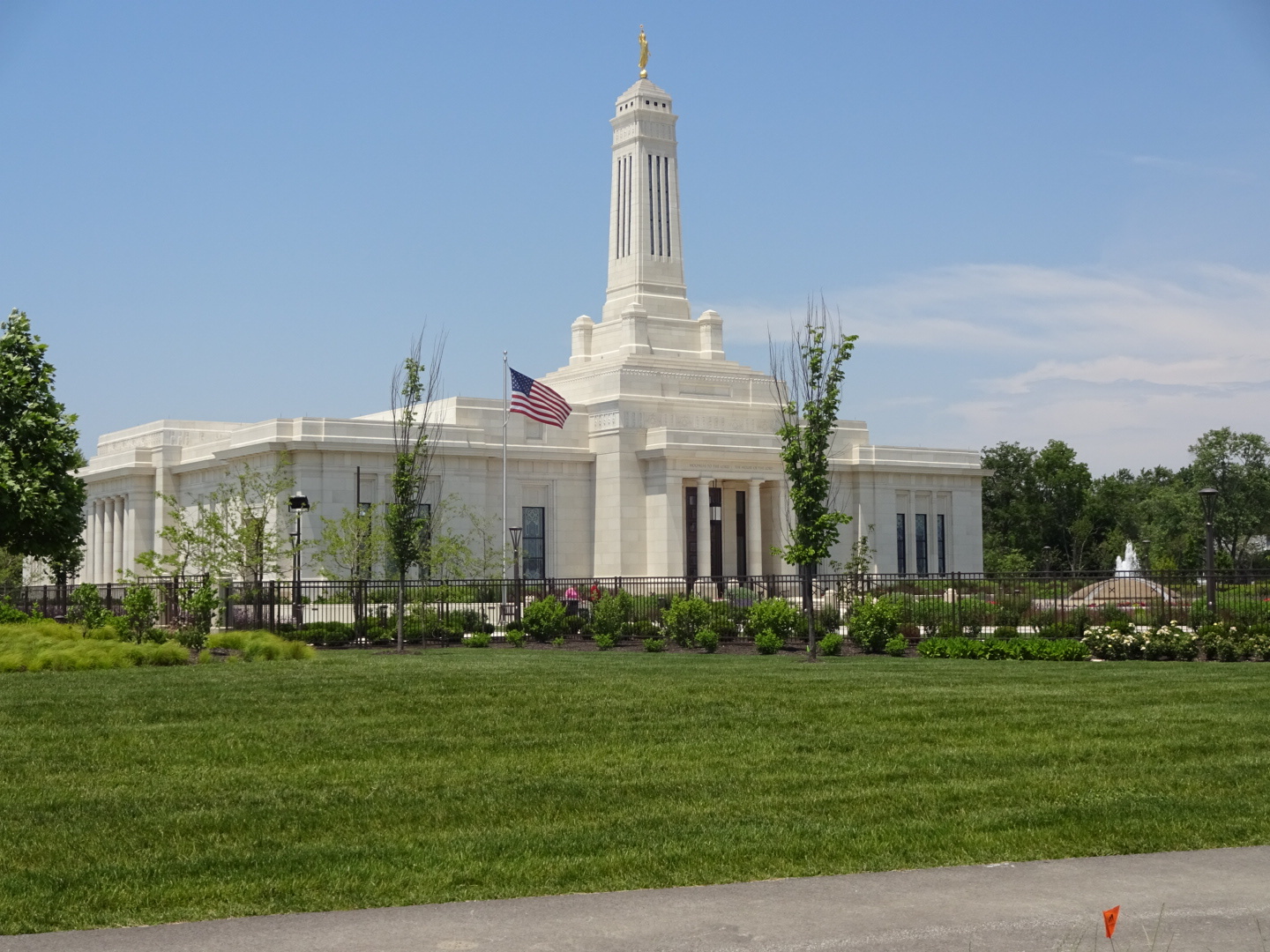 We we had made good time throughout the morning so decided to find somewhere to eat for lunch and were lucky to find a small cafe where I had a BLT sandwich and lemonade before handling the final few miles to the Drury Inn and Suites hotel on the other side of Indianapolis.
Tonight was a special evening because I had arranged to meet up with an old bell ringing friend, Paul Graupner who had moved to Indianapolis in 1995.  Paul and I used to ring together at Almondsbury in the early 1980's and whilst we had stayed in touch via Facebook we had not seen one another for over 30 years.  We both recognised one another as Paul arrived at the hotel and we then spent an enjoyable evening drinking beer and catching up on the past.  After we had eaten, I then got a tour of Indianpolis seeing the Indy 500 circuit, football and  basketball stadiums, Capitol building and downturn before being dropped back at the hotel.  It was great to see Paul again and I hope it won't be another 30 years before we see each other again!