Mileage – 72 miles
After a relatively late night with Paul yesterday exploring the sites of Indianapolis when the alarm went at 05:15 this morning I really did not want to get up.  However, thankfully the daily routine kicked in and I made it down to breakfast by 06:00.  Sadly, the hotel was not quite so on the ball and hot breakfast was not being served until 07:00 so we had to make do with cereal and toast, not ideal for a 70+ mileage day.  We had also been warned that today would be hot with high humidity and when I exited the building it was certainly already feeling very sticky.  The 07:00 riders left on time but shortly afterwards we were put on hold whilst the Crossroads team devised a detour a couple of miles down the road due to major road works and road closures.  We eventually left at 07:25 and found the detour at mile 1.5 and followed the bright orange markers that Tom had painted on the road.  The detour was approximately 3.5 miles and at the end we found Tom who directed us back onto our original route.  The organisation at Crossroads is second to none and just runs like clockwork and we are all so very grateful for the support that we have received from the team.
Once again, Chris and I teamed up and with gentle terrain and knowing that the next few days the mileage was going to be high took it very gently to the first SAG at miles 33.7.  Not surprisingly we were the last to arrive but it did not matter as we were still making good time overall.  Leaving the SAG the road got busy again and maximum concentration was required to avoid some significant potholes.  I always thought UK roads were bad but some of the holes we avoided today were like craters!  We passed through several towns and eventually met up with Lois in Hagerstown and the 3 of us cycled together to mile 60.0 where there was a Dairy Queen suitably situated.  Strawberry milk was my choice today and with the hot weather and high humidity is was a very pleasant refreshment.
Leaving DQ we make good progress and were very soon cycling through Richmond.  I made a brief stop at Walgreens to buy some more cream for certain parts of my anatomy before heading for the Best Western hotel.
Tonight was also 'Elvis' night so everyone had been provided with a wig and sunglasses, everyone that is except for Howard.  The story goes that whilst cycling in Europe Howard had been passed on a climb by a rider dressed as Elvis.  The story had caused a lot of amusement so as Howard arrived for RAP this evening he was confronted with a bunch of Elvis lookalikes and Elvis music playing.  It was very funny and other hotel quests seemed to enjoy our humour.  Thanks Mary for arranging it all for us.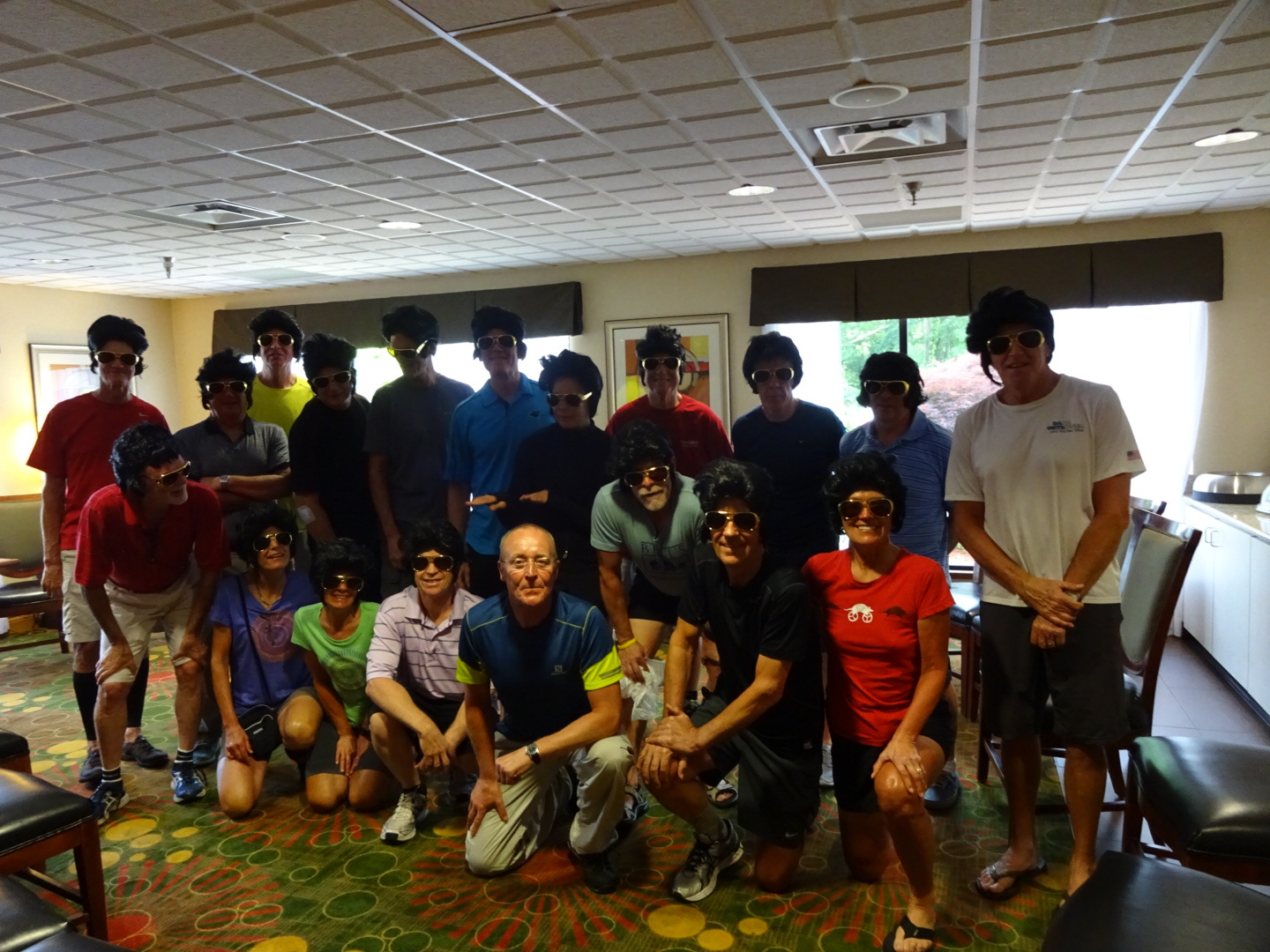 Todays mileage now means that we have less than 1,000 miles to go to reach our destination of Boston.  The journey is speeding by now and whilst we still have several days to look forward to, riders are starting to talk about the end of our adventure together.  I don't want to talk about the end just yet but want to savour the remaining time we have together because this has been an amazing experience with a group of riders that have gelled so well together it is unbelievable.  We have been told by several of the staff that our group is one of the best ever and I am so pleased and honoured to have been a part of it.