Mileage – 104 miles
It hardly seems possible that just 5 weeks ago today we were starting out on this adventure together, yet today was going to be our last official century ride.  Riding 100+ miles is not easy and 5 weeks ago we were all probably living in fear of the first big ride of the tour, but today at breakfast we were all just taking it in our stride.  What was worrying us though was the fact the next 3 days were all 90+ mile rides and the combination of these consecutive big rides was playing on our minds, so making it to rest day on Thursday in Erie was the ultimate challenge.
We left on time this morning and at mile 2.8 we crossed over the state line and into Ohio, stopping for photographs and sprinkling as we went.  When we entered Indiana a couple of days ago, despite stopping to take the customary photograph I made the cardinal sin of not sprinkling Pacific sand and this had been playing on my mind for the past few days.  I decided therefore to stop at the Indiana sign as we passed it as we were leaving the state and sprinkle my sand and thank the fairies for a safe passage through the state.  It may sound stupid but the fairies are definitely looking after us in terms of the weather so I felt duty honoured to comply.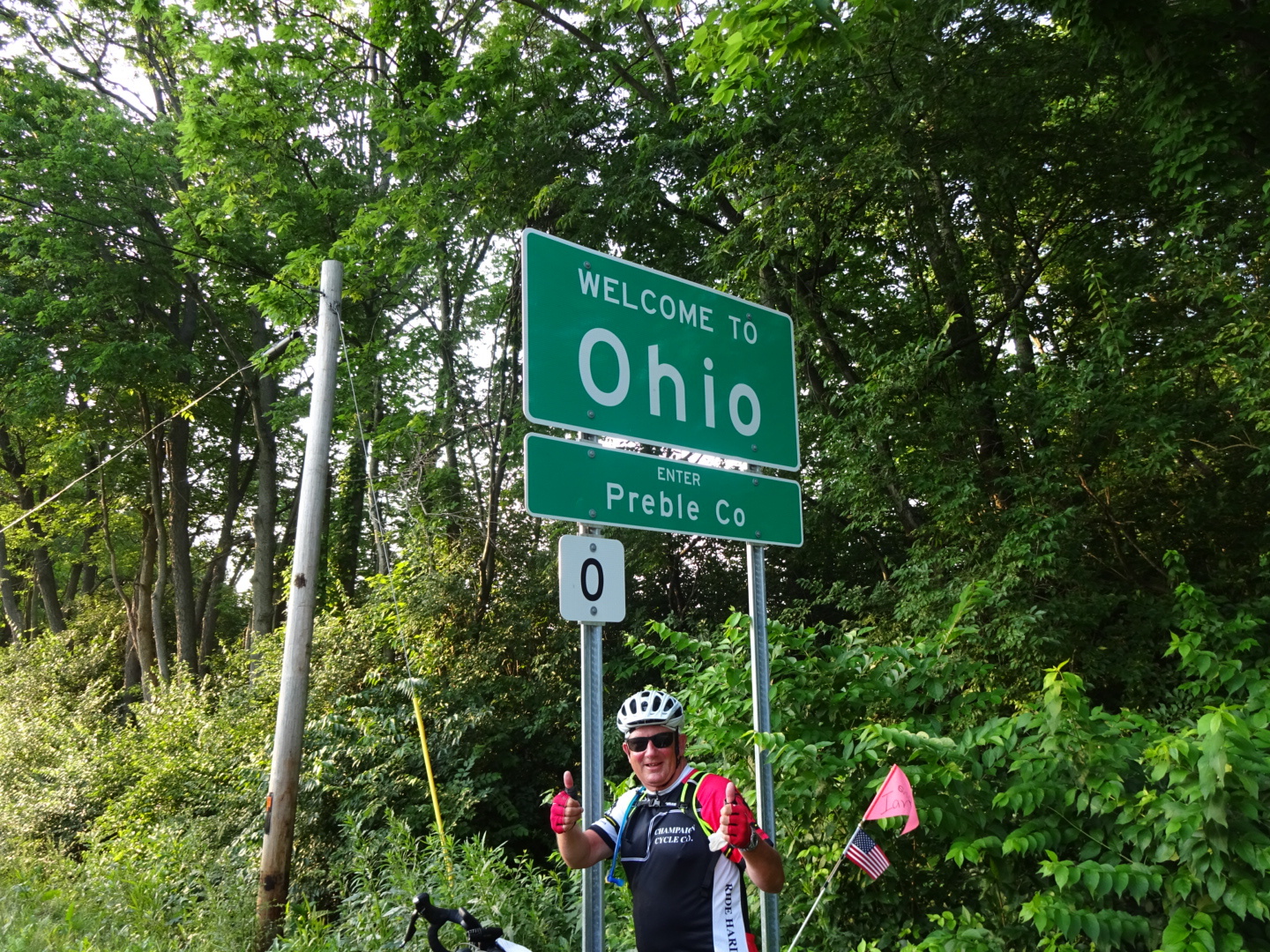 The other thing about today was that I was honoured to be given the privilege to carry Richards black glove.  Richard was the rider that unfortunately fell and broke his collarbone so has been unable to ride since.  However, as a symbolic gesture we agreed that his cycle glove would be carried by each rider for the remainder of the tour and today was my turn.  The glove was formally handed over this morning before we started and travelled with me throughout the day.  Richard has remained on tour with us and travels with the Crossroads team each day and is there to greet us at each SAG.  He is a great guy and has remained strong and positive throughout his ordeal and we are all hoping that he will be able to get on his bike again before the end of tour and ride into Boston with us.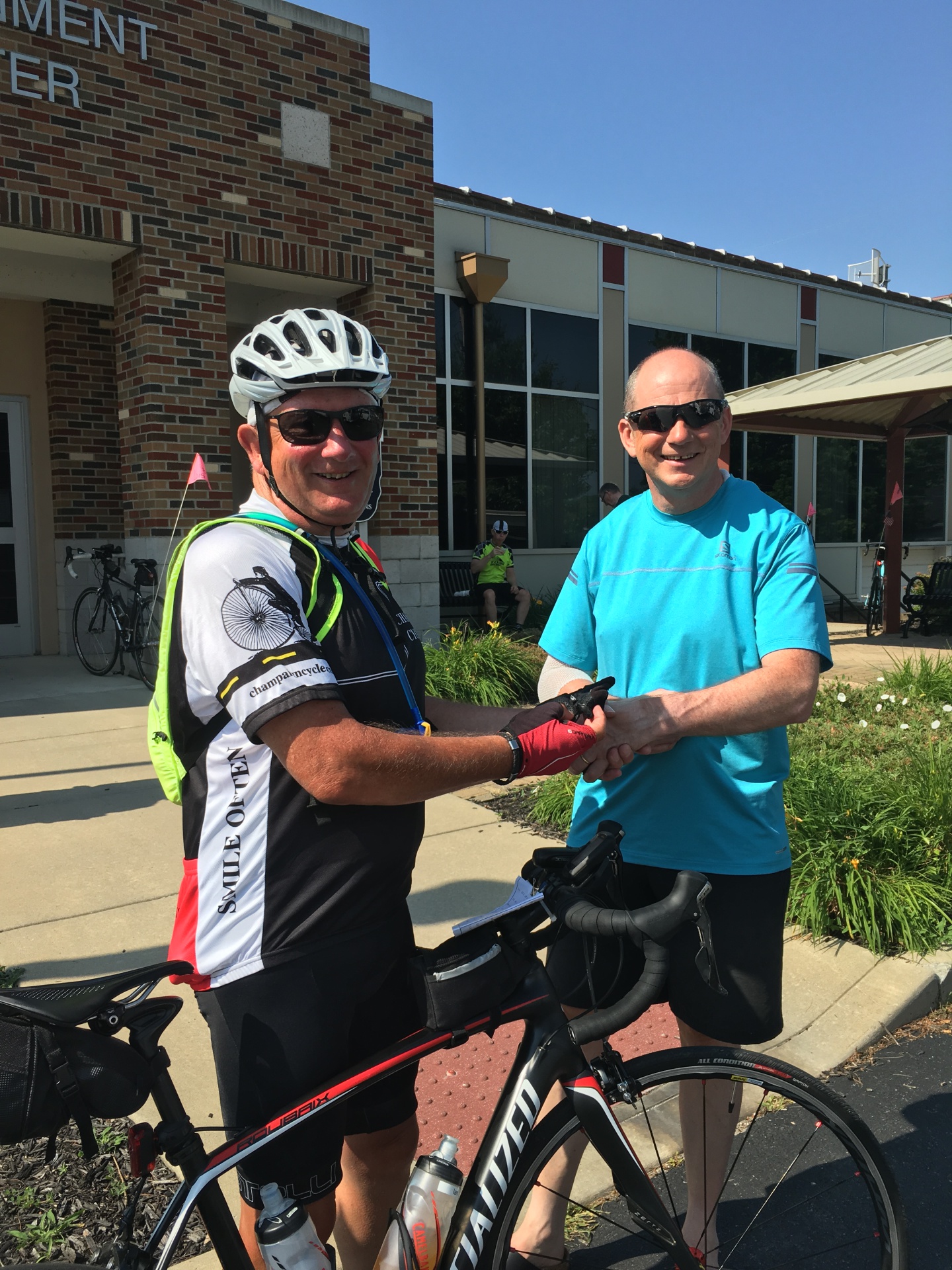 Chris and I teamed up again this morning and rode to the first SAG together at mile 42.0 which was located at the police station at Covington.  It was a hot and humid ride and the wind was doing us no favours so we hung around for slightly longer than usual to recover before setting off again.  There were a few hIlls today which tested the legs but nothing that us seasoned riders could not handle.  We were forced to carry our bikes across a trench in the road at mile 56.3 but in doing so we saved ourselves a several mile detour.  Today's ride also required us to keep checking our cue sheets as there were lots of turns and changes of direction, something that we had not seen for several days.  Chris and I only made one navigational error but fortunately, Mack was in the support vehicle behind us, saw us and quickly got us back on route.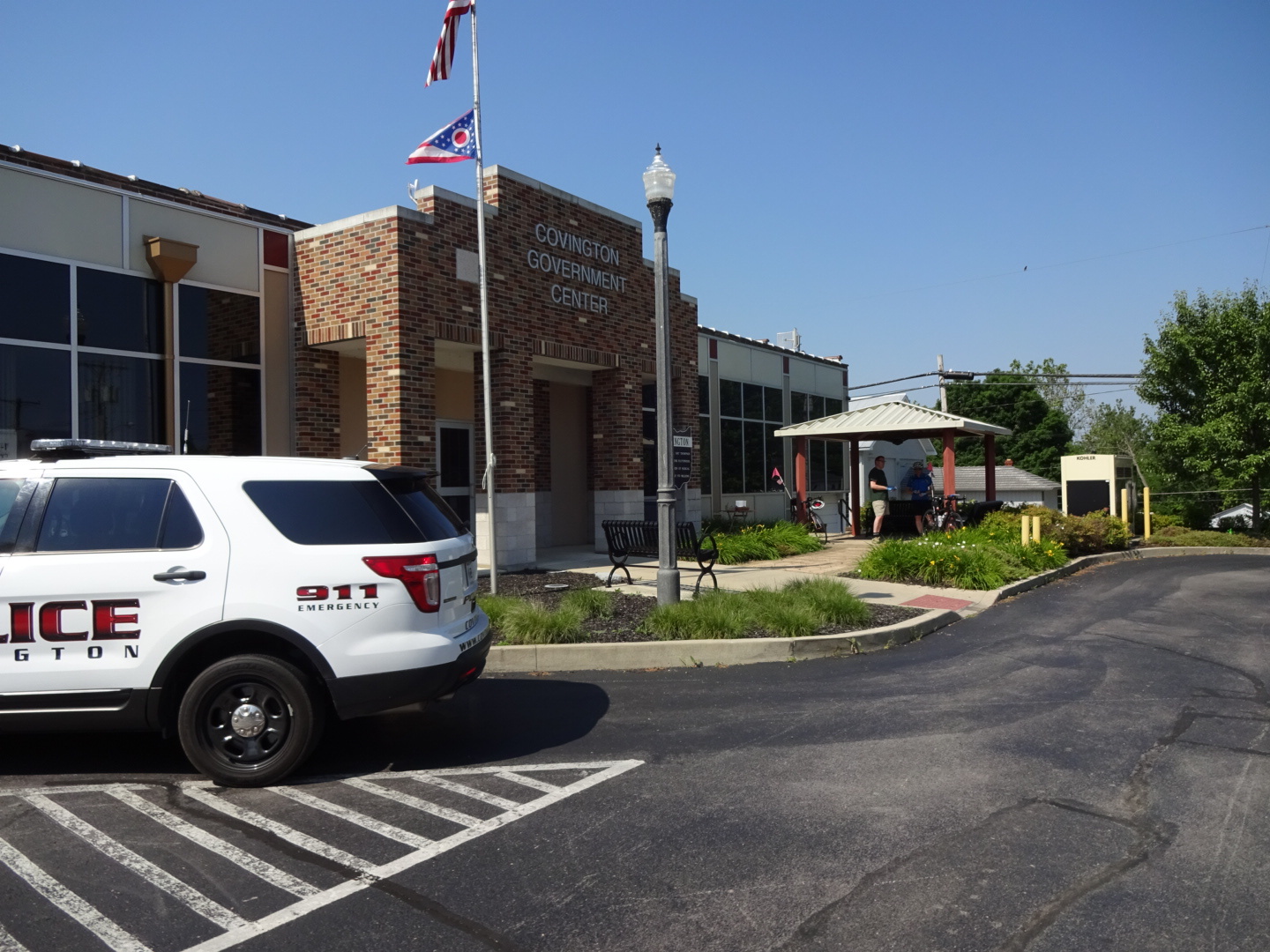 At mile 66.3 we entered the smal town of St Paris and found a gas station and grabbed a quick drink before heading for the second SAG at mile 78.2.  The final few miles of the day were tough but we coped.  Leaving the SAG in ones and twos we all came together a few miles down the road and with a strong headwind rode in a pace line into Marysville.  There are times when a pace line really helps and today was a good day to ride as a team a work together to get everybody home.  As we entered the last few miles, Mary and I broke off to visit the Dairy Queen and a banana milk shake was my order for today.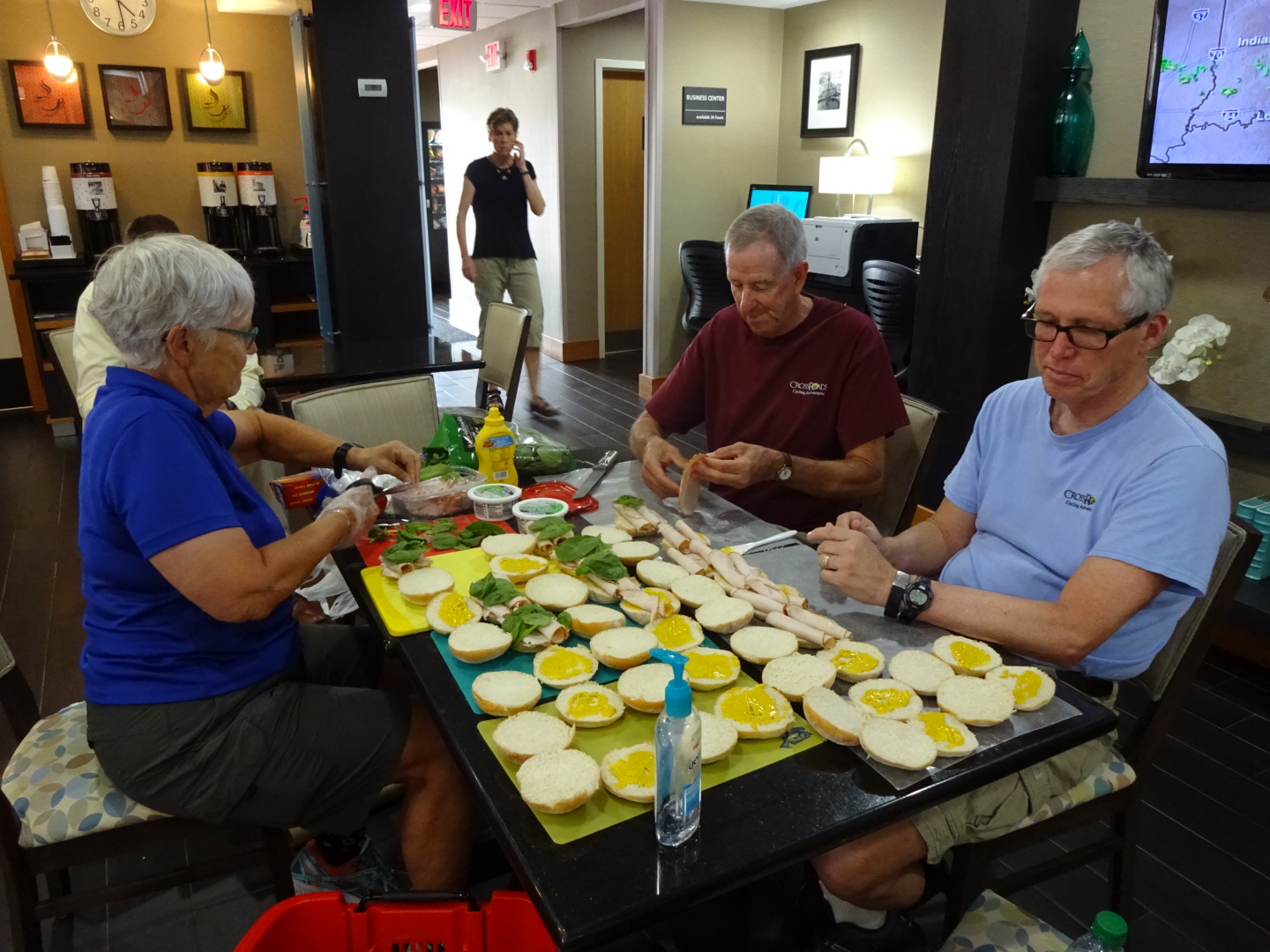 Dinner tonight was at Boston's Italian and my choice was traditional English fish and chips washed down with a couple of chocolate milks.