Mileage – 97 miles
Today was going to be another long day in the saddle on top of the long day we had yesterday.  In fact this week has been nothing but long hard days but after over 5 weeks of riding we have all come to accept the daily challenges and each of us just take it in our stride.  I remember the first few days of tour when I was worried about the first 100+ mile day and how I would cope but now each day is just another day in terms of mileage and one way or the other I will reach the hotel in time for dinner.  Most days I have been getting to the hotel early afternoon giving me two or three hours to shower, chill, sleep or just generally catch up on my blog.
Although a long day the good thing was that there was going to be a lot of turns which really breaks the day up into more manageable sections.  There have been days where the cue sheet read – 'out of hotel, turn left, cycle 30 miles to SAG, out of SAG, turn left, cycle another 30 miles to second SAG, out of SAG, turn left  and cycle 30 miles to the hotel'.  Today however, there were 2 pages of cue sheet instructions which would certainly keep us on our toes.
Left as usual and just a couple of miles down the road found Mary (the bagel lady) cycling towards us – she had missed the first left turn and was retracing her steps back to where she should have turned!  We cycled together for a few miles with Chris whilst Kevin T headed off towards the first SAG leaving us in his dust.  That was until about mile 10 when my legs had warmed up and the adrenaline started pumping again – why oh why does that sometimes happen to me?  Leaving Mary (the bagel lady) and Chris on a long incline I set off in pursuit of Kevin who I could see in the distance.   I eventually caught up with him at about mile 16 before setting off by myself in pursuit of the 07:00 starters, Lois and Ron.  I often feel really good in the mornings after an initial warm up and over a 30 or 40 mile distance can now maintain quite a good pace.  I never did come across Lois and Ron (they took a wrong turning at some point) and arrived at the SAG at mile 35.6 first.  The highlight just before the SAG was when I looked in my mirror and saw a police patrol cruising up behind me with the blue and red lights flashing.  As I continued cycling the officer pulled up along side me, wound down his window and asked me how I was doing?  I responded that I was doing good and then he told me that there was an adnormal load coming up behind.  I said that I would pull over to let it pass and I got a 'thank you sir, have a nice day' from him.
Leaving the SAG the road continued to climb and although reasonably comfortable, it was nevertheless tiring but I continued to make strong progress.  The scenery was lush green fields, trees and woods and very much like what we would find back in the UK.  As I approached the second SAG I became aware of a car close to me and as it passed the passenger lent out of the window and starting dog barking at me – it took me a little my surprise and then I realised it was Janel coming back on tour and she was so pleased to see The Big Dog again!  Her husband who was driving must have wondered what the hell was going on!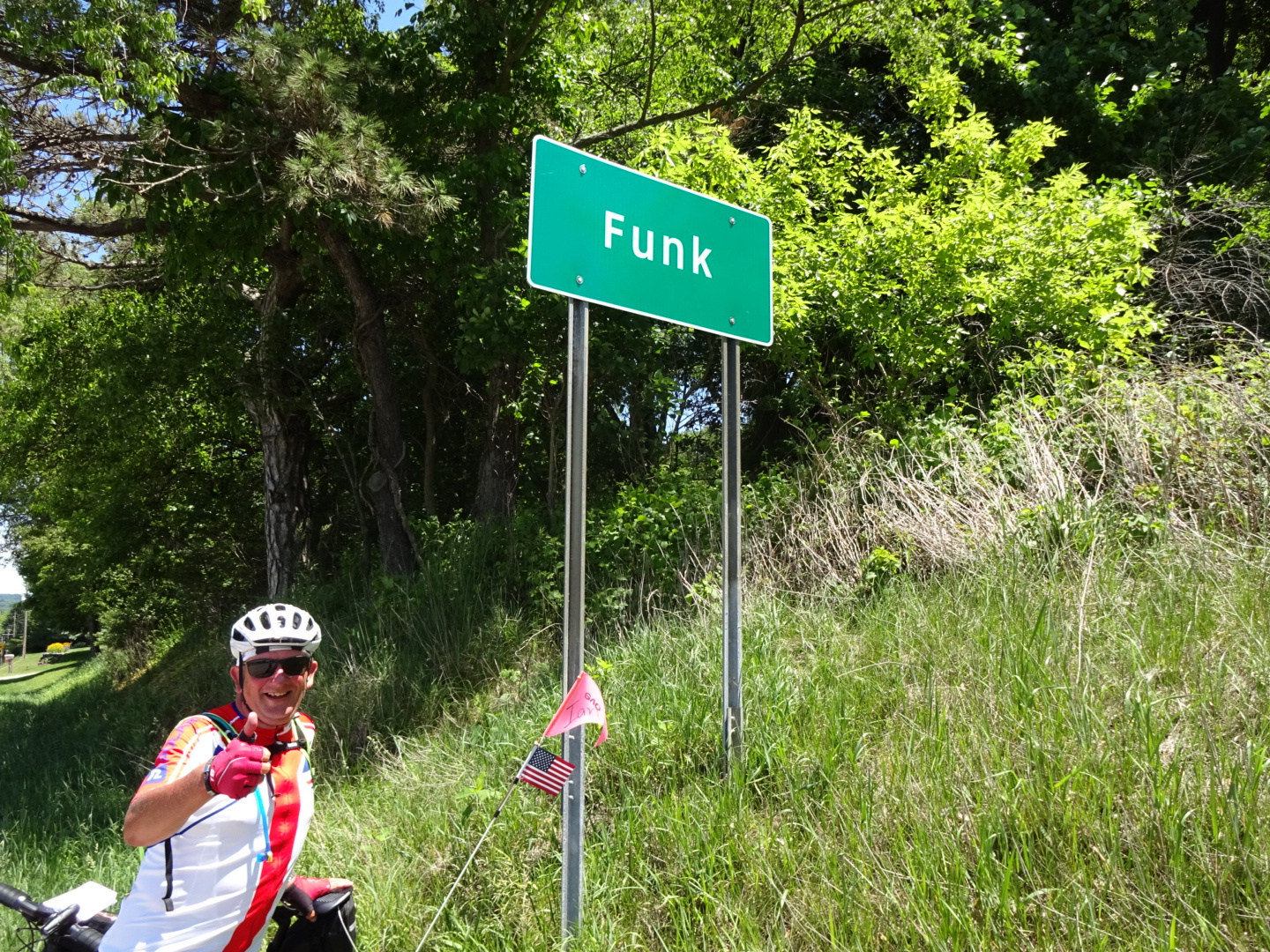 We had been warned that the last 25 miles were going to be tough with so very severe climbs and they were not wrong.  As I left the SAG the road climbed away at a reasonably rate until it turned left and a large wall of road suddenly came into view.  Having cycled over 2,500 miles without getting off and walking, nothing was going to defeat me now so I selected the granny gear and just span away at every sharp incline I came to.  The fast riders, Howard, Kevin M and Chuck all passed me at some point on the hills but today was a good day for me and I entered Wooster literally minutes behind the fast riders.  We stopped at the bike shop in town where I purchased another cycling jersey and they checked the bottom bracket again for me but could not find much wrong with it other than it continued to creak which was more annoying than anything else.
Had a quick swim in the open air pool at the Best Western in Wooster before enjoying an excellent meal at the Broke Rocks Cafe.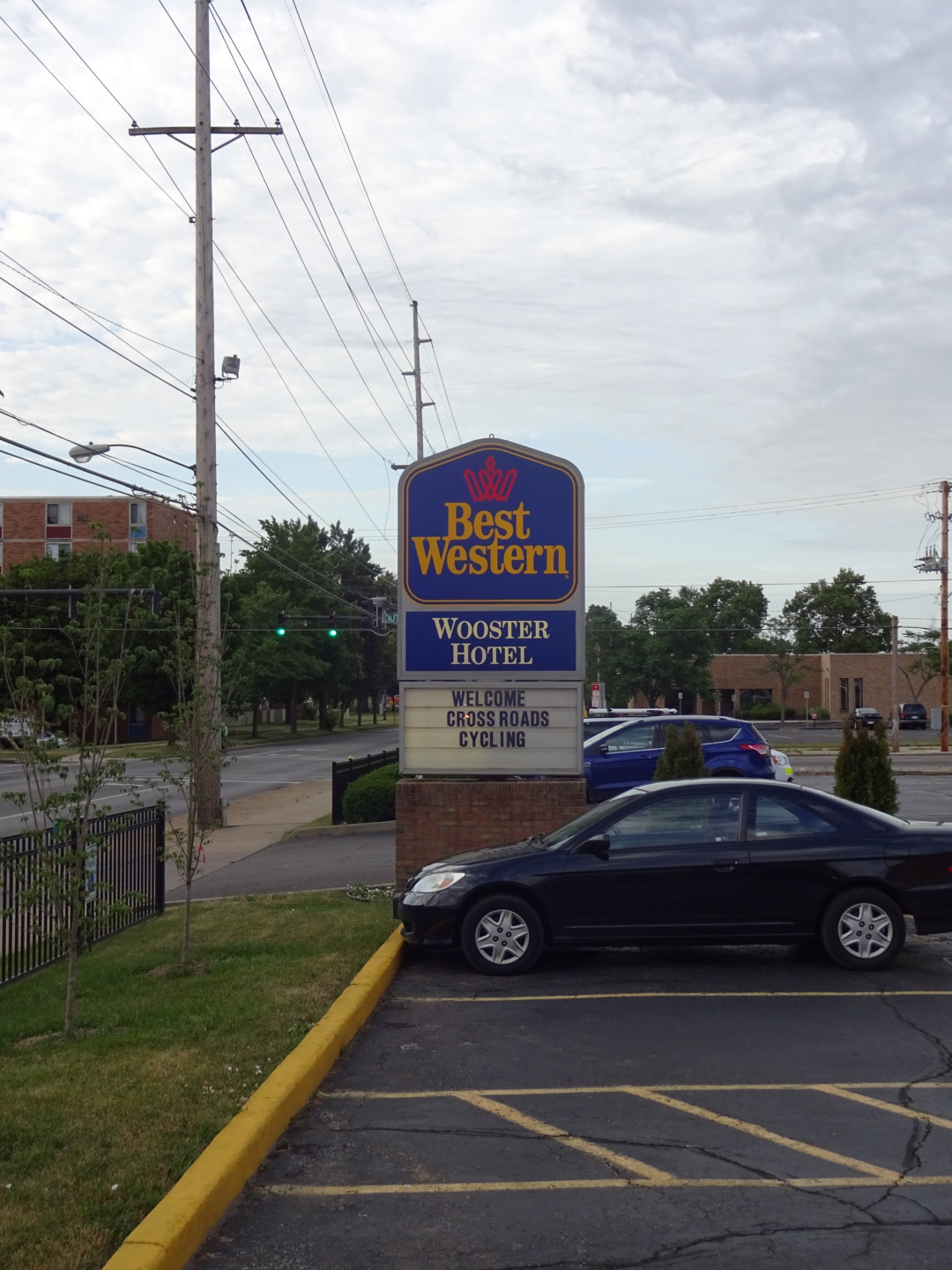 Really pleased with today's ride, I felt good all day and although the hills in the later few miles were tough I seemed to handle them well.  I only hope I managed to save some energy for tomorrow's 93 mile ride which will seen us cover nearly 300 miles in just 3 days.