Mileage – 93 miles
Yet another long day today but only two days to go until rest day and we are all looking forward to it. You get the feeling that people are just generally tired although the overall buzz of the group has in no way diminished.  I doubt if getting up around 05:00 every morning is the norm for many, it certainly is not for me and I am really looking forward to getting to Erie tomorrow evening.
Today's ride started with a long 2 mile climb out of Wooster, not particularly steep, but nevertheless a climb and Chris, Kevin T and I initially set off together but it wasn't too long before Kevin set off again only to miss a right turn just outside town and headed off on the wrong road.  Sadly he was too far ahead of us to hear our shouts of 'wrong road Kevin' but we did try!
The first SAG was at mile 34.3 but as we entered the small town of Canal Fulton we came across Mary (the bagel lady), Lois and Ron and immediately found a lovely little coffee shop where we stopped for a good 30 minutes enjoying the local hospitality.  Lou, Howard, Chuck and Sabrine also arrived shortly after us and it made a good stop on the way to the first SAG.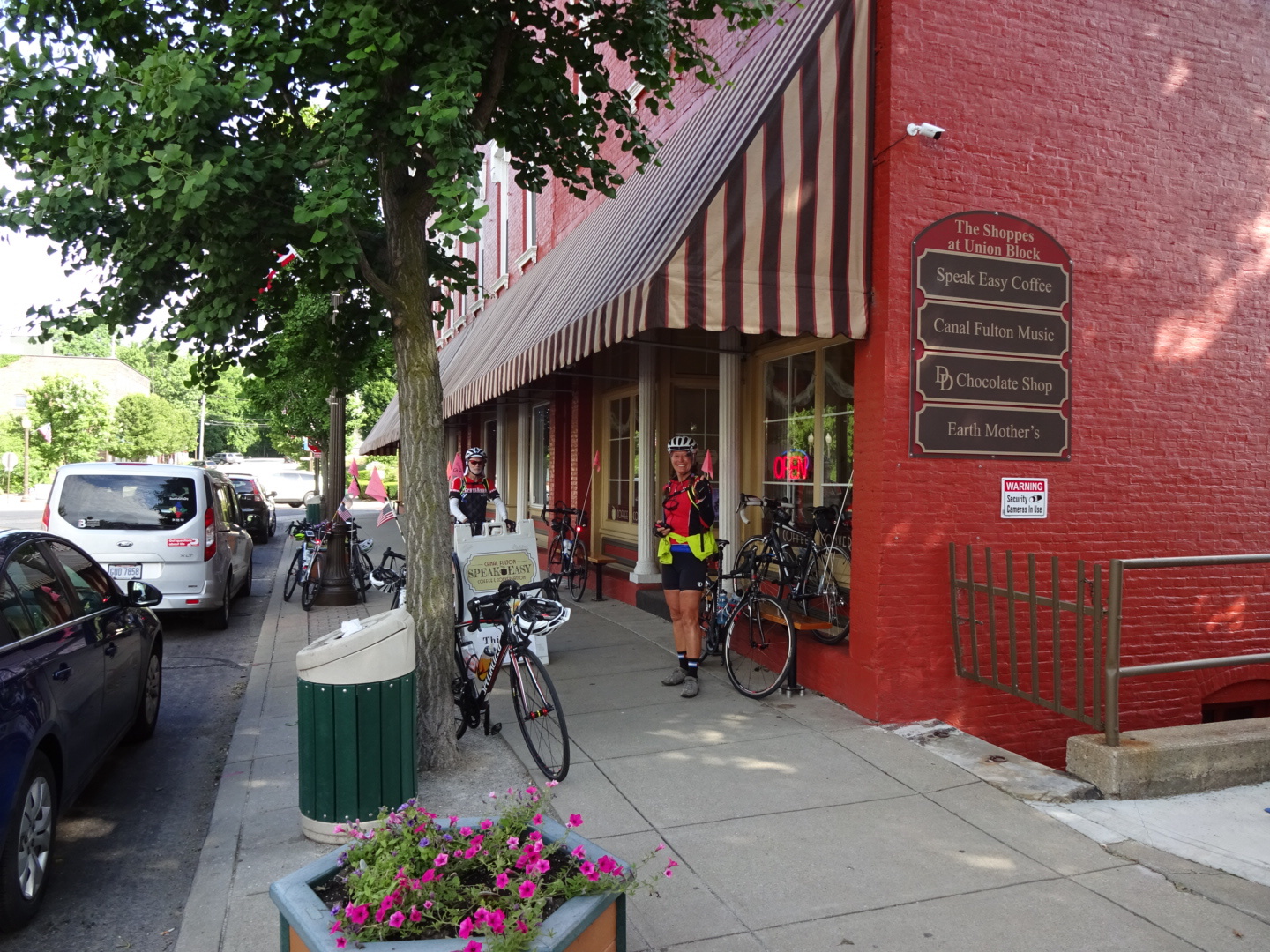 The SAG was situated at a church cemetery where the local pastor had kindly made restrooms available for us to use.  Setting off with Lois we again climbed away from the SAG and headed towards the second SAG at mile 62.7.  The terrain today was not as bad as yesterday but I felt tired and found it tough.  I had stocked up on gels and snacks at the SAG and was pleased that I had and ensured that I consumed them on a regular basis throughout the latter part of the day.  Lois, Mary and I arrived at the final SAG last but spent a good 30 minutes there, chilling and talking with Mack. We had 30 miles left to ride and set off together and got a good pace line going which soon had 10 miles in the bag where we rewarded ourselves at a store with chilled Starbuck drinks.   Shortly afterwards after a further bit of climbing we entered the 'Mill Creek Bikeway' which got us off the busy roads and made for nice traffic free riding for almost 8 miles.  The final ride into Niles and the Holiday Inn Express was long and tedious but the three of us arrived in good spirits at 17:00.  After a quick shower, we were transported to the Outback restaurant for a nice evening meal.