Mileage 90.5 miles
Looking at the daily itinerary for the tour I guess today was the day that I was most concerned about – a 90 mile ride with 5,200′ of climbing.  As it turned out it wasn't too bad and there was an exciting ending to the day.
We loaded the van this morning and I was on the road by 07:15.  There had been rain overnight but the weather was dry but very humid.  We meandered out of Windsor Locks and for a little while there was rolling terrain which was relatively easy going.  The first real challenge of the day came at mile 11.9 which was an 8% climb over a good couple of miles.  Bottom gear engaged and a slow and steady cadence always seems to work well for me and before too long I crested the top of the climb.  A few more turns and then a steady decent passing the Barkhampsted reservoir where I made a brief stop for a picture.  Shortly afterwards came a very short but steep climb over 0.3 miles before arriving at the first SAG stop of the day at mile 23.5.
Suitably restocked I headed out and after just a mile or so I stopped at a gas station for the first milk shake of the day.  Then it was  a long trek to the town of Canaan where I found another gas station for a drink and some sandwiches which I ate sat outside the local church. By this time the sun had made an appearance and it was very warm.  At this point we were just over 40 miles for the day.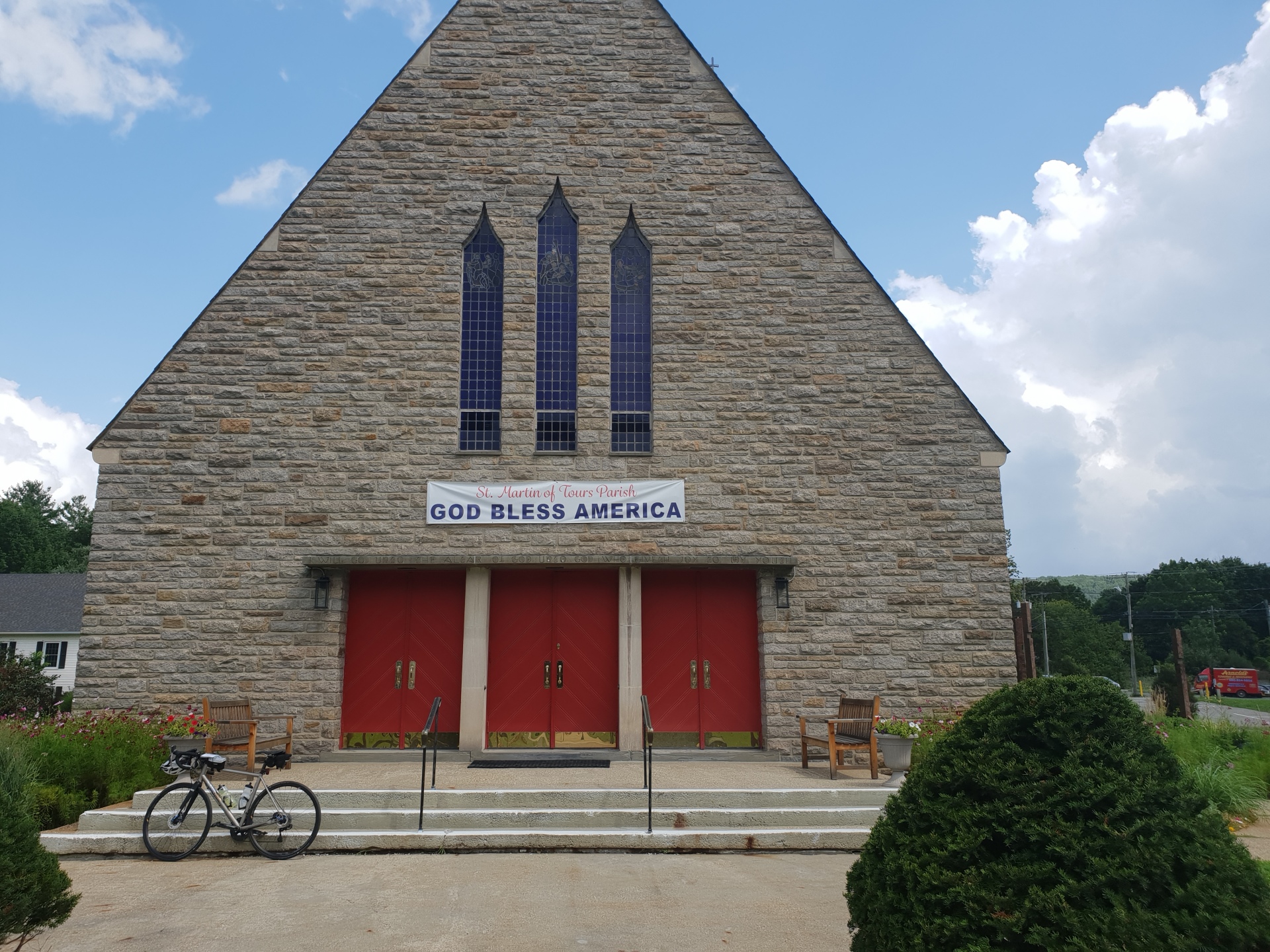 The next big challenge on the route map was 'Smith Hill' which as I turned a bend loomed into view.  It looked like a wall from a distance but I approached the challenge in the normal way, slow and easy.  With only one stop halfway up to take in more oxygen I eventually made it to the top where I met Mark and we cycled together to the town of Salisbury where we had been recommended to stop st a place called Sweet Williams for a drink and pie.  Guess what, I elected for my second shake of the day which was really delicious and refreshing. Pam, one of the ABB staff sat with us and only then did we realise that Mark, Paul and I were the last riders and with 40 miles to go we knew that we had to get going.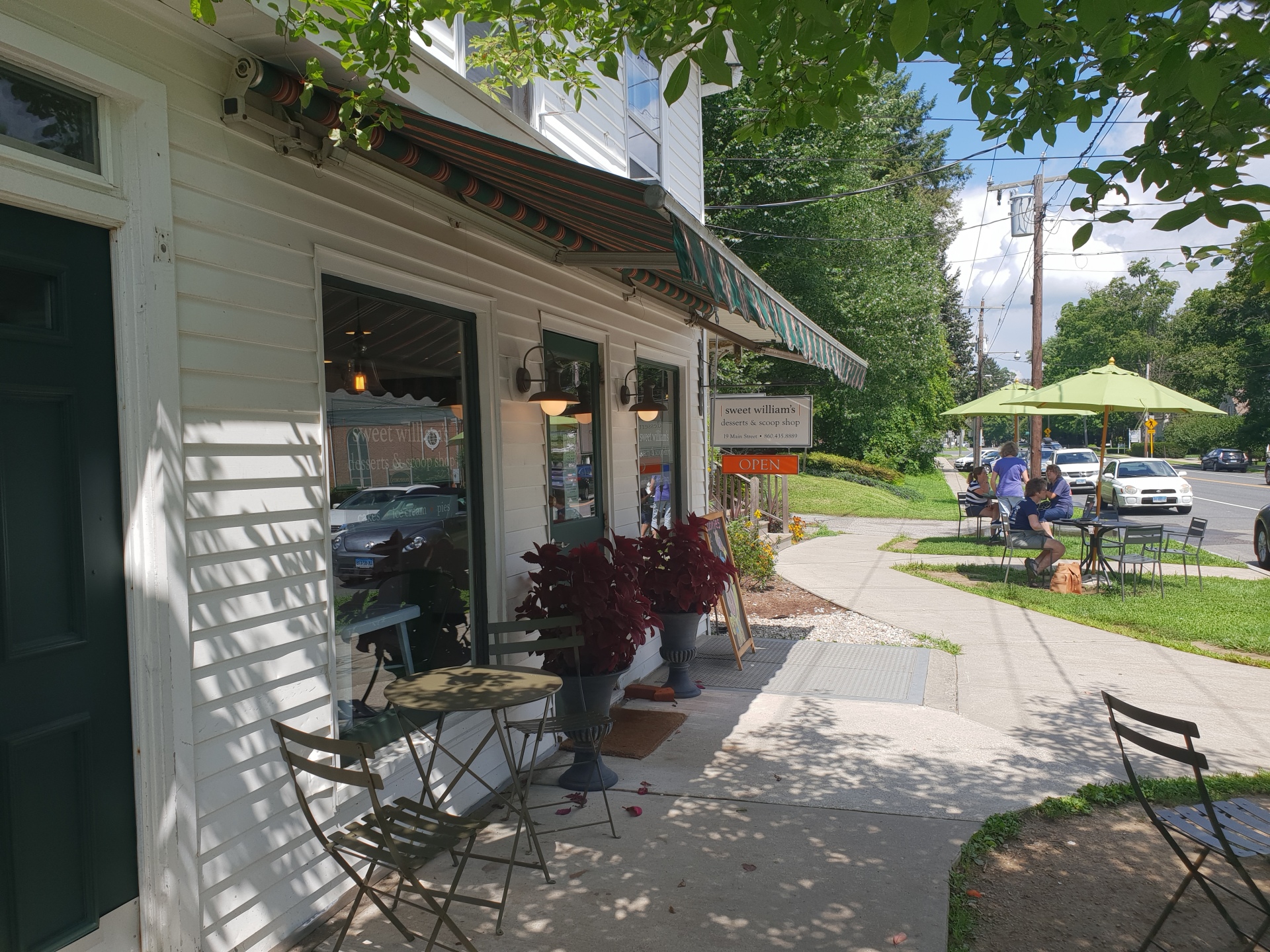 The second SAG was at mile 62.6 and was reached via a the Harlem Valley Rail Trail which was an old railway line converted to a cycle path. It was a very pleasant 7 mile ride along the shady trail to the SAG. Here there was another opportunity for my third shake of the day, possibly a record!  At this point we were still 28 miles from Poughkeepsie and it was very hot and humid.
I set off quite quickly a straight away there was a steep climb of just over a mile.  As I reached the top I stopped for a quick photo and it was then I noticed that the sky was looking very threatening and with the high humidity there was a possibility of a storm brewing.  Just before mile 75 I came across Pam again who stopped me to report that riders closer to Poughkeepsie were reporting thunder and lightening and that I should be prepared to seek cover.  A few miles further down the road the lightning was very close and the rain also started.  I came across the Cornell University building and went inside where I received a warm welcome from Michelle who was also a cyclist. We spent the time waiting for the storm to pass recounting each other's cycling adventures. After about 30 minutes the storm had blown over and I headed back out on the road again. I came across 2 other riders who had sheltered in a closed down restaurant and the three of us cycled the rest of the way together to our hotel in Poughkeepsie, arriving shortly after 17:00.
Altogether an exciting day but was pleased that this was now behind us and tomorrow looks a lot easier on paper.