Mileage – 61.9 miles
After last nights big storm we were hoping that it might have been less humid this morning but sadly this was not the case.  The bonus though was that we had an 08:00 van load which effectively meant an extra half an hour in bed this morning.  That was night but I could still have done with a little longer.  I'm feeling tired now but my legs are OK which is the main thing.  I think it is more the mental stress of riding day in day out and the concentration needed to stay safe on the road.  Mike, our tour leader and his team are all very hot on cycle safety and I have learnt and tried to practise everything that we were taught at orientation.
Today was going to be one of the shorter days on tour, a mere 62 miles but we were still going to be climbing in excess of 3,500′.  The road out of Pottstown was relatively straightforward and soon we were climbing once again.  A minor navigational error by a few riders in front of me after 7.5 miles meant that I found myself somewhere in the middle of the group as opposed to my normal starting position near the rear.  Today was also going to be another special day for me as I was going to be met by MaryClare and Barbs, both of whom I had ridden across country with in 2016.  Sure enough, just before the first SAG of the day they both loomed into view and it was great to see them both again.  We pulled into the SAG at mile 21.8 and staged a little longer than normal.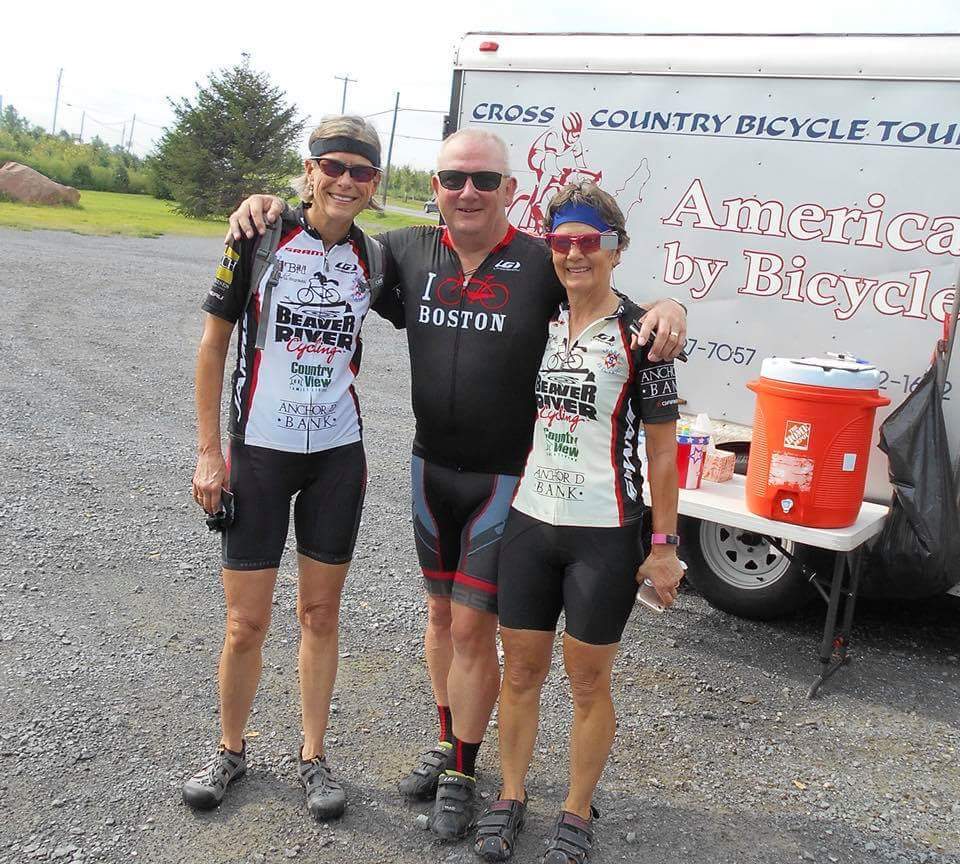 The next 22 miles was similar to yesterday when I rode with Sabine, we chatted away, enjoying each other's company and recounting our ride cross country.  I am really so lucky to have made some really great friends from 2016, sadly we don't see each other very often but we all try to stay in touch via social media.  The miles soon passed by and we found ourselves at the second SAG of the day at a little restaurant called the Udder Choice.  MaryClare and Barbs had driven her earlier today and was where they had set out to ride to meet me. After packing their bikes into the car we enjoyed a very nice lunch at the restaurant before saying our goodbyes and going our separate ways.  Thank you MaryClare and Barbs for making this such a special day for me and for joining me on this ride. I know you both had very early starts this morning to make this possible.
The last 18 miles or so to the hotel were a mixture of some short sharp climbs and rolling terrain before flattening out as we entered Lancaster.  I did speed up considerably for the last few miles as I could see the storm clouds gathering and did not want to be caught in any downpour being so close to home.
I eventually arrived just after 14:30, quick shower and then went to a mechanics meeting that Mike our tour leader was giving all about looking after your drive chain.  It was very interesting and I learnt things that I hadn't previously thought about – thanks Mike.
Tonight we ate dinner at the hotel – Grilled Chicked Penne for me – delicious.