Mileage – 62.4 miles
I didn't sleep well last night, it was noisy in the corridor outside my room and couldn't seem to be able to get the  right temperature.  However, breakfast this morning was the best so far on tour, real knives and forks and proper English sausages – it was a shame we were only staying the one night.
Last night before RAP there had been a discussion amongst the staff as to the route we would take today.  The preferred route was relatively straightforward in that we would initially follow the Heritage Rail Trail which would change to the Torrey G Brown Rail Trail and this would take us directly to our hotel.  The problem bring was that the support van was unable to use the trail and the road only crossed the trail in a few places.  In addition there had been a lot of rain so the trail may be impassable in places. The alternative route was 5 miles longer and involved over 5,000′ of climbing. Thankfully it was decided to use the trail route, I really could not face another day of hard climbing.
We loaded at 07:30 this morning and set off in much cooler conditions than previous day's which was nice to have.  The first 20 miles were on undulating roads through several small towns before we turned left and picked up the first trail of the day.  The trail was very popular and we encountered many cyclist and walkers and it wasn't long before we arrived st our only SAG of the day at mile 30.2.  The trail followed an old railway line so for the first part of the trail we climbed steadily before cresting the top and the second half of the ride was effectively all down hill.  However, the Torry G Brown trail was not so well maintained as the Heritage Trail and in a couple of places a mountain bike would perhaps have been more appropriate.  Nevertheless, it was a nice ride and a real bonus as the overall climbing was so much less than we had thought.
​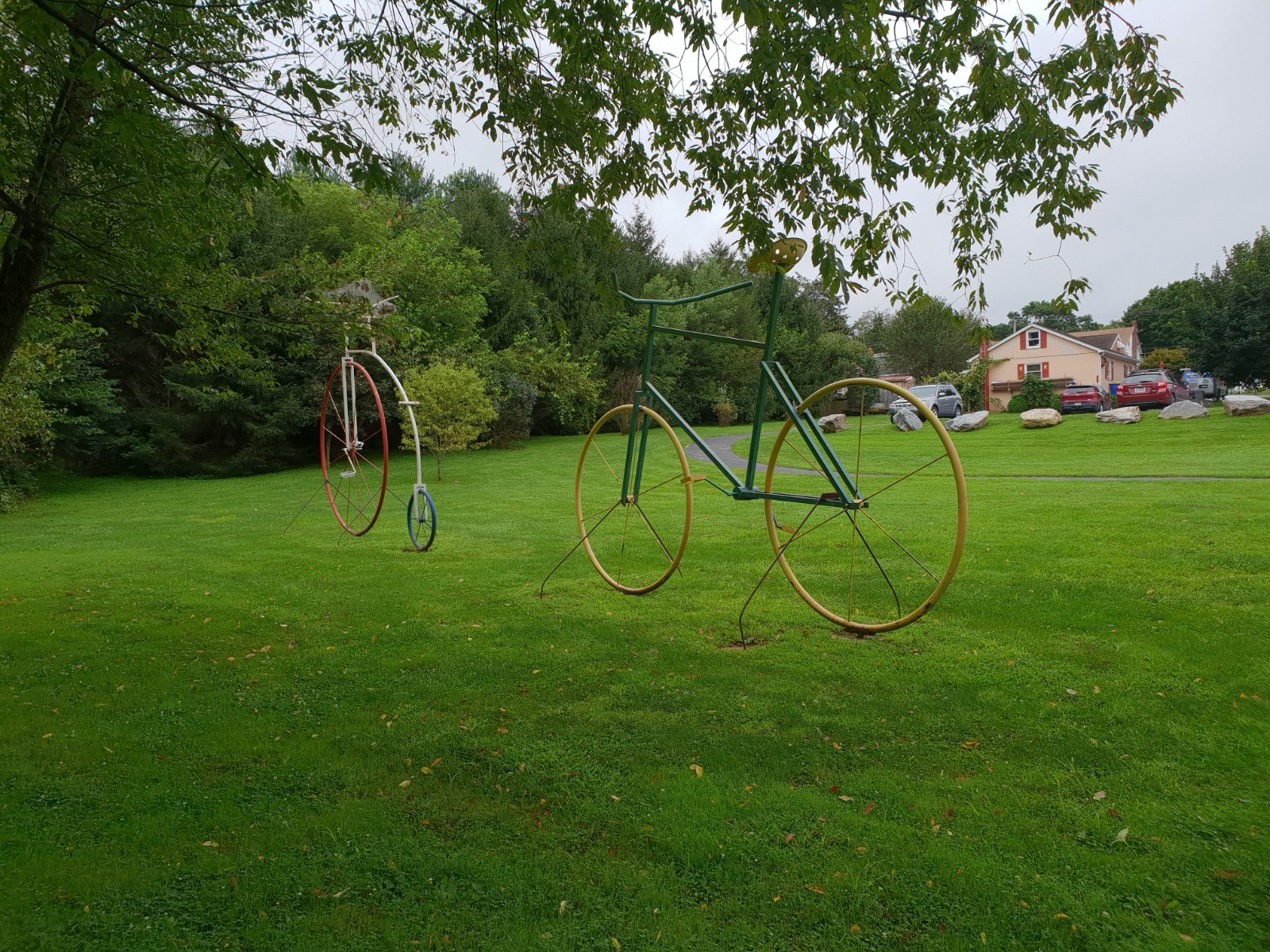 About 12 miles from the hotel I came across a mother and daughter cycling the trail. Mother had a flat and no pump so they were pushing their bikes back to a bike shop approximately 3 miles down the trail. My offer to replace the tube was willingly accepted and after a quick change the 3 of us rode back to the bike shop together where the tyre could be properly inflated – my good deed for the day!
I arrived at the hotel shortly after 13:30, spent the best part of 30 minutes cleaning my bike before going to my room, washing my dirty cycling kit and then getting in the tub for a good soak.  It was only when I got out of the tub that I realised I had not collected my luggage and only had wet cycling clothes to put back on – what a numpty! I guess I'm not used to not having my luggage delivered to my room live previous tour.
It was a nice easy ride today and a bonus to get home at a reasonably early time.  Tomorrow we ride 80 miles to Washington DC and our first rest day which I am really looking forward to.  All things considered I am feeling good, legs were a little heavy today but after nearly 600 miles I'm not surprised.