Mileage – 81.1 miles.
After 8 days on the road you don't know how good it feels to be cycling towards a rest day.  We still had 80 miles to do today but tomorrow we will be in Washington DC and won't have to get up early or get on our bikes.
We started this morning with a group photograph with us all wearing our America By Bicycle jerseys.  After today we lose Jo and Peter who are only riding the northern section of the ride but we gain a new rider, John who will be riding with us from DC down to Jacksonville.  The profile of today's ride was that it was going to be quite hilly for the first 50 miles and then taper with a relatively downhill ride into Washington.
I started quite slowly this morning, my legs take a little while to warm up and I knew that it was going to be a long day with probably over 4,000′ of climbing.  I caught up with Mark at around mile 8 and then Mose passed both of us.  Mose is a fast but steady rider so we both latched onto his rear wheel and he kindly towed us for a few miles before we both had to let go.  We arrived at the first SAG at mile 25.1. For once nearly all of the group were in attendance which is unusual because the fast riders have normally been and gone by the time I arrive.  I didn't stay long at the SAG but headed off alone to get more miles into the bag.
After an initial climb out of the valley the road tended to flatten out a little and a left turn onto Rte 32S the riding was on a wide shoulder for a few miles which I tend to enjoy.  A few riders passed me but I made it to the second SAG at mile 56.9 again in good time.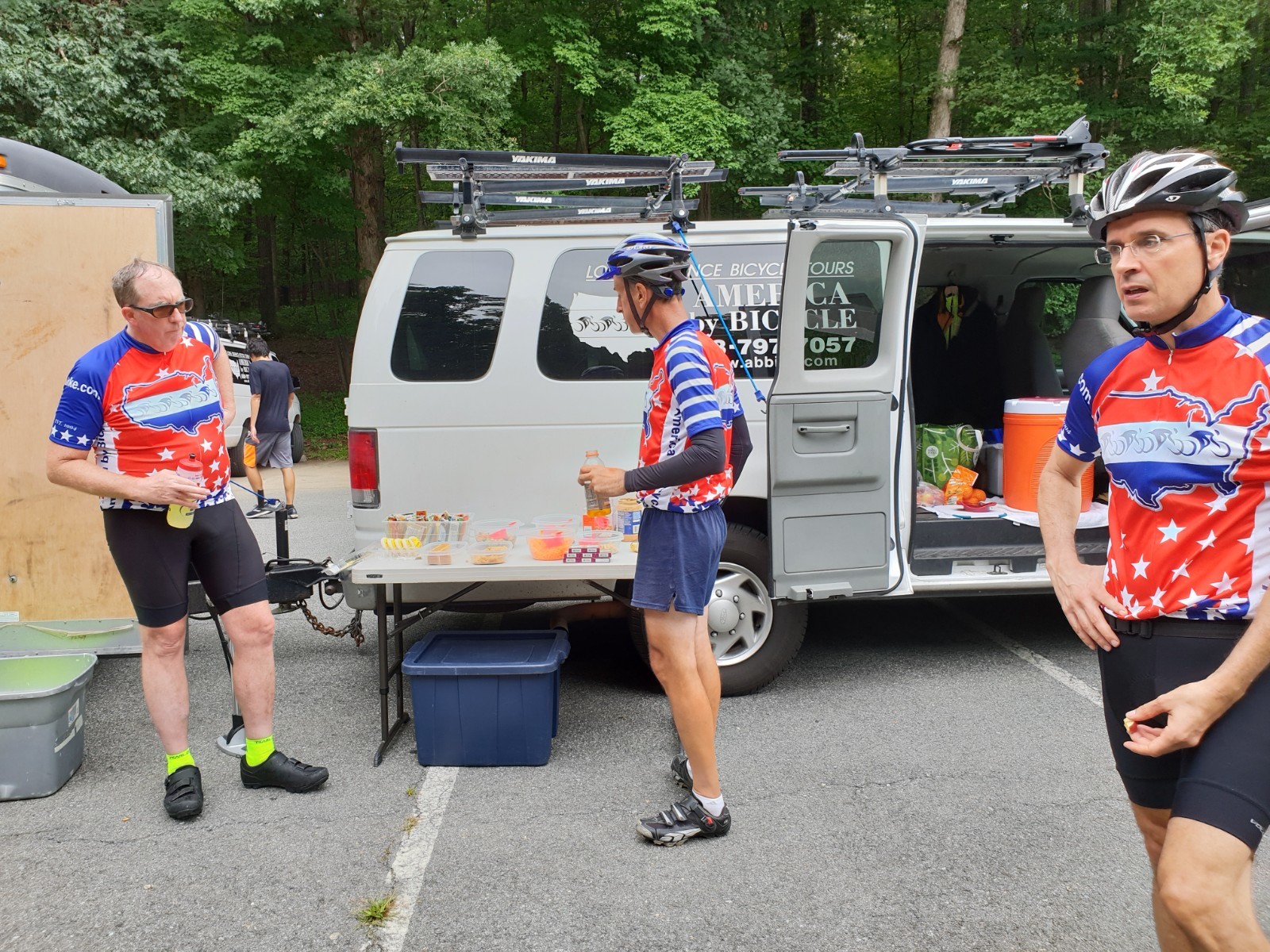 The rest of the ride into DC was primarily along the Rock Creek Trail which was an excellent riding/ walking trail that winded its' way pretty much into the heart of Washington.  We did however incur a road closure which sent us on a devious detour around the suburbs of Washington eventually bringing straight onto Pennsylvania Avenue.  Riding this road is not a pleasant experience but thankfully after a couple of 'traffic circles' (i.e Roundabouts) we made it to our hotel on New Hampshire Avemue.  Surprisingly, Peter, Michael and me were the first riders to sign in.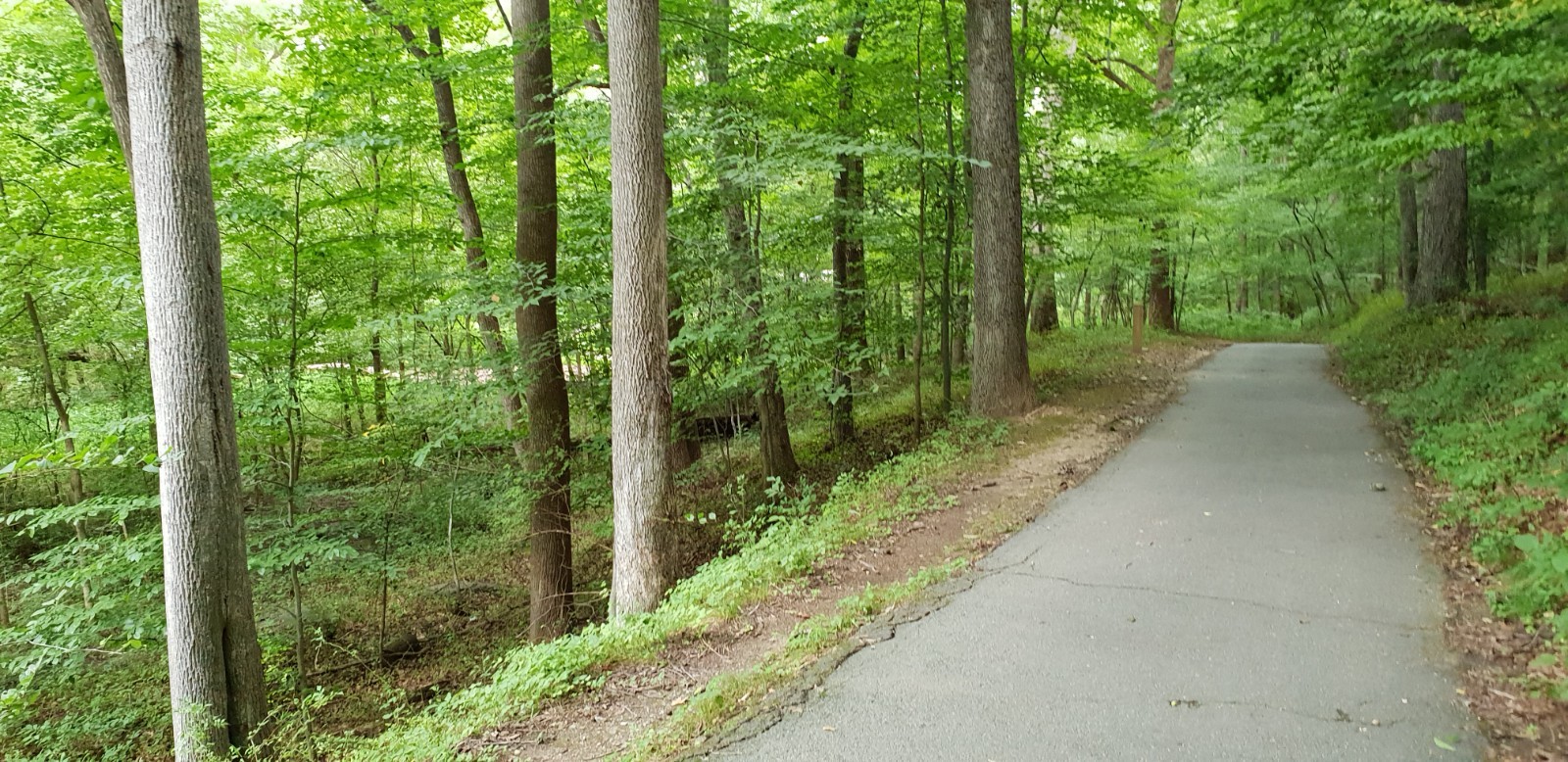 Tonight at RAP we said goodbye to Peter and Jo before adjourning to a local Italian restaurant called Bertucci's for a nice meal and a glass of Blue Moon beer.
I guess getting to DC was another goal I had set myself because I knew that the route would be tough with a lot of climbing. Living on the coast I genuinely don't do many hills but similar to when I rode cross country in 2016 my legs have become accustomed to the climbing I am putting them through.  We have travelled over 670 miles in the last 9 days, a distance I have not ridden for over 2 years.  Leaving DC there are 3 or 4 hard days but then the road flattens out so I think we have broken the camels back as they say.  Looking forward to a lie in tomorrow although have got a bag of dirty laundry to sort out before I retire tonight.