Total Mileage – 96.9 miles
There was no doubt that today was going to be a very long and tough day. With high temperatures, high humidity and the prospect of a headwind in place it was a day that I was not really looking forward to. The only upside was once again there was very little climbing to do and I along with two other riders had been offered a slightly earlier start. At 06:45, just before sunrise, Paul, Mark and I left our hotel at North Myrtle Beach and headed towards Georgetown, our next stop on this tour of the east.
Ironically, Georgetown as the crow flies lies a mere 60 miles south west of North Myrtle Beach but the route we were taken was nearly 100 miles. The more direct route is on highway 17 which is not ideal for cyclist, hence the long detour that would take us first northwards, then west to Conway before heading in a south westerly direction to Georgetown. Like most days I started off relatively slowly but soon picked up the pace once we were out of the urban traffic. My legs felt exceptionally good and being given an earlier start I think I had a point to make that I could ride faster if I really wanted to. I guess one of the things about this tour is that most riders seem to be in a hurry to reach the destination and everyday seems a little rushed with little time to stop, take photos or visit cafes along the way. Being a slower rider myself it therefore always feels a little like a chase to keep up with the pace. Nevertheless I hit the first SAG at mile 35.4 in around 2 hours which gave me an average speed of over 17 mph. I refuelled and headed out to the second SAG at mile 60.4. With the flat roads I got a really good pace going and when. I arrived at the SAG, Judy was still setting things up. I grabbed a milkshake from the gas station, ate a few bits and pieces from the SAG and got straight back on the road.
Things were going really well and I felt good and was making excellent progress. I met Pam at a water tower just after mile 74, grabbed some ice and soldiered on – then it all went wrong. At mile 75 my back tyre went flat and I swore and cursed and pulled over onto a lawn of a house and found a tree to get some shade. It was hot, very hot but with no signal to call for support I had little option but to change my tube. I found a small cut in my tyre but couldn't find anything that might have caused the tyre to flat. Michael came by as I was about to reinflate my tyre and gave me a CO2 cartridge and 5 minutes later I was back on the road.
With about 20 miles left to ride I had lost the momentum and found it really difficult to get back to a good speed and cadence. The miles dragged by and I felt drained of energy. It's quite amazing how a small disaster like having a flat can have such an influence on how you feel. The day had been going so well, my legs were firing on all cylinders yet in the space of 10 minutes the momentum and energy had been lost.
i eventually rolled into Georgetown as the clock struck 14:00 in the town and I found the hotel shortly afterwards. Sat here tonight writing this blog I guess today was, with hindsight a good day. A total distance of 97 miles, with high temperatures and humidity in just over 6 hours actual riding time then I should be pleased with my performance. I like this type of riding because I can get and hold a reasonable speed on the road. I could have done without the flat but being only my 2nd in over 1,300 miles I shouldn't complain.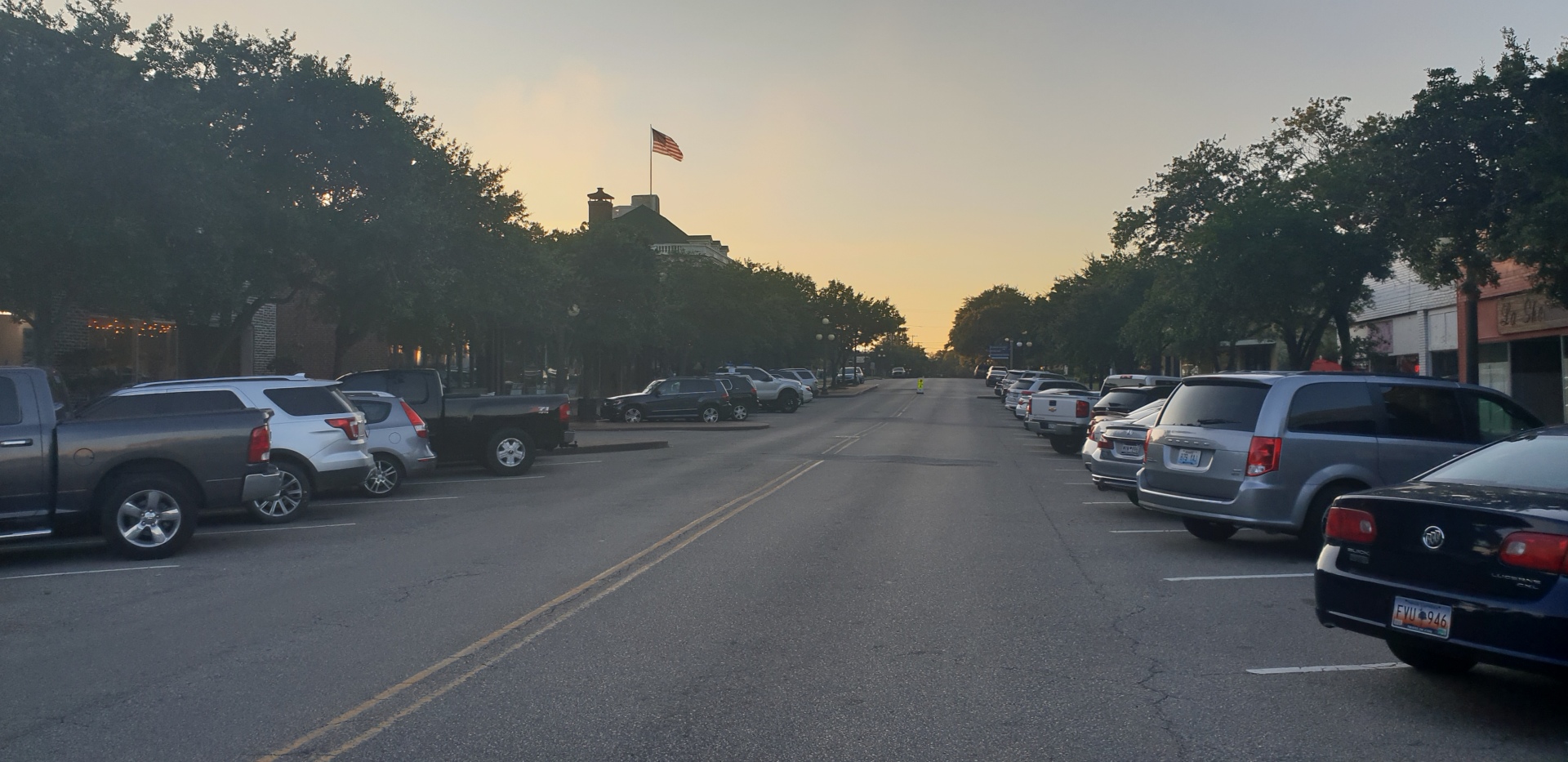 Dinner tonight was as Aunnys in Georgetown and tomorrow is another 95 mile day. I'm going to take it easier tomorrow, pace myself better and hope for no flats. If I can get through tomorrow relatively unscatthed then we only have 4 more days of riding wth lower mile ages so the end is in sight. It's been a great ride and experience and I love riding in America.