Day 25 – Ventura to Redondo Beach
After a nice meal with Steph last night and haven written my blog from the poolside, I returned to my room and as I always do, checked my tyres. Just as well I have got into this habit because my front tyre was very soft and upon further investigation I discovered a small thorn had penetrated the sidewall of the tyre. Better to find it now than in the morning as I am about to set off!
Today's ride was a longish 76 miles but we would be going through some interesting places, Malibu, Santa Monica, Venice Beach and finishing at Redondo Beach, just south of Los Angeles. There was a slight debate when Roy, Nick and I left the hotel as to which way to turn but in the end we agreed and found our way out of Ventura. The road was relatively flat so for the first few miles or so we made good progress as we first headed slightly inland before returning back to the coast. Shortly after mile 20 Roy encountered his 3rd flat of the tour and we spent a good 20 minutes at the roadside changing the tube. Immediately afterwards we hit the coast and although it was spectacular there was a very strong headwind to contend with. We each took it in turns to lead while the other two found whatever shelter they could find. At about mile 26 we spotted a cafe and headed in for a well deserved coffee.
The road was quite busy and was continually going up and down, not particularly big ups but ones that made you work a little. We reached the outskirts of Malibu and Nick and I stopped to take a photograph.
Shortly afterwards, the road flattened out and we picked up the pace as we headed for Santa Monica.  The pace hotted up again when Steve and Jason joined us and before too long we were into the suburbs of Santa Monica. At this point we started to cycle on the actual beach via a cycle path and it was nice to get off of the busy roads.
The beaches were quite vast although there were not too many people frequenting them. The lads all stopped at some point for lunch which I missed and found myself cycling alone but it was an enjoyable ride one the less. I eventually came across Eric and Dave at a small cafe on the beach but was too late to order food so made do with a quick coke.
Shortly before the end of today's ride I reached Manhattan Pier which had a special place in my heart for this is where we started our cross country ride in 2016. Now, some 7,000 US miles later I was back to where it had all began just over 3 years ago. A lot of happy memories came flooding back and I spent a good 15 minutes or so just standing there enjoying the moment.
The final ride to Redondo Beach didn't take too long and after a short detour found the Redondo Inn & Suites.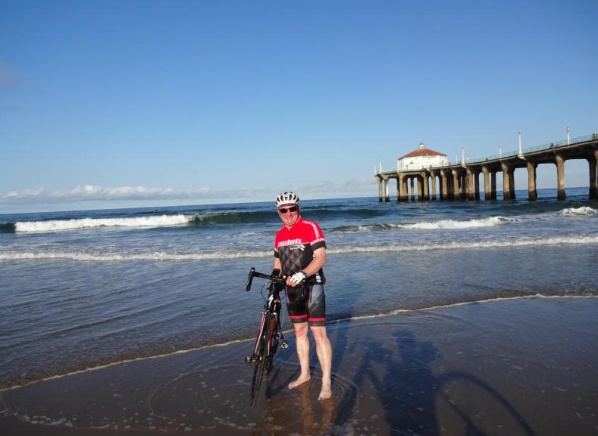 Day 1 USA Coast to Coast 2016…